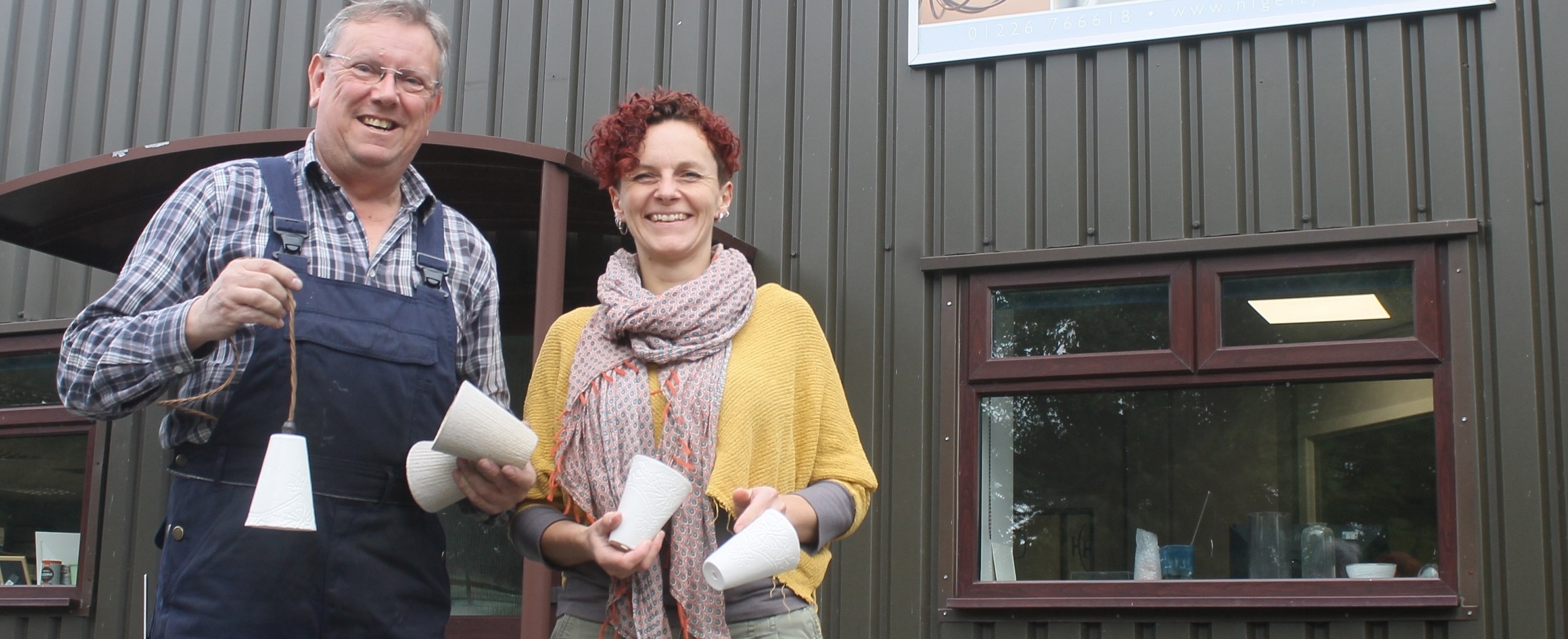 Press release - Creative collaboration throws light on a new product
Posted by Steph Pollard - 02 November 2016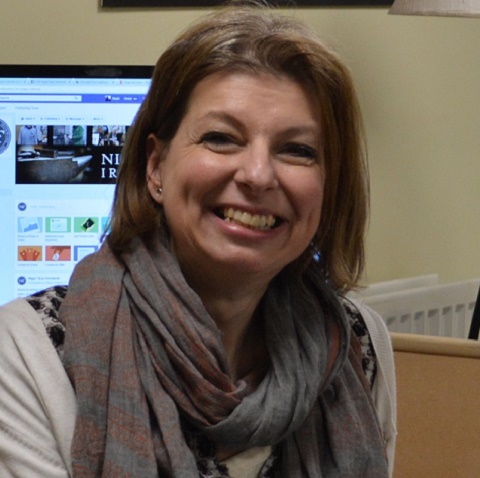 A creative collaboration between a blacksmith and a potter has led to the launch of a new product range combining their traditional crafts.
Ironworker Nigel Tyas and ceramicist Sarah Jones-Morris have put their heads together to design and create wrought iron lamps and pendant lights with porcelain and stoneware shades.
The new products are now available via Nigel Tyas Ironwork's online shop and via the company's showroom at Millhouse Green, near Sheffield in South Yorkshire.
Their collaboration started a year ago when Sarah needed a new home for her three foot diameter top-loading kiln.
Nigel Tyas said: "It all started when we invited Sarah to put her kiln in the corner of our forge. She'd recently set up her own studio at home, but couldn't plug the kiln in there as it needs a pretty robust power supply to maintain the 1,240 degrees centigrade required to fire her pots.
"We have an industrial standard power supply here and the right environment for a hot piece of kit like that. Our own propane gas-powered forge needs to be heated to a white hot temperature of between 1,000 to 1,100 degrees centigrade every day for us to work our metal."
Since moving her kiln in, Sarah has been popping up to fill it with new batches of work every couple of weeks.
Sarah said: "Having my own kiln at the ironworks has been a boon for my business as I've been able to get so much more of my work fired and ready for customers. It's meant I've been able to attend more events, handle more commissions and supply more galleries.
"On top of that I've had the chance to try something new and develop shades for Nigel's lights. It really didn't take long for us to start talking about working together on these shared projects."
The Oxspring wrought iron desk lamp, designed by Nigel, incorporates an arched stand with punched or radial detail at its base, and Sarah's textured stoneware shade at the top. The Wellhouse pendant light features a delicate, decorated porcelain shade in white, created by Sarah, and suspended on silk braided cable from Nigel's wrought iron ceiling rose.
Sarah has worked as a potter for ten years now after studying ceramics and fine art at Bretton Hall, when it was part of Leeds University. She works from her Penistone home studio and sells her decorative and functional work through galleries across England, Scotland and her native Wales, plus arts and crafts events and via www.notonthehighstreet.com
Nigel, and his partner Elizabeth Stocker, set up Nigel Tyas Ironwork in 2000 after Nigel worked for 30 years in metalworking industries. He started his career as a 16-year-old apprentice blacksmith with the National Coal Board at Elsecar workshops in the 1970s and worked for large industrial engineering companies in South Yorkshire before setting up his creative business as a designer-maker.
The company's products including chandeliers, light fittings, fireside irons and curtain poles are sold to customers all over the UK and abroad.
Nigel said: "We are committed to authentic, high-quality craftsmanship and it's been wonderful to work with Sarah to bring new handmade products to market."
The Oxspring desk lamp and Wellhouse pendant light are now available via www.nigeltyas.co.uk or call 01226 766618.
Notes to editor
Photograph shows Nigel Tyas and Sarah Jones-Morris.
For more information about Nigel Tyas Ironwork, please contact Nigel Tyas or Elizabeth Stocker on 01226 766618 or steph@nigeltyas.co.uk or go to www.nigeltyas.co.uk
For more information about Sarah Jones-Morris please email sarahjonesmorris73@gmail.com or find her on Facebook and 'Not on the High Street' website.
Visit the 'Our Friends in the North' section of the Nigel Tyas website to read more about their creative associates - Our Friends in the North