Made-to-measure traditional curtain pole
Order your made-to-measure wrought iron curtain pole with hand-forged finials following six simple steps below. The price of your pole will be calculated as you go and shown above. All finial design choices are shown in images. [ Please note, this new express builder creates a straight pole with finials at both ends - it includes your specified length of pole, two finials and two or three standard brackets. For curtain poles in settings which need specialist brackets, please order poles, finials and brackets separately via our Curtain Poles product page as usual. ]
How to measure for your curtain pole

To order the exact length of pole you need, measure the width of your window – then we suggest you add 10cm* to either side to allow space for your curtain drawback. Give us this figure for your pole length. Please provide your measurement in centimetres (cm) for our blacksmiths.
* 10cm is our recommendation, this can be increased or decreased as desired, if you have particularly heavy or lightweight curtains for example.
Important note: Do not include the finials in your pole measurement. These are made separately and added with a simple push-fit fitting. We just need a measurement for the length of straight pole you need. (For information, if you'd like to check what the full length of your assembled curtain pole will be, you can find the length of the finial you have chosen below.)
Finial Measurements
| Diameter | Tendril | Spiral | Spear | Smooth Sphere | Shepherd's Crook | Serpent | Ringlet | Rat Tail | Forged Ball | Curl | Button | Blanking |
| --- | --- | --- | --- | --- | --- | --- | --- | --- | --- | --- | --- | --- |
| 16mm | 110mm | 155mm | 150mm | 70mm | 130mm | 100mm | 175mm | 145mm | 70mm | 135mm | 42mm | 6mm |
| 22mm | 125mm | 180mm | 185mm | 80mm | 180mm | 150mm | 180mm | 180mm | 80mm | 165mm | 48mm | 6mm |
| 32mm | 165mm | n/a | 250mm | 90mm | 250mm | 210mm | 255mm | 220mm | 90mm | 200mm | 60mm | 11mm |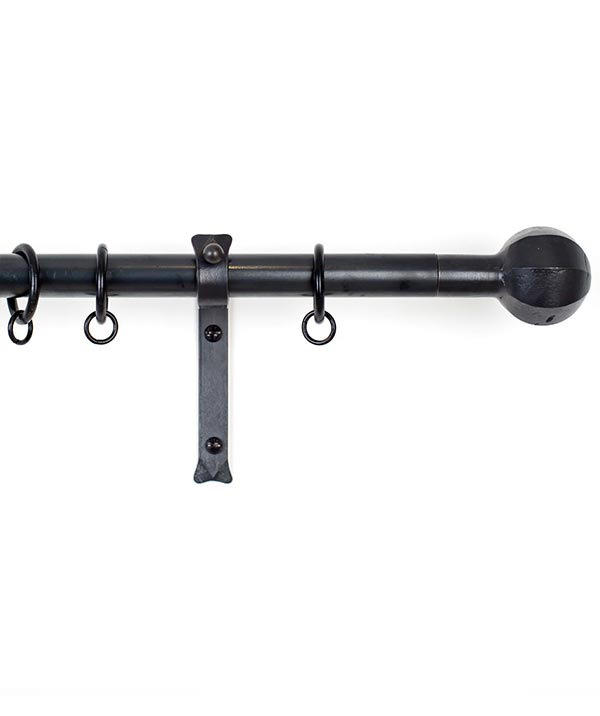 Forged Ball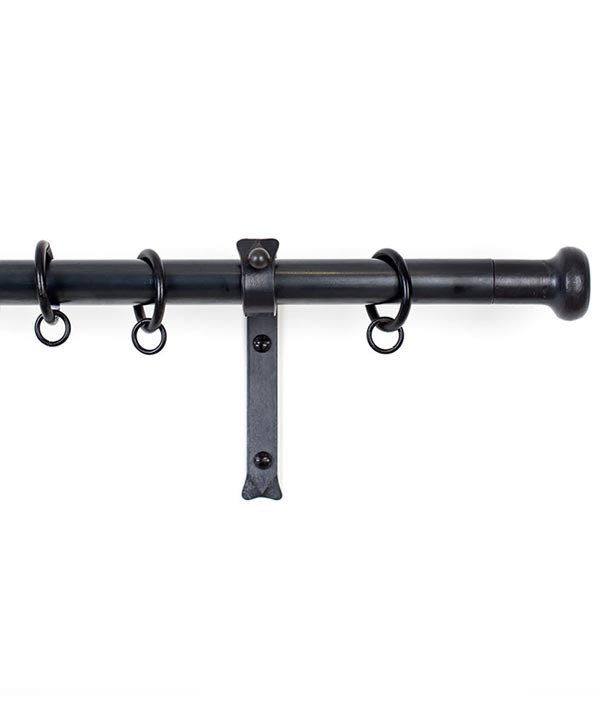 Button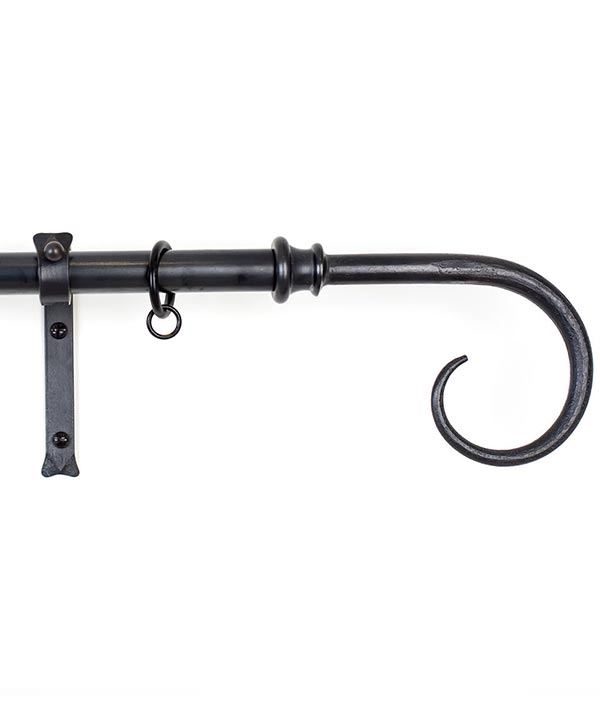 Curl
Shepherd's Crook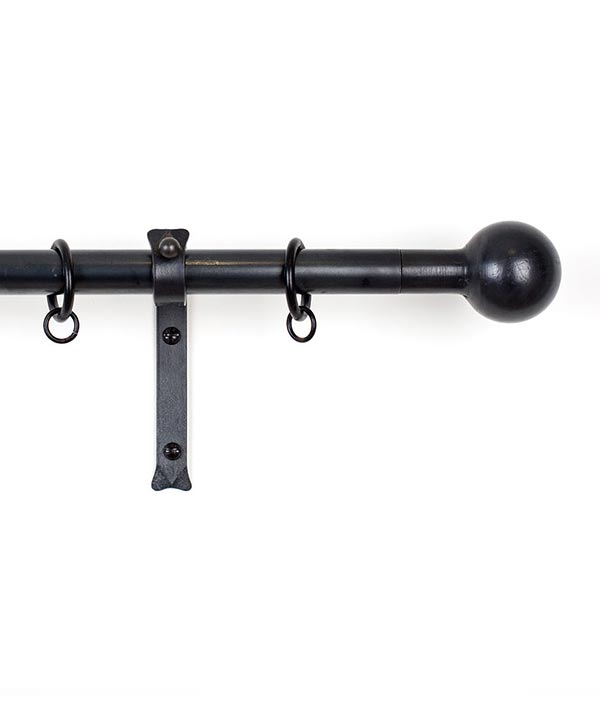 Smooth Sphere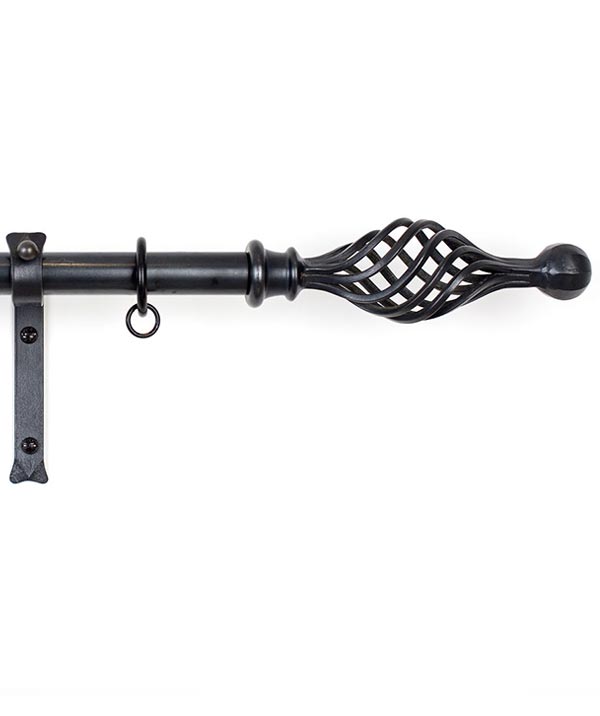 Spiral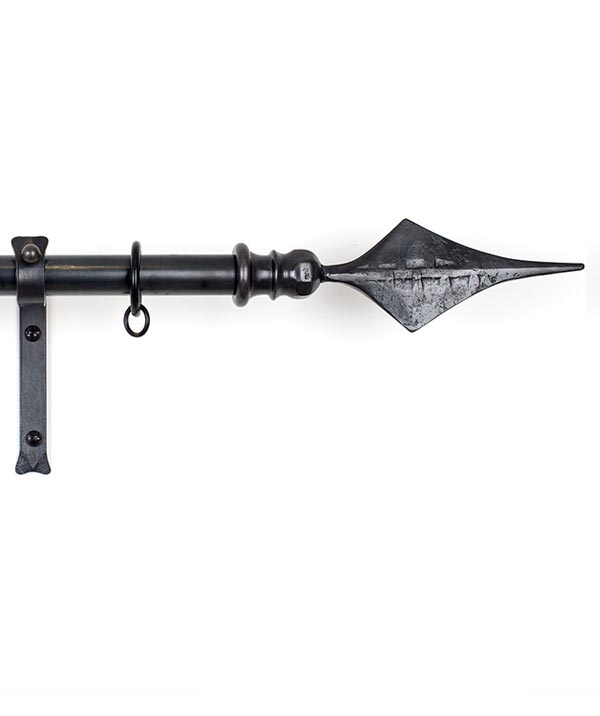 Spear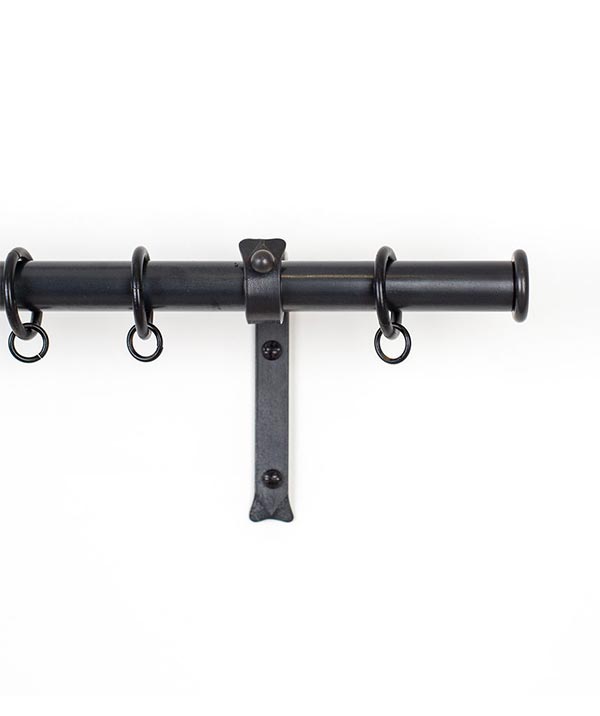 Blanking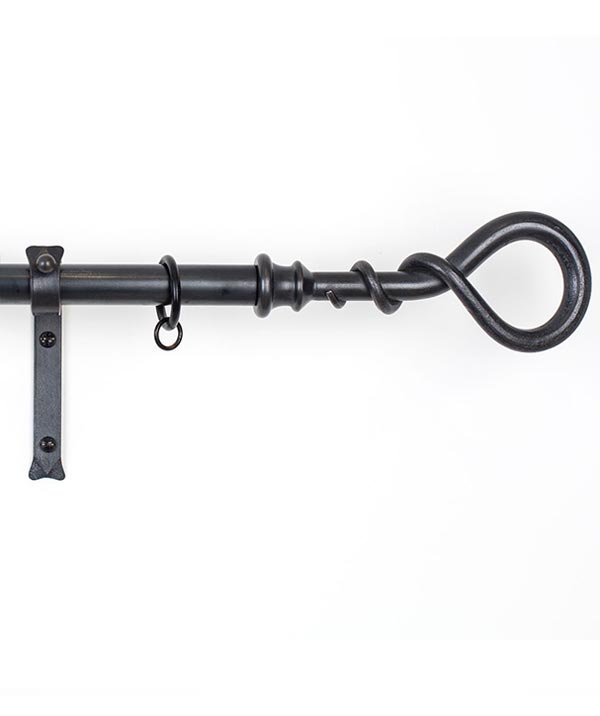 Rat Tail
Ringlet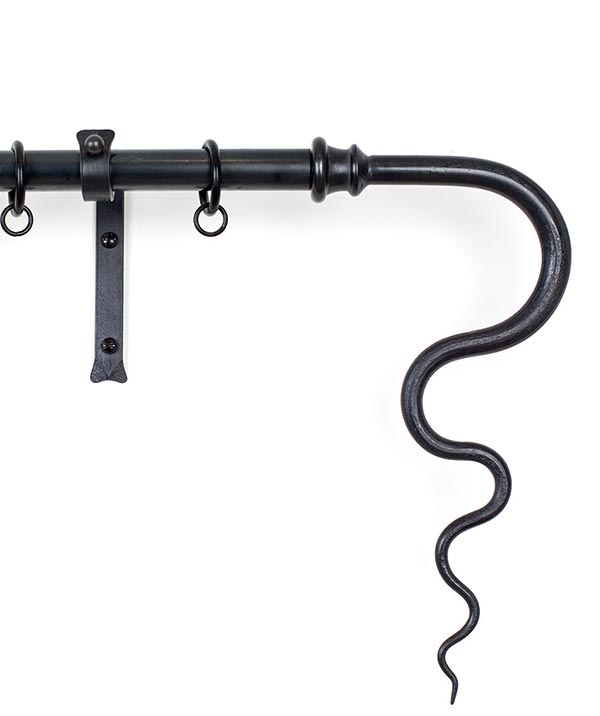 Serpent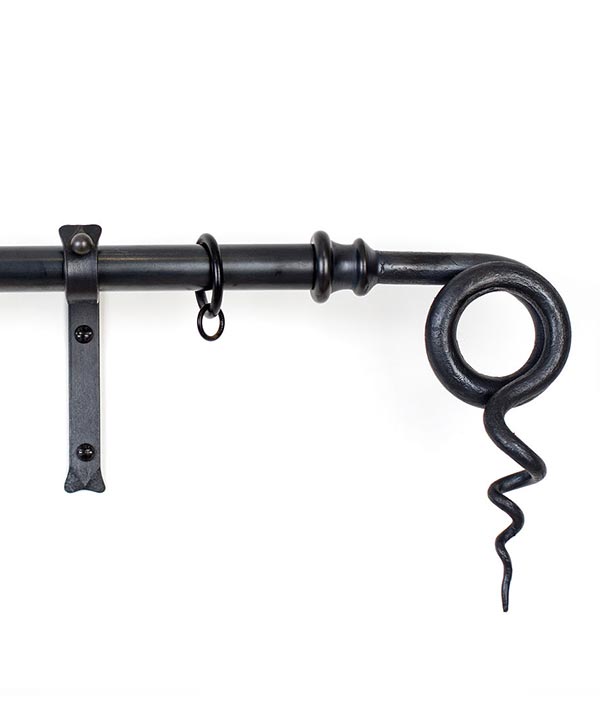 Tendril
Frequently Asked Questions
Made-to-measure traditional wrought iron curtain poles by Nigel Tyas Ironwork are customized curtain rods that are tailored to fit the specific dimensions of your windows. These forged steel poles are hand crafted according to your exact measurements, ensuring a perfect fit for your curtains and windows.
Made-to-measure wrought iron curtain poles offer several advantages. They provide a precise fit for your windows, eliminating the need for cutting or adjusting standard-sized poles. This ensures a clean and polished look. Additionally, customisation allows you to choose the specific finish, style, and design that complements your interior decor. Nigel Tyas Ironwork have a variety of hand forged finials.
Measure the width of your window in centimetres at the height you expect to hang the pole, including any additional space you want the curtains to cover. Ensure you account for any obstructions like window frames. The curtain pole should extend at least 10cm beyond the window edges to allow the curtains to draw back properly. We have a simple measuring guide online HERE
Whilst curtain poles can be crafted from various materials, including wood, aluminium and brass, the traditional poles by Nigel Tyas Ironwork are hand made with thick wall, tubular steel poles and solid forged steel finials. This combination is selected for its unique aesthetic and durability characteristics, meaning a smaller diameter can be used compared to brass or wooden poles which is often more elegant over a window.
Yes, one of the benefits of opting for made-to-measure curtain pole from Nigel Tyas Ironwork is the ability to choose the finish that suits your decor. We offer a traditional black waxed finish with it's heritage look or a more contemporary light burnished steel finish. This customization allows you to match or contrast with other elements in your room. See more info about our metal finishing HERE
Installation instructions vary slightly based on the specific design of the curtain pole eg Recess poles or standard poles with finials. Both require brackets that need to be attached to the wall and here at Nigel Tyas we supply the matching fittings. The pole is then secured onto these brackets. We can also supply curtain rings or hooks for attaching the curtains. Please note only standard fixings are supplied and you should always consult a specialist if you are unsure. Some homes require cavity wall fixings or other specialist items to ensure a solid connection.
Yes, our made-to-measure wrought iron curtain poles are designed to support heavy curtains. However, it's essential to choose a suitable diameter of pole and ensure that the brackets are securely installed. We recommend a bracket every 1.5m along a 16mm pole or every 2metres along a 22mm and 32mm pole. If you have particularly heavy curtains, you may want to consult with the manufacturer or a professional to ensure that the chosen curtain pole can adequately support the weight but we have seen full length interlined curtains hung over patio doors using our poles with no issues.
Any item that is made to measure cannot be returned. The poles are cut to a specific length to suit your needs and we offer guidance prior to purchase as required. The team here at Nigel Tyas Ironwork are available by email (sales@nigeltyas.co.uk) or telephone (01226 766618). With over 20 years experience in designing, making and supplying to a vast array of homes, we have solved just about every problem you can imagine and we have extensive online guides to assist also. Brackets, finials and rings etc that are standard design can be returned as per our full Terms & Conditions