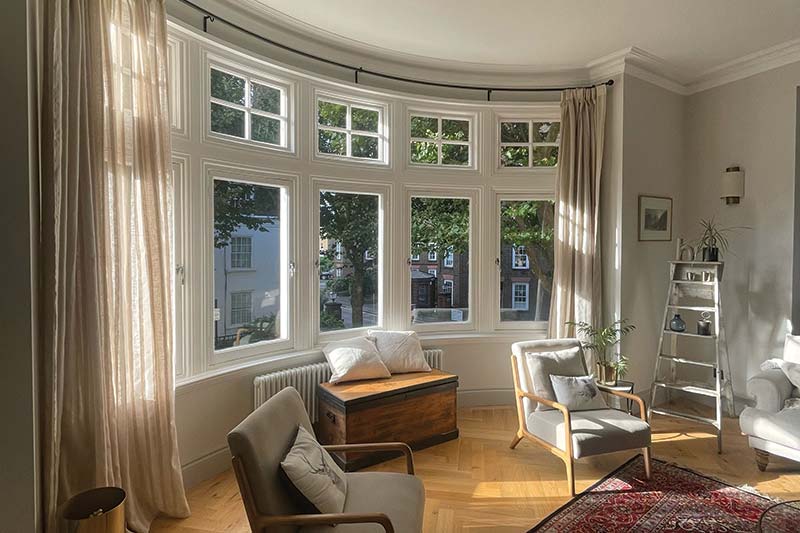 Made to Measure Bay Window Curtain Pole
You can now order your made-to-measure wrought iron bay window curtain pole with hand-forged finials following a few simple steps.
The price of your pole will be calculated according to the overall length and number of bends then choose your finials.
We generally supply bay poles with adjustable brackets to allow a good fit and longer/larger poles have passing brackets included to ensure a curtain can move all the way around the bay unhindered.
Currently our Bay poles are only available in 16mm or 22mm diameter and can be chosen in black or light burnished steel finish with any of our standard finial range to match.
Please use our measuring guides below and contact sales@nigeltyas.co.uk or complete the enquiry form below and we will arrange a quote for your window.
Bay Pole Measuring Guides
Click image for larger version.
Our wrought iron bay window curtain poles are designed and crafted by hand to suit your specific needs by our team of talented blacksmiths. These high-quality poles with decorative hand-forged metal finials and a variety of standard and specialist brackets will create the perfect fit.
Bay window curtain poles are ideal for fitting curtains in otherwise awkward window positions since they can be manipulated to the required unique shape of the bay window. This may also include L-shaped poles sweeping around corner windows or doorways.
If you have any queries at all we are here to help.
We do know it is important to feel confident in measuring and ordering your curtain poles, so please contact us on 01226 766618 or email sales@nigeltyas.co.uk with any queries.