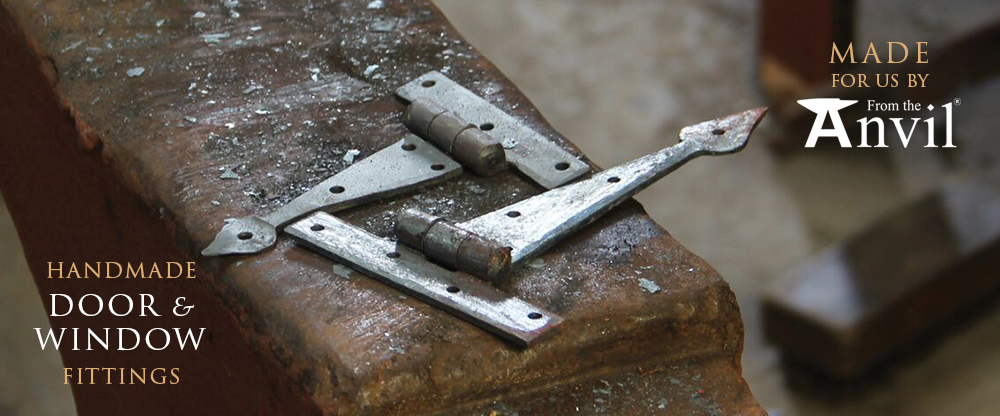 Introducing quality fittings for doors and windows produced by From the Anvil
Posted by Elizabeth Stocker - 03 August 2018

Due to popular customer demand, we are now selling a range of wrought iron door and window fittings to complement our lighting, curtain poles and other handmade ironwork.
Our blacksmiths haven't made these items in our own forge as our day to day work simply doesn't allow time for this. But we have carefully sourced these products, to meet Nigel's exacting standards of craftsmanship and material.
We are proud to announce that we have become registered stockists of hand-forged traditional ironmongery made by established UK-based metalworkers 'From the Anvil'.
Our 'From the Anvil' collection includes wrought iron door hinges, traditional thumb latches, forged lever handles, bolts and pull handles, as well as casement window fasteners and casement stays. Every product is available in From the Anvil's dark 'Beeswax' or lighter 'Pewter' finish.
You can see our selection of From the Anvil products on our website in the 'Door & Window' section. We also have samples on display in our showroom and From the Anvil catalogues available to take away. Our team can talk to you about these products and advise on your purchases just as they do with our own work. The showroom is open 9am – 5pm Monday to Friday and Saturday by appointment.
You can order direct from us any product listed in the From the Anvil product catalogue and online - we only display a selection on our website at the moment, but we can sell you any From the Anvil item that you choose. Just contact us direct on sales@nigeltyas.co.uk or 01226 766618 to enquire about buying a product not listed here.
Generally 'From the Anvil' orders will take at most 7 working days to deliver to you - just let us know your requirements and we will be able to give a firm timescale for delivery.
We hope you like these new additions to our wrought ironwork range. It has been a big decision for us to decide to offer ironwork made outside of our own forge but we chose to become an official From the Anvil stockist because, like us, they are committed to quality manufacturing to the highest specification. All of their ironmongery is hand-forged from steel using traditional hammer and anvil techniques, plus casting and CNC technologies. Their aim is to 'ensure strength and beauty' in every piece – with no two pieces being identical.
You can be confident that every other piece of ironwork in our range is still made by us - we are really pleased to offer this collection of wrought iron door and window fittings to our customers to provide a wider range of quality ironwork products for their homes.
These authentic fittings for windows and doors are made to last, to look good and feel good. As with all our Nigel Tyas Ironwork products, they are characterised by the ethos of producing handmade quality for life.
Have a look at our selection of From the Anvil fittings for doors and windows here - From the Anvil Door & Window Fittings.