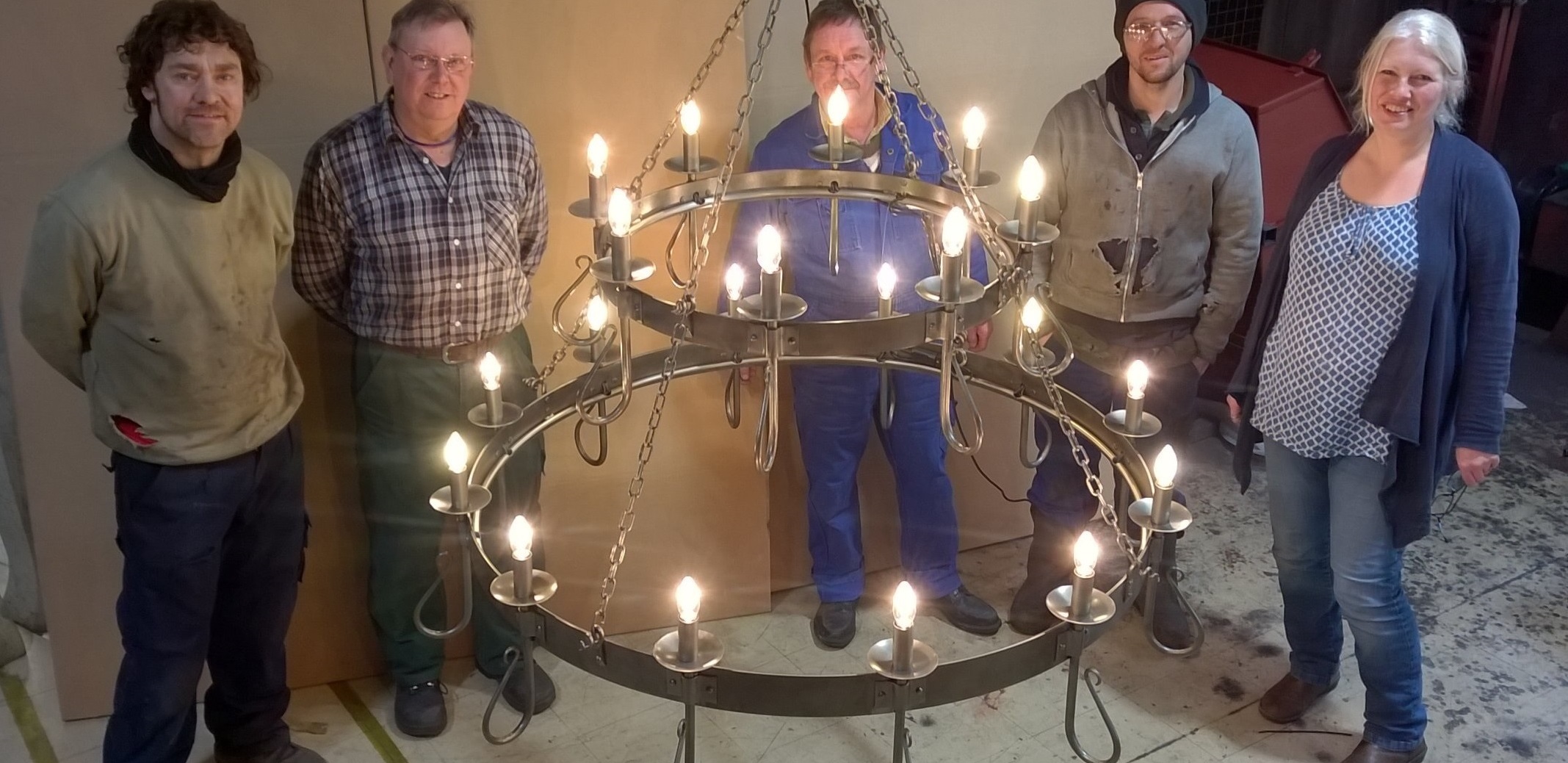 Press release - Biggest chandelier takes top spot at wedding venue
Posted by Steph Pollard - 15 June 2017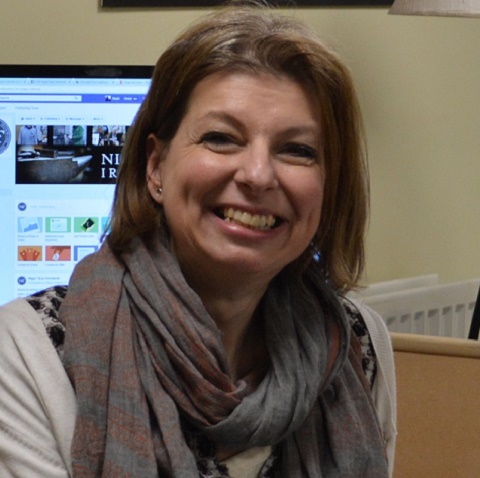 A team of Barnsley blacksmiths has delivered the largest chandelier it has ever made to an historic wedding venue in Northamptonshire.
Nigel Tyas Ironwork, which produces dozens of handcrafted wrought iron chandeliers a year, has completed its biggest ever commission for 19th century Crockwell Farm.
The two-tier light fitting, made to Nigel's own 'Shepherds Crook' chandelier design, measures 1.5 metres across, weighs 47kg and carries 24 candle-like LED lights. It now hangs seven metres high in the atrium of the oak-beamed former manor house.
Nigel Tyas said: "We're used to hand-crafting large chandeliers and light fittings for our customers who want them for castles, cathedrals, churches and country homes of all sorts, but this was a colossal one.
"It took four of us to handle it at one stage and we needed lots of muscle as well as skill to fashion and forge the iron hoops and fittings. It needed a good forged ceiling rose and a two metre length of chain for hanging too."
Nigel Tyas' chandeliers, light fittings, fireside irons and curtain poles can be found in castles, churches, pubs, restaurants, hotels, heritage properties and family homes across the UK and abroad.
Hermione Harper of Crockwell Farm said: "We found out about Nigel Tyas online and we are delighted with our chandelier which creates the perfect centrepiece in the newly-renovated stone hallway of our venue. It often attracts admiring glances upwards as people sip their drinks and have their wedding photographs taken."
Nigel Tyas Ironwork, based at Bullhouse Mill, in the Barnsley village of Millhouse Green, has established a national reputation for quality and authenticity since it was established 16 years ago and has recently launched its own online shop.
The company delivers its products all over the world – recently shipping an order of four chandeliers and a selection of table lamps to a customer in the USA.
All Nigel Tyas' light fittings, including Crockwell Farm's medieval-inspired chandelier, are fitted with the latest energy saving LED bulbs as standard, which use 80 per cent less power than traditional incandescent bulbs.
Nigel, who has more than 40 years' experience in ironwork, started his career as a 16-year-old apprentice blacksmith with the National Coal Board at Elsecar workshops in the 1970s and worked for large-scale industrial engineering companies in South Yorkshire before setting up his own business with his wife Elizabeth Stocker in 2000.
Nigel Tyas' unique products are designed in traditional and modern styles and carry the prestigious Made in Sheffield mark which recognises the quality of manufactured products and further celebrates his close association with Sheffield metalworking heritage.
Notes to editor
Photographs show Nigel Tyas and his team with the 1500cm diameter chandelier at their Bullhouse Mill forge; plus the Shepherd's Crook chandelier in position at Crockwell Farm.
For more information about Nigel Tyas Ironwork, please contact Nigel Tyas or Elizabeth Stocker on 01226 766618 or elizabeth@nigeltyas.co.uk. Visit www.nigeltyas.co.uk for more information too.
For more information about Crockwell Farm, please visit www.crockwellfarm.co.uk or call 01327 361 358.