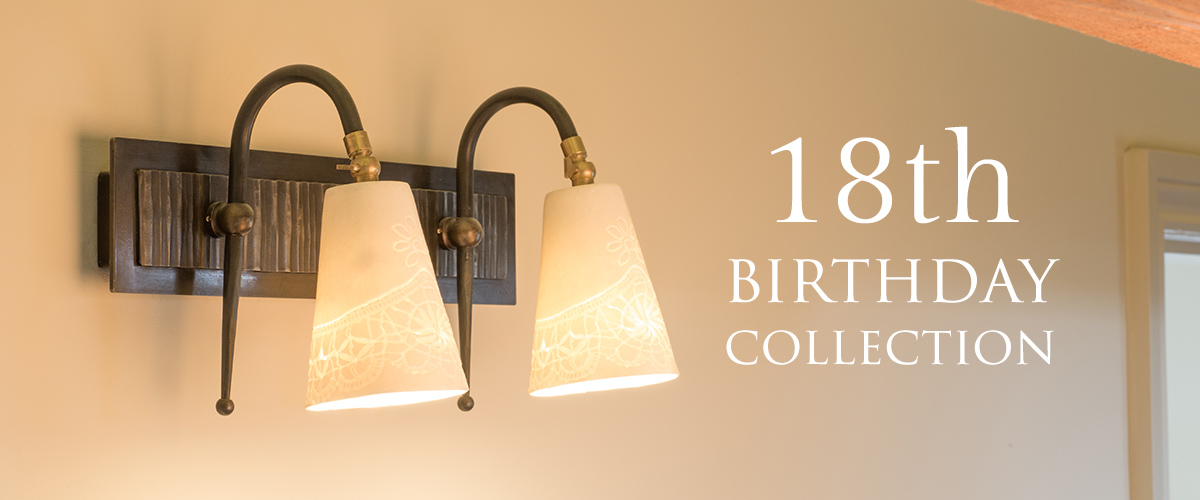 Our 18th Birthday Collection
Posted by Elizabeth Stocker - 02 May 2018

Nigel and I established Nigel Tyas Ironwork in the year 2000 and it has a significant birthday this year. We thought we'd celebrate our first 18 years as a rural craft business by highlighting ten products which tell you a little bit about our story so far. The 18th birthday collection picks out designs and innovations from those early days to present day. Enjoy!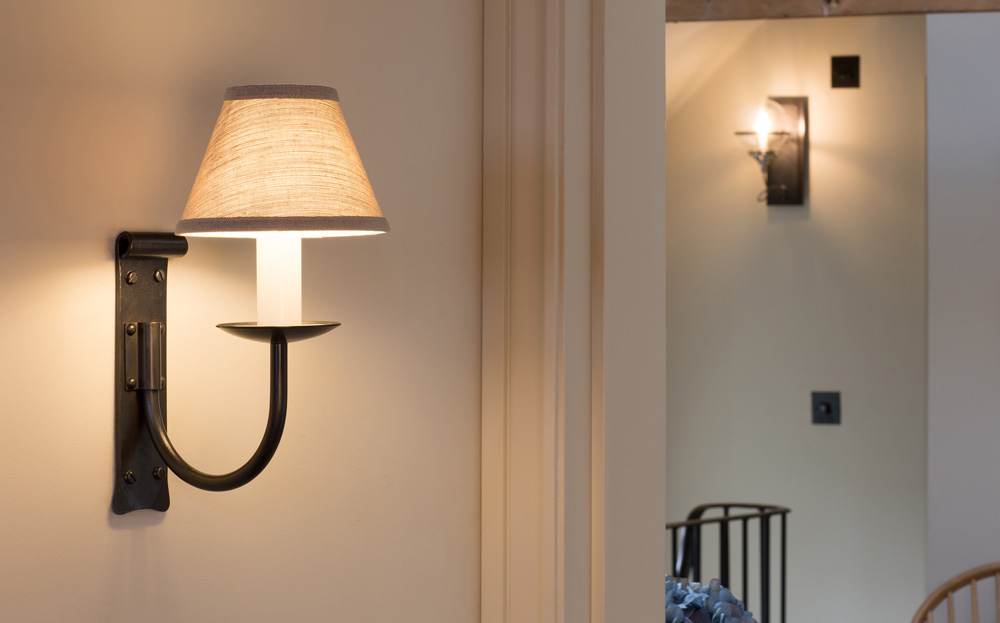 Swaine wall light – Nigel's first design
The Swaine wall light was Nigel's first design and remains an enduring favourite to this day. It combines a hand-forged, scroll-top backplate with sweeping arms, mounted with dishes and candle tubes, in ivory; natural black or light burnished steel - to match the finish of your light. This traditional wall light can be used with or without shades. The Swaine design became the basis for several others such as the Emley, Dunford and Winscar wall lights which each offer a slightly different look for our customers. All of these wall lights are named after villages and places around our forge in the beautiful rolling hills to the north of Sheffield in South Yorkshire. The Swaine's particular claim to fame is that we previously sold a dozen or so to adorn the walls of the Woolpack on Emmerdale!
Swaine Single Wall Light | Swaine Double Wall Light | Swaine Large Single Wall Light | Swaine Large Double Wall Light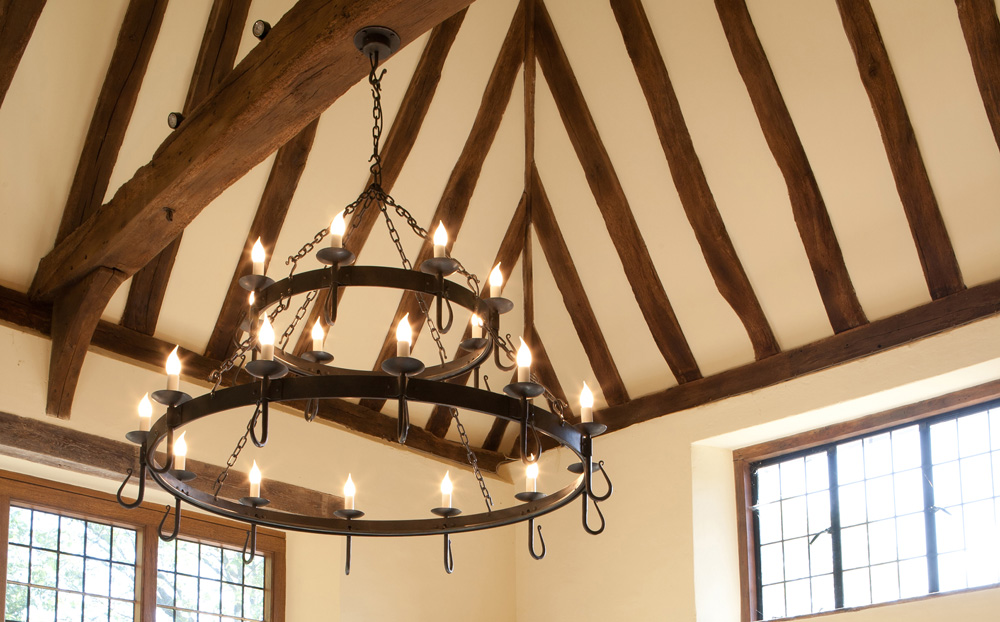 Shepherd's Crook chandelier – creating centrepiece lighting
Our Shepherd's Crook chandelier features the pleasingly traditional old English shepherd's crook design, which adorns each candle-light setting around the wrought iron hoop of the chandelier. Impressive in single or two-tier formation, it hangs from chain attached to a hand-forged ceiling hook. Over the years, we have made shepherd's crook chandeliers to hang in manor houses and renovated barns; wedding venues and stately homes. We're proud to say that the Maiden's Tower at Leeds Castle in Kent features several of our shepherd's crook chandeliers.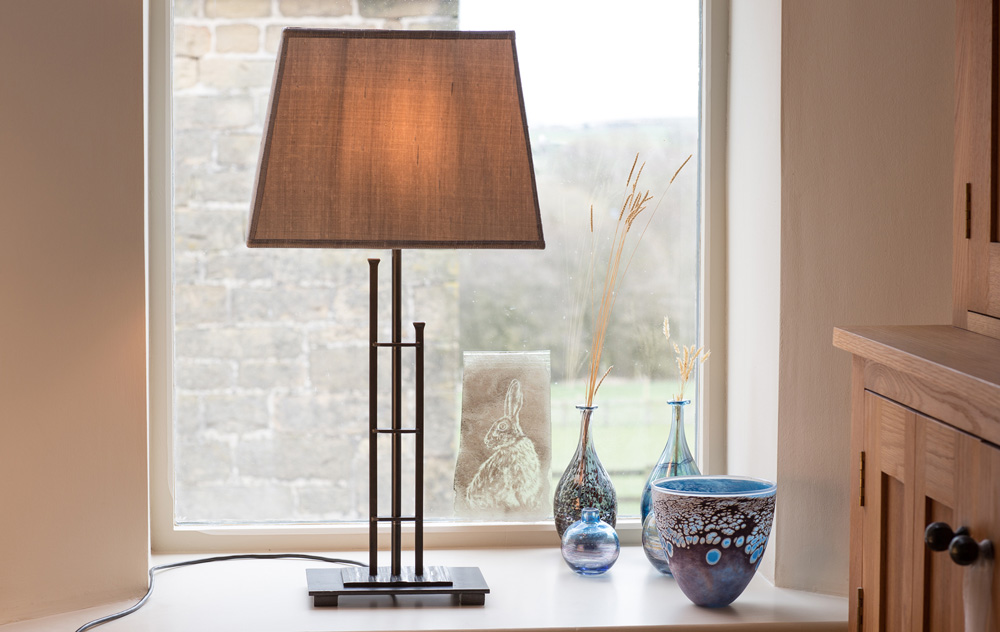 Illions lamp – featuring our signature textured panel
The Illions lamp has a decorative panel of 'fullered' metal at its base, a feature which characterises every item in our Illions range. Fullering involves our blacksmiths hammering and stretching the steel to give a linear texture, which is then waxed, buffed and polished, to highlight the hammer strokes and the contrasting tones in the upper and underlying metal. Nigel was inspired by ripples in the sand of Whitby beach when he designed this signature decorative feature. The style of this lamp is also significantly influenced by the Arts and Crafts Movement of late 19th century. The Illions lamp - with its three adjoining columns -pays homage both to Charles Rennie Mackintosh's design motifs and William Morris' campaign to keep craftsmanship, quality and the beauty of natural materials at the heart of making.
Illions Lamp | Illions Medium Lamp | Illions Standard Lamp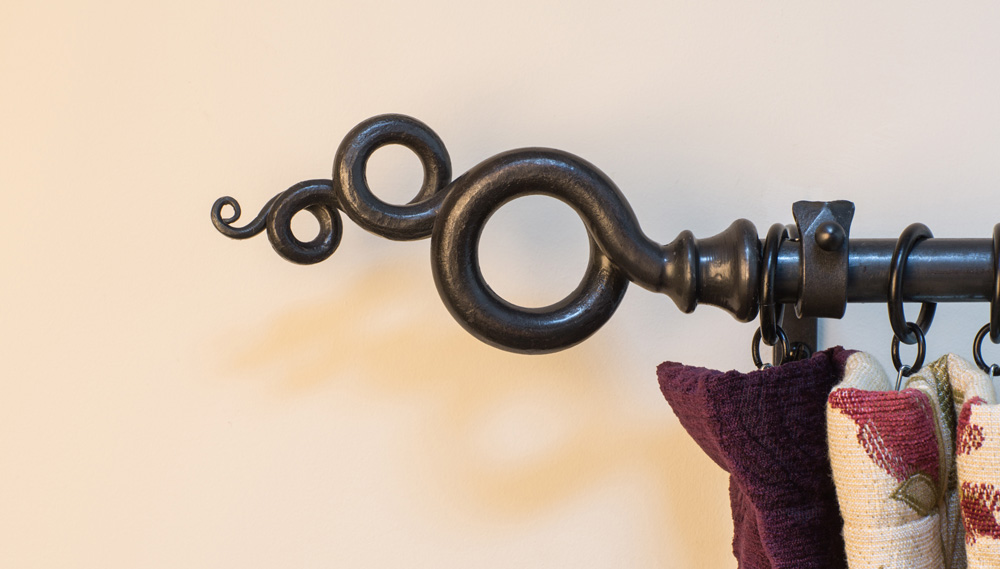 Ringlet curtain pole finial – our most distinctive finial design
We have been making wrought iron curtain poles for our customers for 18 years now and have gradually extended our choice of handmade finials to 15 designs. These range from a simple button finial to our elaborate ringlet. The ringlet is Nigel's most distinctive design and probably the most complex to make. Its curls are handmade by our blacksmiths, with the tiniest created freehand and the remainder wrapped clock-wise and anticlockwise around our bespoke ringlet jigs, resulting in a fluid, twirl of unfurling of curls. The ringlet is just one the finials which can be fixed to our hand-forged traditional poles, made from thick-walled tubular steel, which are attractive, strong and relatively lightweight. They are suitable for fitting to all types of walls and hanging all weights of curtain.
Ringlet Finial | click here to see more of our beautiful finials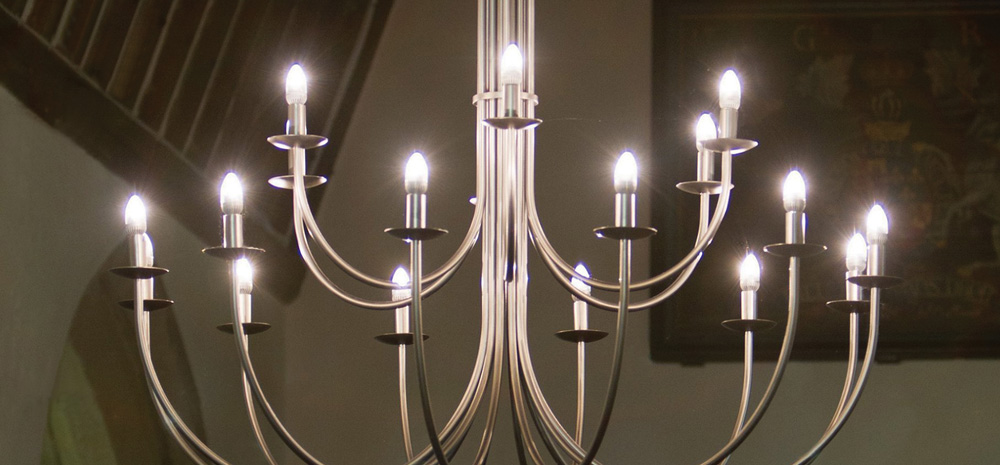 Hartcliff wrought iron chandelier – an elegant light in every setting
Nigel Tyas Ironwork's Hartcliff chandeliers hang in ancient churches and period properties; as well as stylish new-builds and renovations. The Hartcliff's classic, clean lines are timeless. In fact, the Hartcliff probably best embodies Nigel and Elizabeth's original ethos for the company. That is, to create attractive, handmade products; inspired by our heritage; but not too fussy or overly ornate. Nigel created the Hartcliff after a visit to Canterbury Cathedral. He looked up at the vaulted ceiling and thought its arched lines in reverse would create a perfectly-balanced chandelier. The 3-light pendant Hartcliff was the first pendant light Nigel created and we now produce a full rnage of sizes including bespoke two-tier giants with 18-lights or more. This 12-light Hartcliff chandelier is one of our best sellers.
Hartcliff 18-light Chandelier | click here to see more of our beautiful Hartcliff chandeliers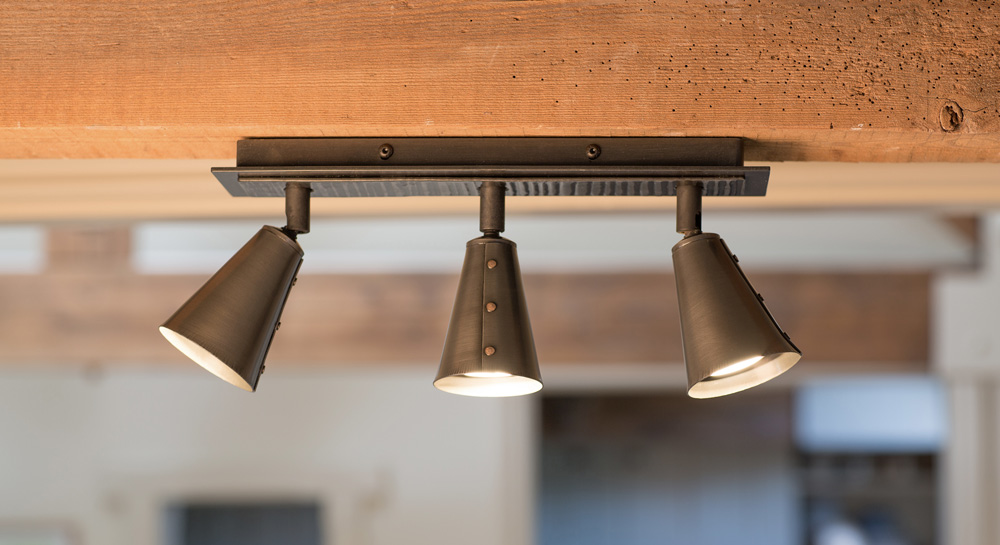 Spotlights – adding a new direction to our product range
Our spotlights are hand-forged, handsome and at home in both modern and traditional settings. Each spotlight hood is hand-rolled, joined with tiny copper rivets and finished with a choice of either a hammered edge or a pierced edge. We introduced them to our online catalogue in 2016, to add an adjustable light which can provide directional lighting to our range, and they have quickly become a key product. Our spots can be wall or ceiling-mounted and are available in single, double, triple or multiple formations. We also make matching pendant spotlights. We plan to expand our spotlight range in our 18th year to include a strip of five on a long decorative ceiling plate.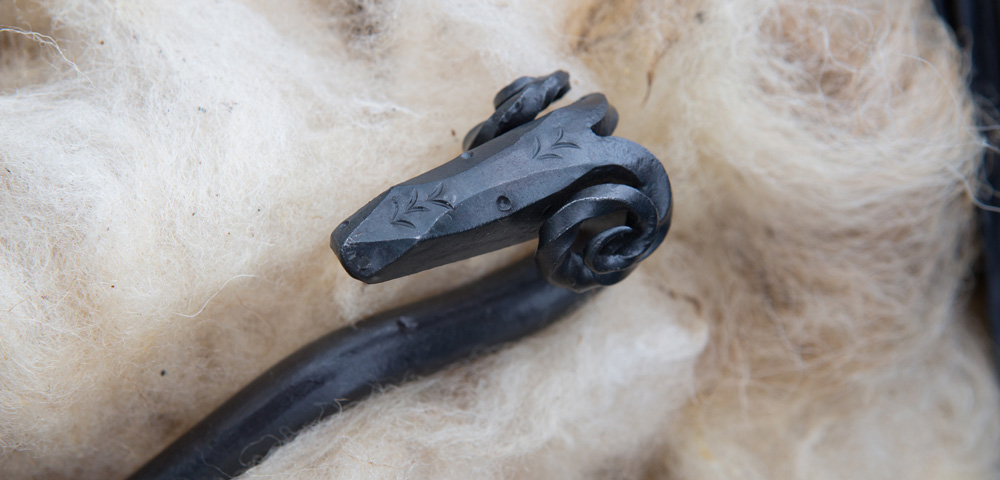 Ramshead poker – adding a little character
Our ramshead poker is modelled on a very particular breed of sheep very close to our hearts – the Whitefaced Woodland. This rare breed was once common in the rugged hills of South Yorkshire around our forge. It is even nicknamed 'the Penistone Sheep' after our nearest market town. Our blacksmiths have to use their most dexterous metalworking skills using hammer, tongs and chisels to recreate the ram's impressive curled horns, long face and features. It gives them the opportunity to add a bit of character to their work too – some of the rams have smiles whilst others can look quite grumpy! Our iconic design is not to be rushed and each ramshead poker is made with pride.
Ramshead Poker | click here to see our full range of handforged fire irons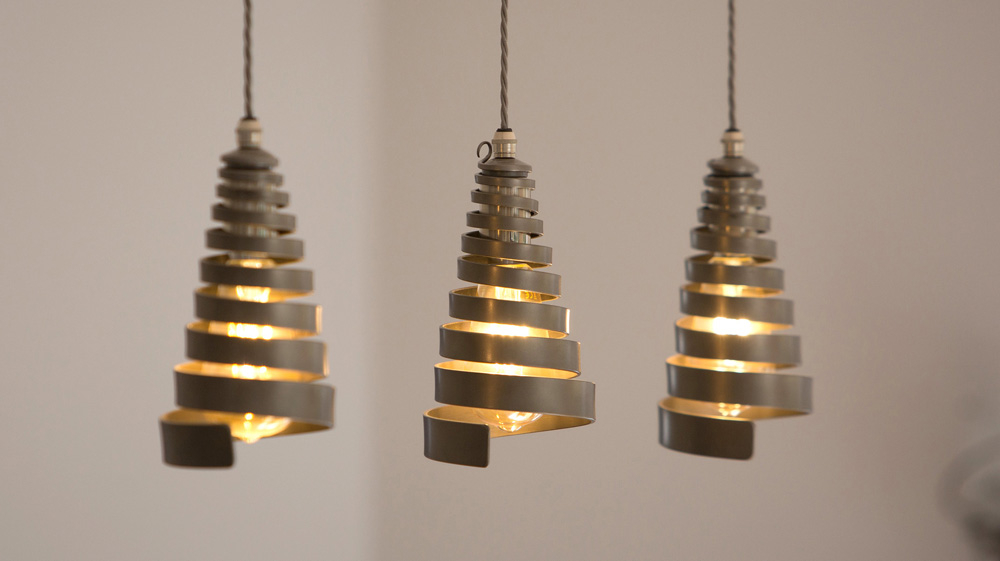 Bretton – a distinctive contemporary design
The Bretton is one of our most striking contemporary designs, available as a single pendant or in multiple formations. The Bretton's conical shape is created by wrapping a single taper of steel around a mandrell jig and finishing it on top with a tiny forged curl. Available in natural black or light burnished steel, it is finished with a clear lacquer to give a satin sheen. The Bretton was designed by one of Nigel's small team of blacksmiths, Simon. It's a fine example of the creative talent we have working away in the heat of our forge. The Bretton is named after the South Yorkshire village of Bretton which gives its name to the nearby Monk Bretton Priory a ruined monastery dating back to 1154.
Bretton Pendant Light | Bretton 3-light Pendant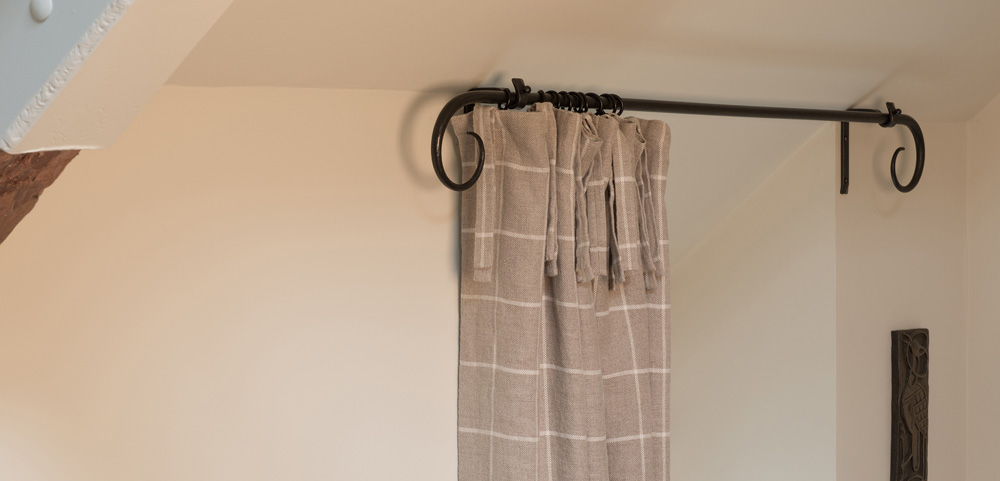 Cottage pole with curl finials - hand-forged authetic craftsmanship
Not a lot of people make solid, hand-forged, wrought iron curtain poles complete with decorative finials. We do. In our Yorkshire workshop. Our cottage pole with curl finial is made from a single length of steel. To make the finials, the hot metal is expertly wound around a jig on the anvil and worked into shape with hammer and tongs. Through this workmanship, our blacksmiths create an attractive curl of steel tapered to a central point. The cottage pole's authentic, handcrafted look and feel makes it perfect for country homes and rural properties. We also make a range of strong, hand-made brackets to fit our poles to any period property walls, whatever uneven lumps, bumps and challenges they may present. Our cottage poles are available in 12mm and 16 mm diameter, and made-to-measure up 2 metres. The popular curl design became our logo motif in 2017.
Cottage Pole with Curl Finial | click here to see the full range of cottage curtain poles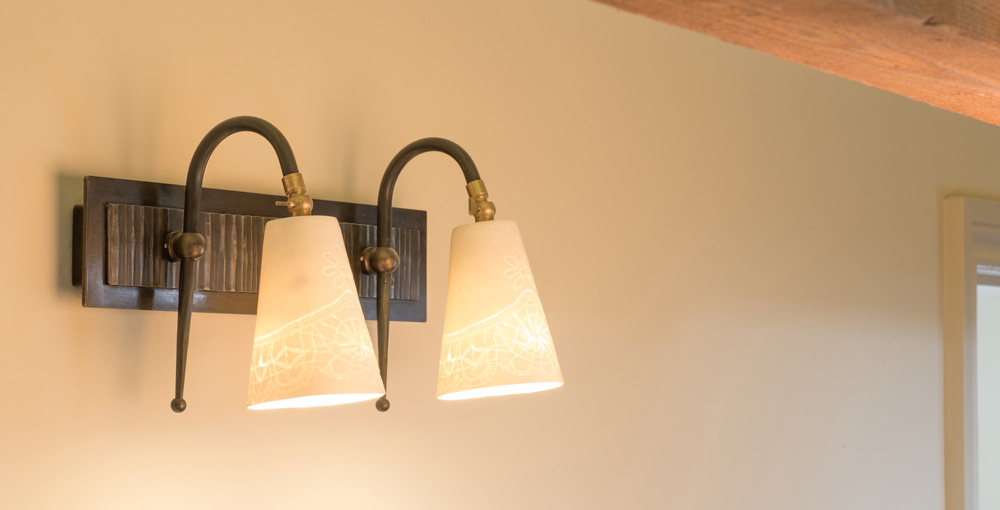 Mickleden wall light – combining metalwork and ceramic craft
One of our very latest new designs, the Mickleden combines the skills of our blacksmiths with those of accomplished local ceramicist Sarah Jones-Morris. The wrought iron wall light features a decorative backplate and a slender taper, finished with a tiny forged ball. It is completed by a delicate porcelain shade, hand-rolled and hand-decorated with a lacy pattern design. Sarah keeps her kiln in our forge and we are very pleased to collaborate with her on this unique light as well as the Wellhouse pendant and Oxspring desk lamp. The Mickleden is our first new product launch of our 18th birthday year!
Mickleden double wall light | Mickleden single wall light
It's been difficult to select just ten for this anniversary collection! Please browse our full range of products. The best way we can think of to share the Nigel Tyas Ironwork story is through the things we make.
Each of these pieces is available to buy direct from on our website at https://www.nigeltyas.co.uk/collections/18th-birthday-collection.html
Call us on 01226 766618 or email on sales@nigeltyas.co.uk with any queries.