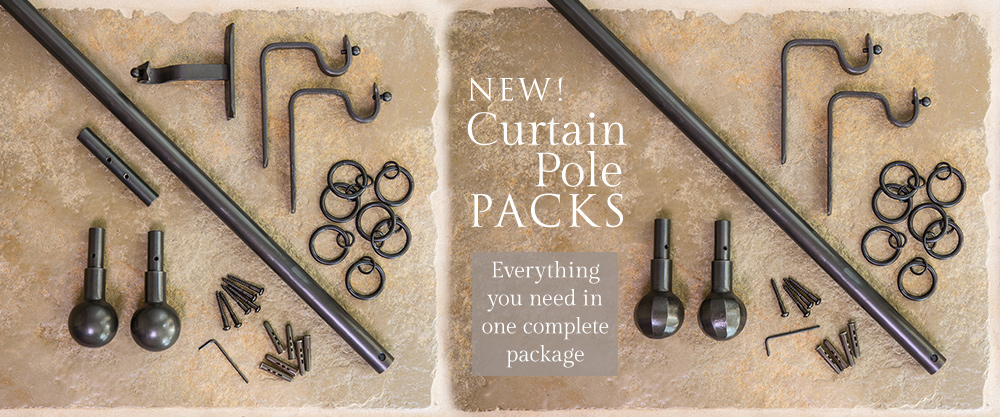 Introducing a new quicker way to buy our Nigel Tyas Ironwork traditional handmade curtain poles
Posted by Elizabeth Stocker - 26 June 2018

There is now a simpler, quicker way to buy a traditional, handmade Nigel Tyas curtain pole – we'd like to introduce the . . .

Nigel Tyas Ironwork Curtain Pole Pack

Buy everything you need in one complete package!
This new buying option provides the same blacksmith-made quality, but offers a speedier ordering and delivery process.
Buy everything you need in one complete package!

For many years now, we've been making our range of wrought iron curtain poles to fit our customers' windows perfectly. Using our existing ordering process you can choose the diameter of pole you need and have it made to the exact length required. Customers can pick from our full range of 15 finial designs and two metalwork finishes. They then add the brackets and rings they need and any other accessories of their choice. We've then made the curtain pole to order.
However, we appreciate that time can be of the essence these days! And, for many people with standard-sized windows, a more 'ready-made' purchasing option would be appreciated. So, here is a new way to order everything you need to install one of our traditional curtain poles featuring some of our most popular finial designs.
Our Nigel Tyas Ironwork Curtain Pole Packs contain everything you need to dress one window.
Each pack includes:
one handmade traditional curtain pole
two hand-forged finials
handmade wall brackets
screws and fixings
a set of curtain rings
All our curtain pole packs come in our most popular natural black finish.
A choice of 2 pole diameters and 6 pole lengths . . .
We offer Curtain Pole Packs in two diameters of pole - 16mm and 22mm – and six lengths to fit most standard-size of windows - 1m, 1.2m, 1.4m, 1.6m, 2m and 3m.
A choice of 6 finial designs . . .
They are available with six of our most popular finial designs -  Button, Smooth Sphere, Forged Ball, Curl or Shepherd's Crook.

An easy ordering process . . .
To order, simply select the complete curtain pole pack which is right for you via our online shop - then pop the Curtain Pole Pack you have chosen in your basket!
We aim to get our curtain pole packs sent out to customers within the week.
Same Nigel Tyas Ironwork quality . . .
Every item is still made to the same high standard as our made-to-order range, just hand-forged in advance, then prepared and packed up promptly for your convenience.
Our new curtain pole packs are available now to buy direct from on our website at https://www.nigeltyas.co.uk/curtain-poles/traditional-pole-packs.html
You can, of course, still order a curtain pole through our fully bespoke service if you prefer, but we are very pleased to be able to offer this complete package option too.
Any feedback from our customers is very welcome - just call us on 01226 766618 or email sales@nigeltyas.co.uk
We hope you enjoy picking your Nigel Tyas Ironwork curtain pole pack.