Case study - A Portuguese villa with traditional brick ceilings
Posted by Steph Pollard - 08 December 2017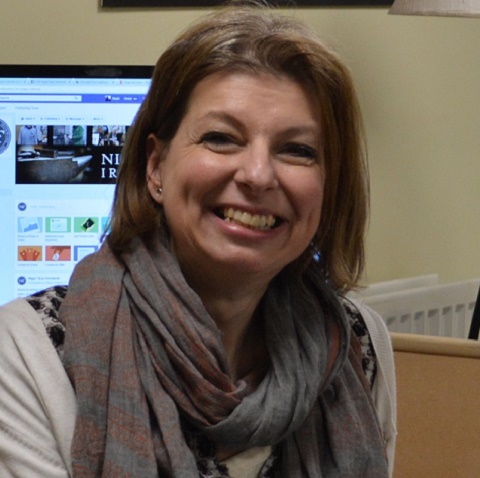 It's so lovely to see our chandeliers hanging in customers' homes and we were particularly thrilled to see these two hanging from distinctive brick ceilings in a light and spacious Portuguese villa.
---
Francesca Aykroyd and her husband wanted to buy a villa in the Algarve to be a holiday home for all their family to use - and they wanted this particular villa because it 'needed a lot of work'. Francesca was keen to put her years' of experience in interior renovations to good use.
Francesca says: "We looked at a lot of properties, but I have always been involved in house renovations, so we thought it would be good to make our own mark on a villa, hence buying this one which we totally gutted. It was a full renovation job which took ten months to complete.
"We opened it all up inside, taking out lots of smaller rooms to make it open plan, let in lots of light and create a feeling of space."
Francesca was keen to introduce two brick Portuguese ceiling to the villa as they are a traditional feature found in many old houses in the country. They are built brick-by-brick, by hand to an individual design. The Brammall's architect designed the layout for theirs, and a specialist craftsman, placed each individual piece in to the pattern.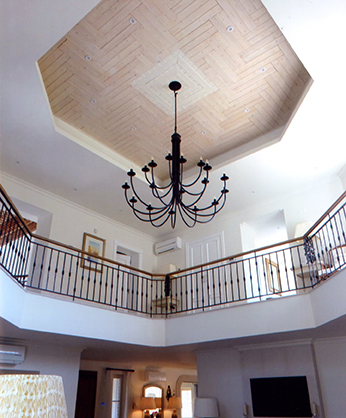 Francesca was then looking for wrought iron lighting and curtain poles to suit their white walls, spacious rooms and ornate brick ceilings.
"I had in my mind a simple style which is elegant. I did not want anything too fussy as we have quite a lot of ironwork on the balcony and staircase railings, as well as table bases, already.
"I found Nigel Tyas Ironwork on the web after looking extensively for chandelier designs which I thought would fit into our scheme. It is always difficult looking at plans and deciding what would look right but I knew immediately that the Tyas designs would complement the villa style which is basically traditional with a few modern elements.
"I am delighted with the chandeliers and curtain poles, they fit in exactly as I had imagined."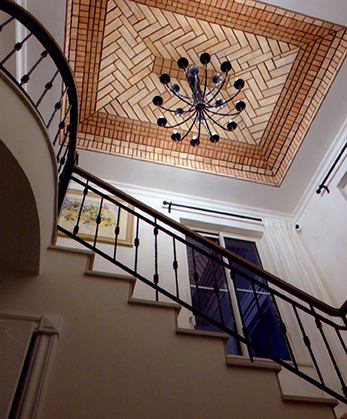 Francesca chose two 18-light Hartcliff chandeliers – one 150cm wide and the other a metre – to hang 2.5 metres from her brick ceilings.
Each is in our natural black finish with matching candle tubes and LED bulbs. Francesca's chandeliers were also customised slightly to fit her Portugese villa scheme. She preferred a clean-line, hook and rod-like hanging solution as opposed to the more traditional chain. So, we supplied an extra-long tubular section capped with a domed cap at the centre of the chandelier – and then a tubular casing to take the electric cable to the ceiling.
Francesca also ordered ten traditional 32mm diameter curtain poles with smooth sphere finials and curtain hold backs. These were fitted with a selection of vertical and horizontal brackets to the ceiling and wall, and completed with our wrought iron curtain rings.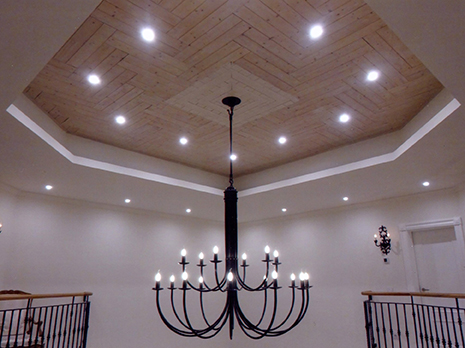 Francesca says: "Nigel Tyas have been more than helpful, from my very first meeting to crating up and delivering the order. They have a fantastic team and I thoroughly enjoyed working with them all and looking around the workshop.
"I have dealt with a lot of trades supplying various items for the villa and there are three or four craftsmen who really stand out as being exceptional. Nigel Tyas is one of those."
We are delighted that our wrought ironwork features in this beautiful Portuguese villa.