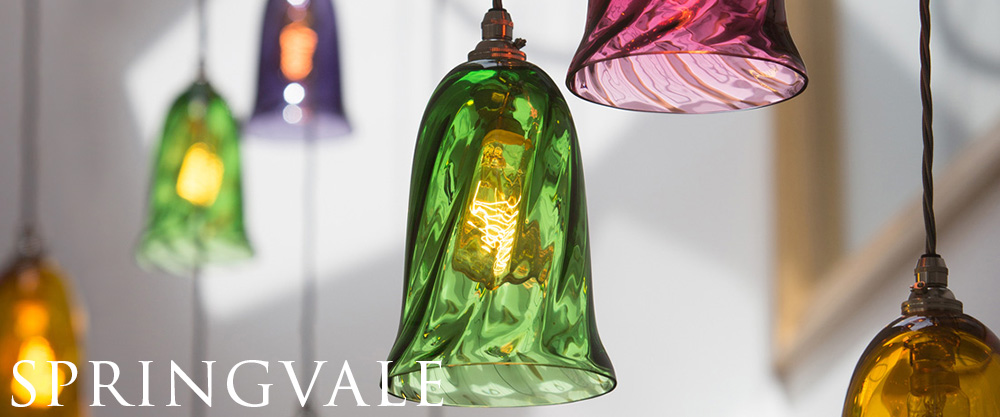 Introducing our Springvale 7-light pendant
Posted by Steph Pollard - 14 January 2019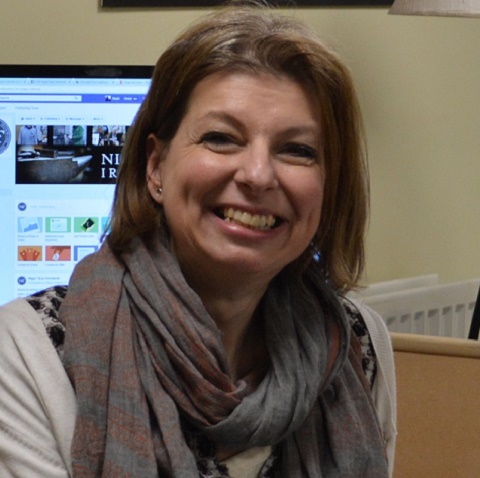 Our latest light design is a colourful collaboration with Silver Tree Crystal glassmakers of Somerset. The Springvale combines our hand-forged wrought iron light fitting with their beautiful glass shades in a rainbow of colours.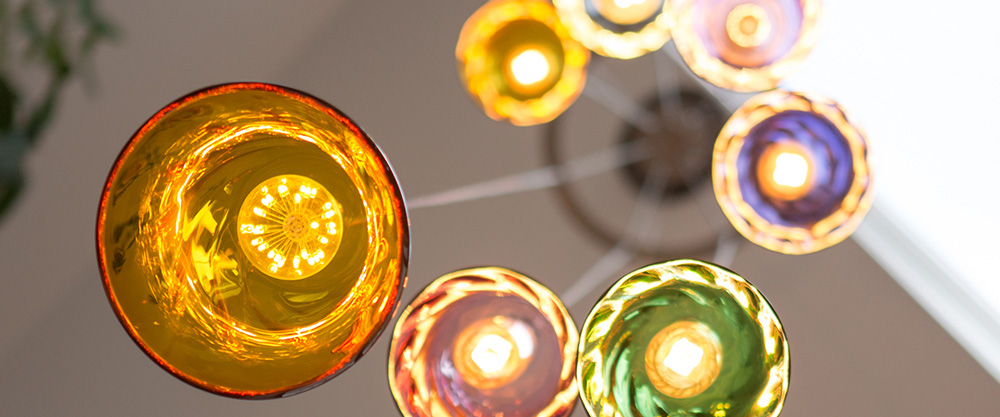 Wired in our electrical workshop, and sold exclusively through our website, The Springvale is made in Britain by blacksmith and glassmaker. It's been wonderful to bring our skills together to produce this colourful cascading creation.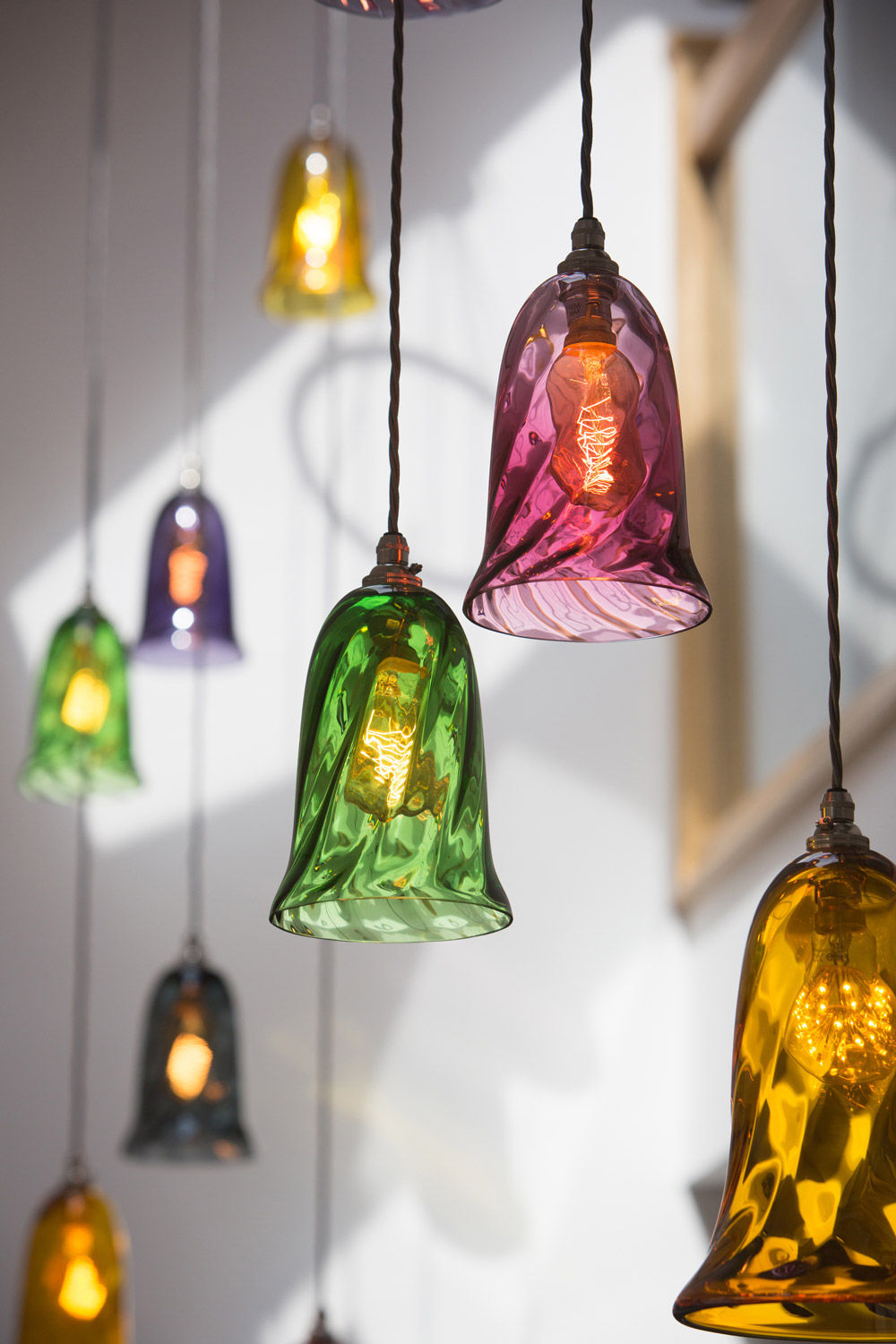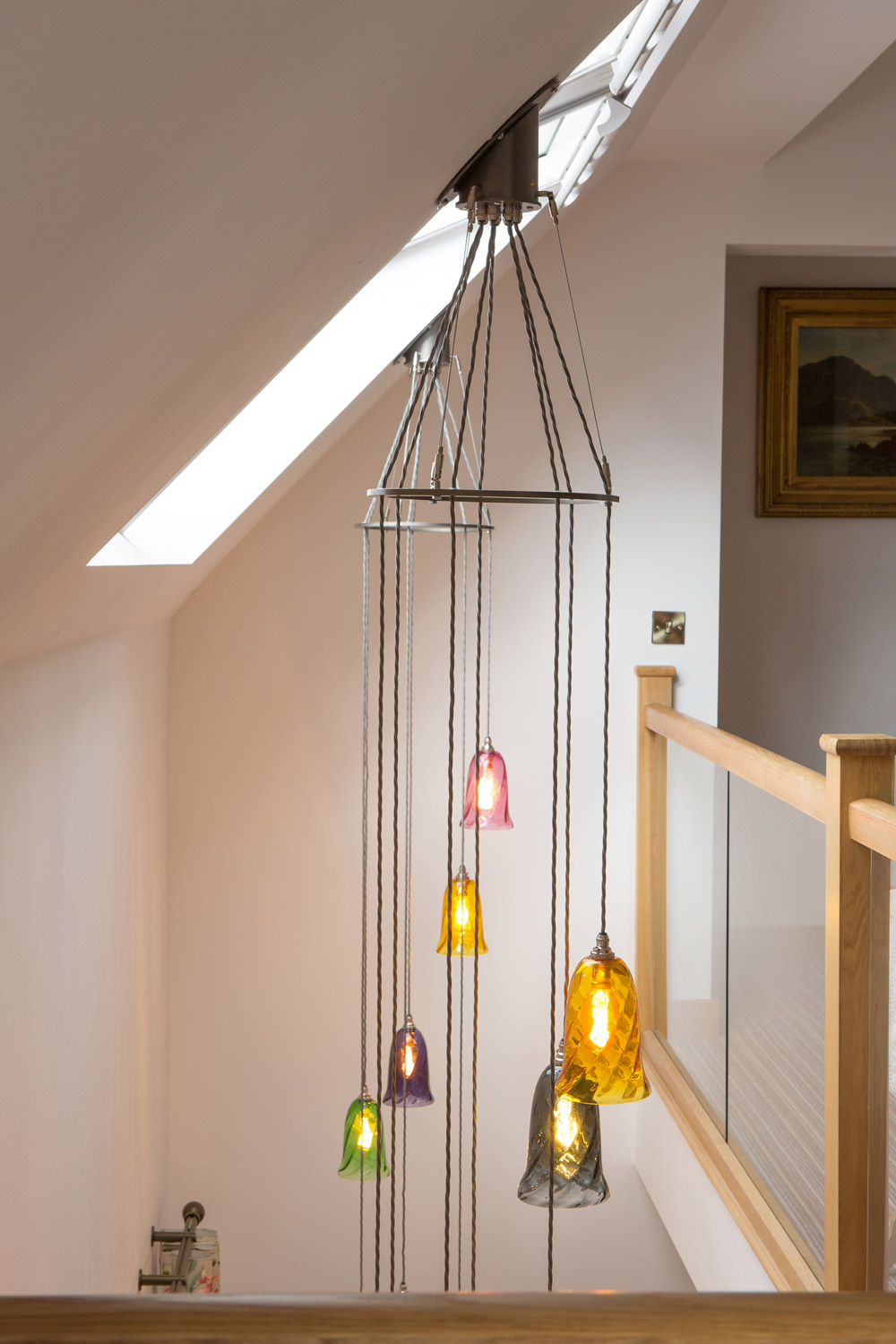 When Nigel and Elizabeth visited the showroom of Silver Tree Crystal in Somerset, they were like children in a sweet shop. The stunning colours and quality of their 24 per cent handmade lead crystal products blew them away.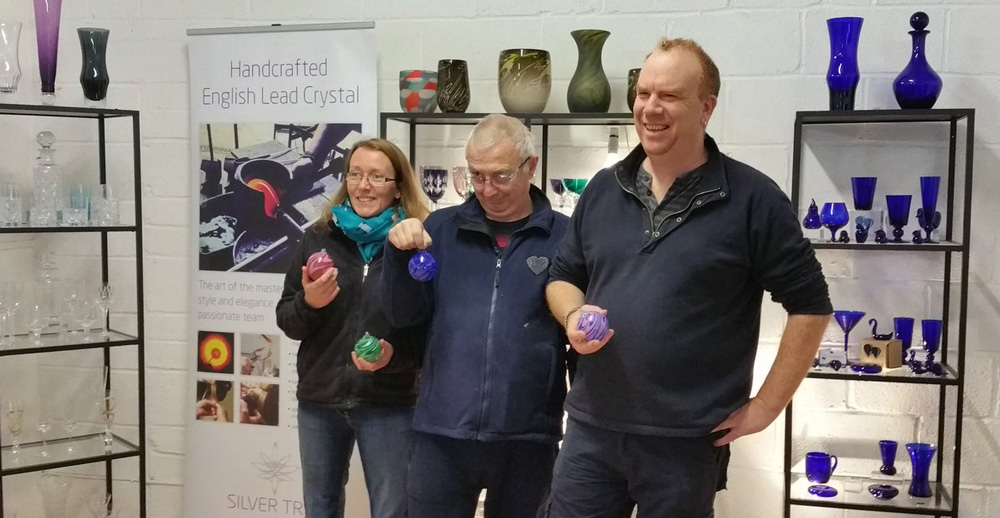 They met the designer/makers Paul Larner and Janey Pointing and had a tour of their workshop. Safe to say, it was the beginning of a beautiful relationship.
Nigel said: "We talked to Paul and Janey and straight away knew we could work together to create a unique and stunning range of lighting combining our wrought ironwork with their beautiful glass."

Paul and the team use traditional techniques to blow and cut lead crystal. They've also developed their own modern methods to produce a stunning range of coloured glass. Silver Tree Crystal have spent over a decade perfecting these techniques and are now highly-regarded as specialists for coloured crystal glass in the UK.
With a new light design in mind, Nigel asked them to produce bell-shaped glass shades with twisted optics in a range of their evocative colours.

Paul worked his magic and has exclusively produced shades for us in amber, ruby, spring green, cerulean blue, hyacinth, lime green, apricot, grey and copper blue.

Nigel has then designed a new wrought iron ceiling rose with separating ring to hold the shades in an elegant formation. The finished light has been made, assembled and wired in our workshop.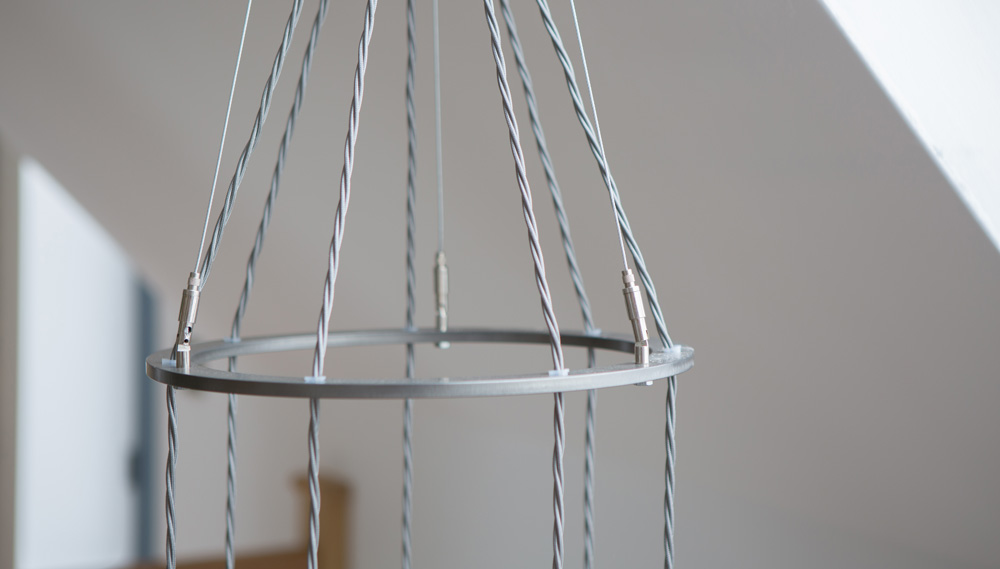 The Springvale light features a cascade of seven Silver Tree shades, one large at the base and six regular-sized ones ascending, hanging from a wrought iron ceiling rose designed and made by Nigel Tyas Ironwork.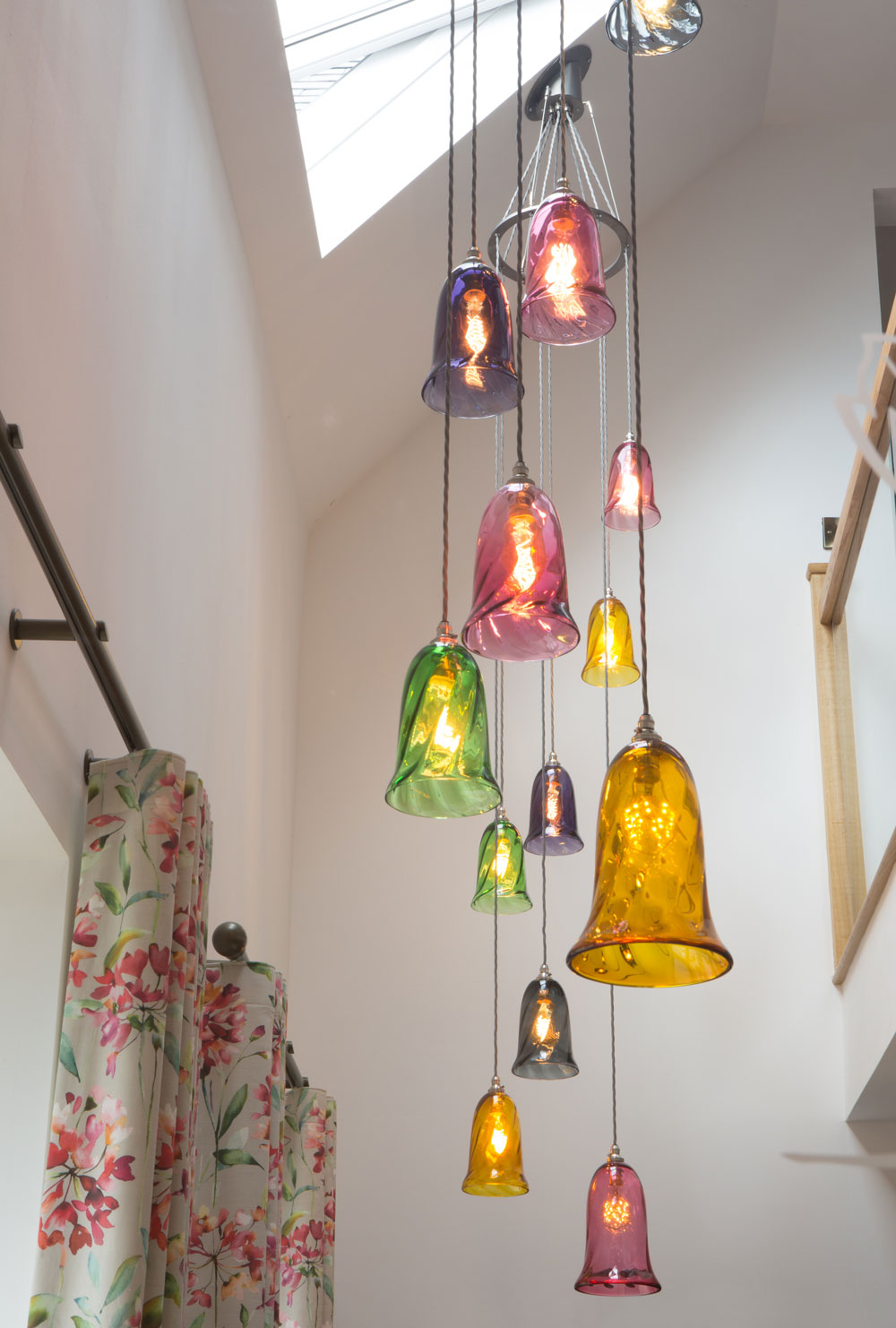 Customers can choose the metalwork finish of the ceiling rose we produce – ether natural black or light burnished steel - and also the colour of the quality fittings we use, the cable grips and lampholders. These are available in either antique bronze, nickel or brass.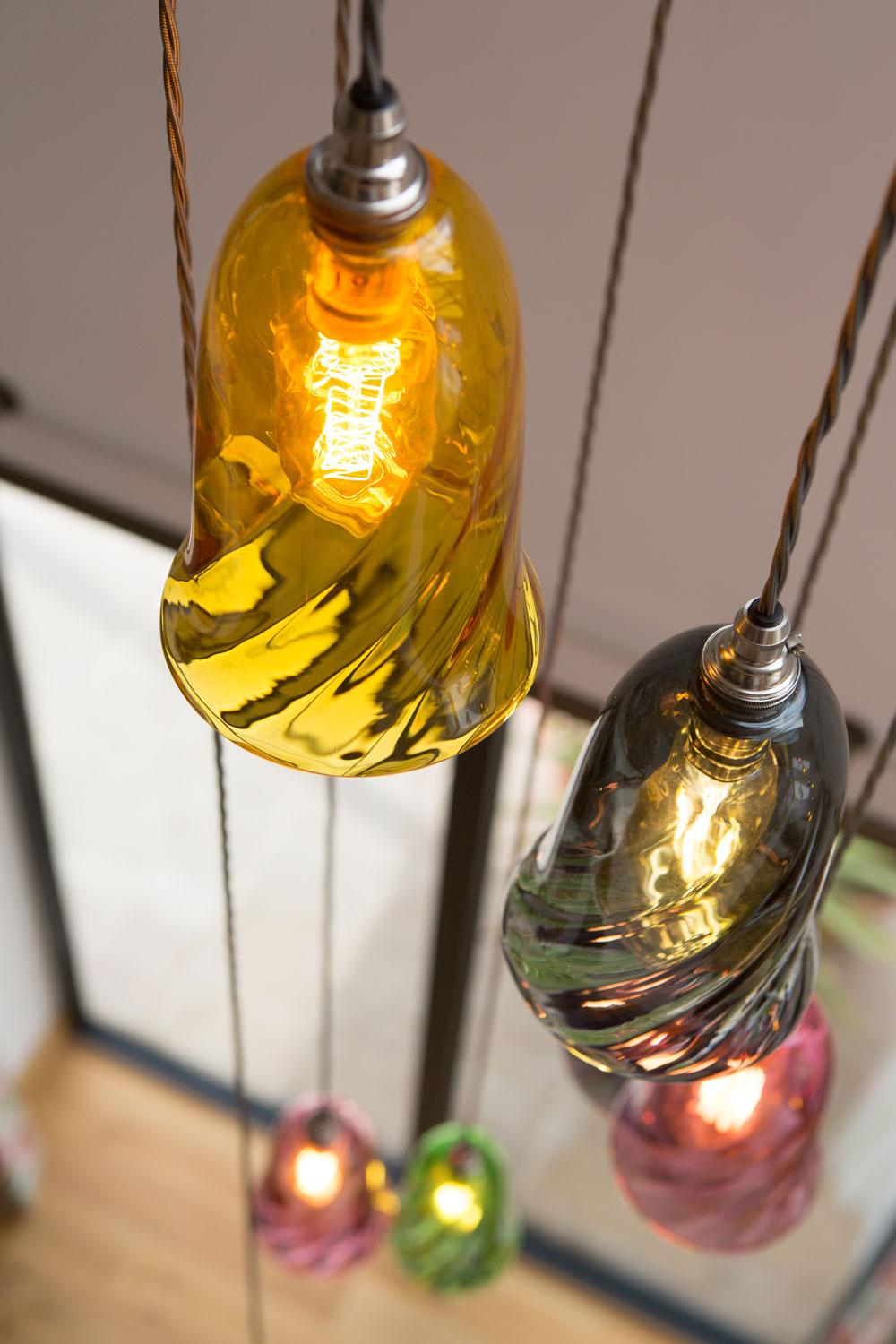 The silk braided cable used to suspend the lamps at different heights is also available in a choice of grey, brown, antique gold, silver, black, blue or copper.
Our first Springvale 7-light pendant, pictured, has been made to fit a sloped ceiling, but of course, it can be made for a flat ceiling position too.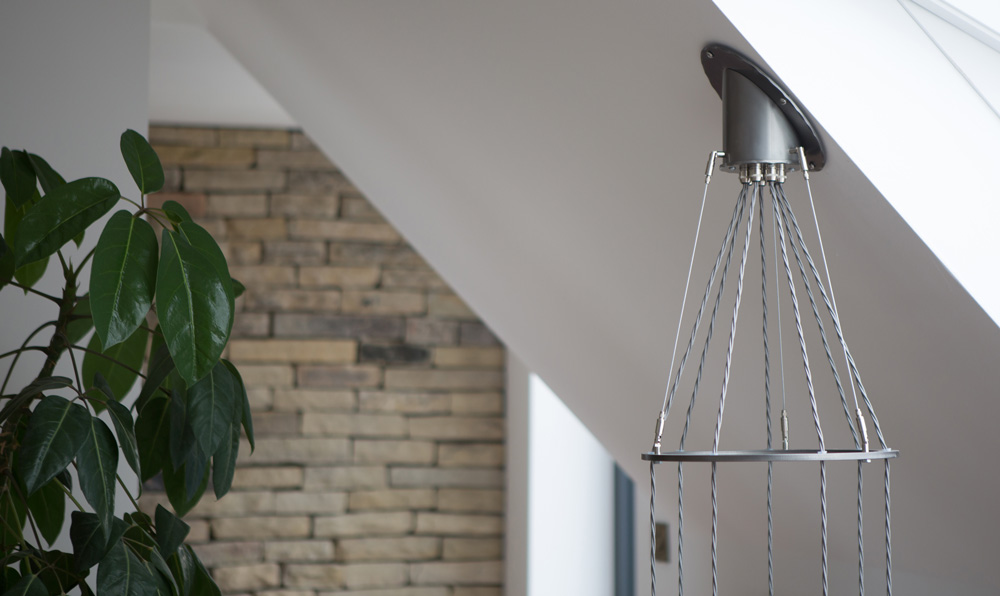 We hope you like the light. We are extremely excited about its launch and look forward to introducing 5-light and 3-light versions soon. These smaller products are available on request now, and can be made with the cylinder-style ceiling rose as standard, or a flat ceiling plate fitting if preferred.
Please contact us direct to discuss on 01226 766618 or email sales@nigeltyas.co.uk
We'll be launching the single Springvale pendant light next. And, customers can also buy the shades alone, via the glass shades section of the website.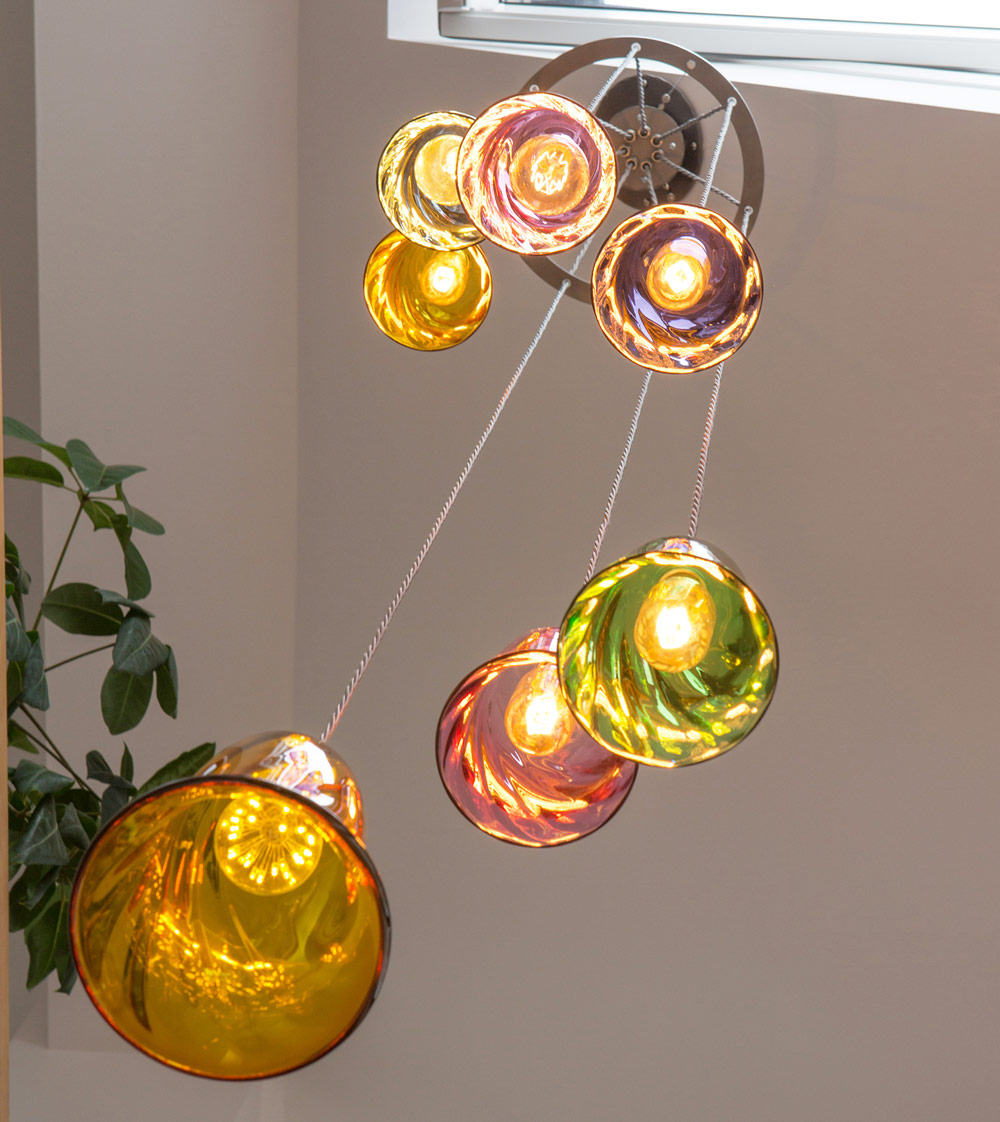 Nigel says: "It has been an absolute pleasure to work with Silver Tree to bring this unique range of lighting to market. We are very proud to use traditional tools and techniques to work metal in the forge and so it's good to partner with an artisan working in another material equally dedicated to their craft."
Our new Springvale pendant lights are available now to buy direct from on our website by clicking here.
Any feedback from our customers is very welcome - if you need more information or would like to talk to us about other options, just call us on 01226 766618 or email sales@nigeltyas.co.uk