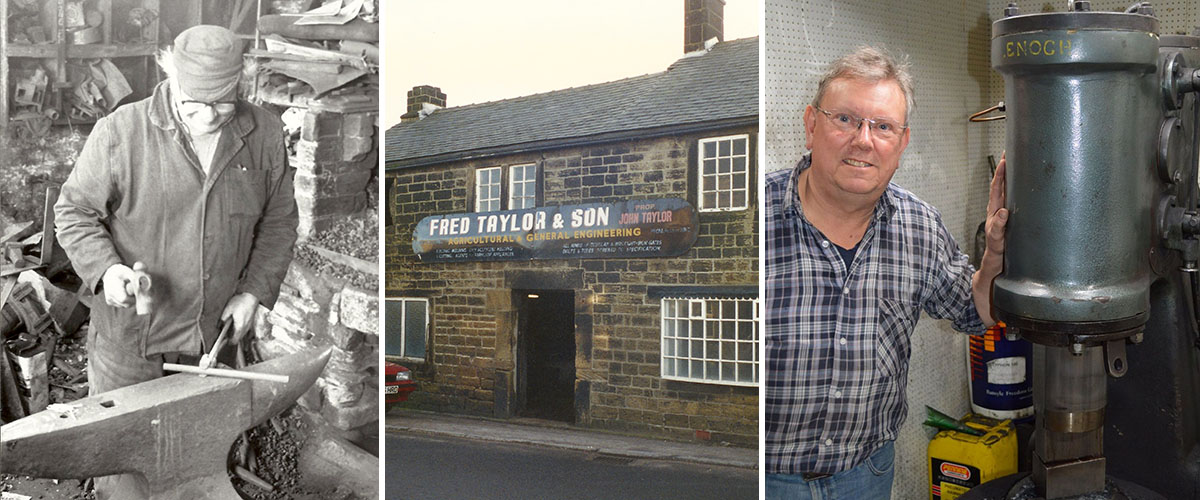 Harmonious Blacksmiths
Posted by Jim Milner - 14 May 2015

I first met Nigel Tyas and his wife Elizabeth in 2005. I had wanted to buy some wrought iron fencing for my garden, and a friend advised me to go and see them at their Bullhouse Mill forge.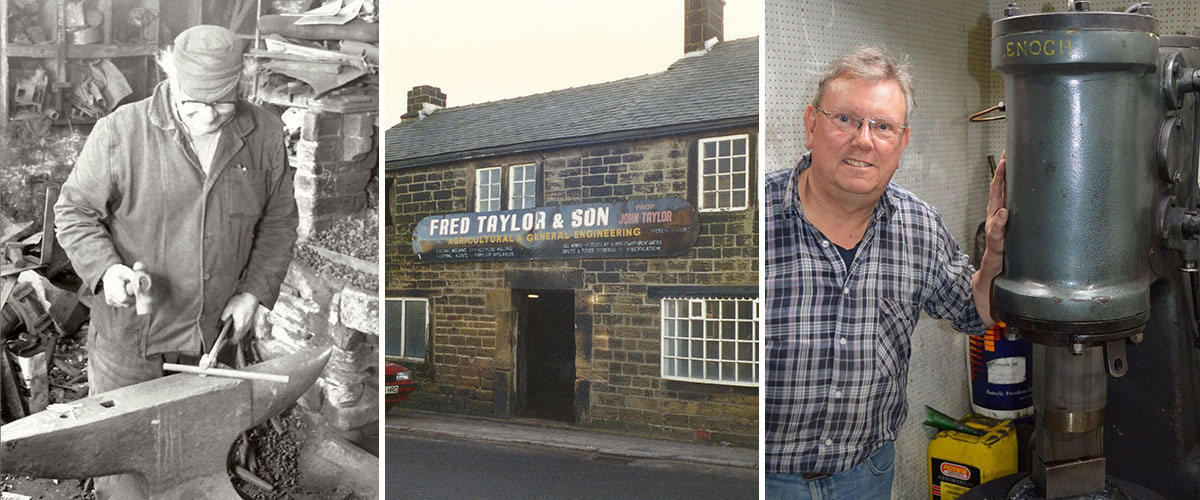 John Taylor & Nigel Tyas
The last time I had visited the mill was in 1978 when I was working as a shepherd on a neighbouring farm, and the mill supplied my employer's farm with cattle-feed and fertiliser.
At that time, the ancient water-powered corn-mill was still milling corn, as it had been doing for centuries, but by then, more modern machinery was powered by electricity instead of by the waters of the River Don.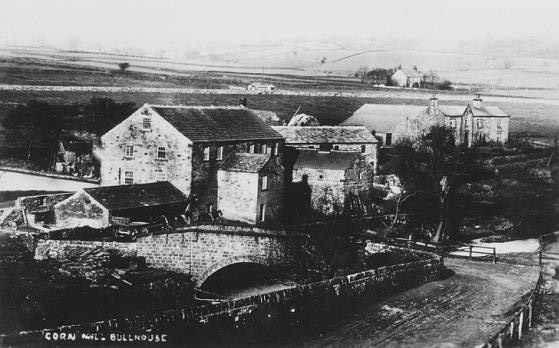 Bullhouse Mill ~ 1900
The old stone-built mill had been ill-suited to modern machinery, fork-lift trucks and large lorries and so a new modern mill was built nearby in the early 1980s. The redundant mill and the yards around it were later redeveloped for other business uses.
As I drove down the country lane to the mill in 2005, I was curious to see what the place was like after all this time, and was amazed at the transformations that had taken place there.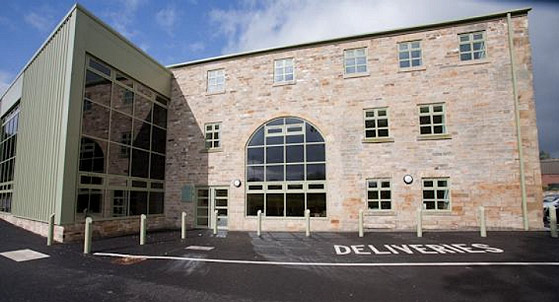 Bullhouse Mill ~ 2015
I was curious too to meet Nigel, who I imagined would be much like a blacksmith called John Taylor, who I had worked with when I was a farm-worker years before – I used to be sent down to his forge with farm machinery and such-like that needed repairing.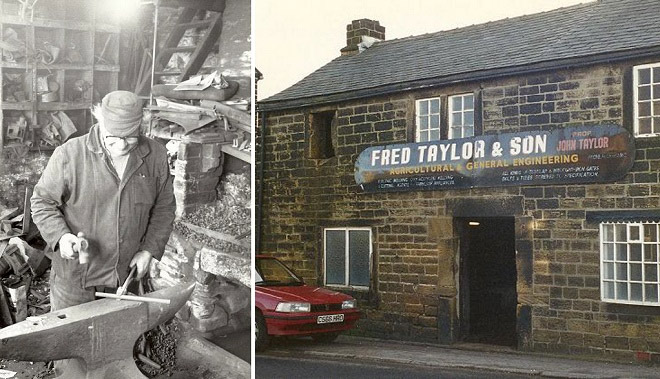 John Taylor & John Taylor's forge at Bridge End, Penistone, 1995
John Taylor's father Fred took over the forge at Bridge End, Penistone, in 1921. Both of them were farriers as well as blacksmiths and in those days it was a common sight to see huge carthorses queuing up to be shod by the side of the road there. John took over control of the business in 1957 and moved with the times into blacksmithing for mechanised farms.

John Taylor worked in the messiest and most cluttered workshop I have ever seen, but was a supremely gifted craftsman. His proud boast was that everything he made was 'Taylor made'.
I expected that Nigel would turn out to be much the same kind of man and that he would be working in a similarly untidy old stone building in much the same way. Some things never change, do they?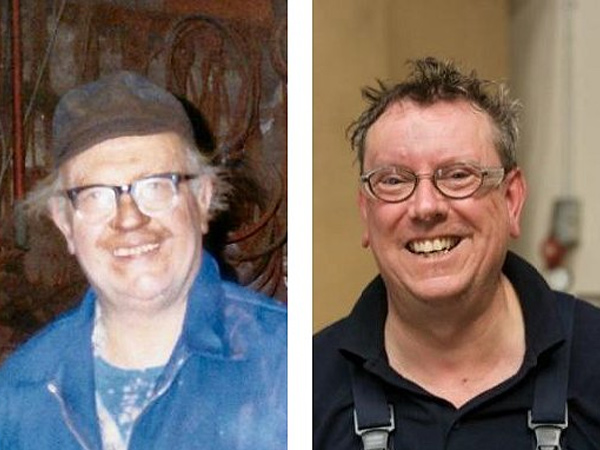 John Taylor & Nigel Tyas
I drove past the old mill – soon to become three storeys of hi-tech offices – and into what had once been a muddy yard used for storing fertiliser and old pallets, only to find that it had been transformed into a large tidy car park with small modern industrial units on one side and the fields where I had worked as a shepherd on the other.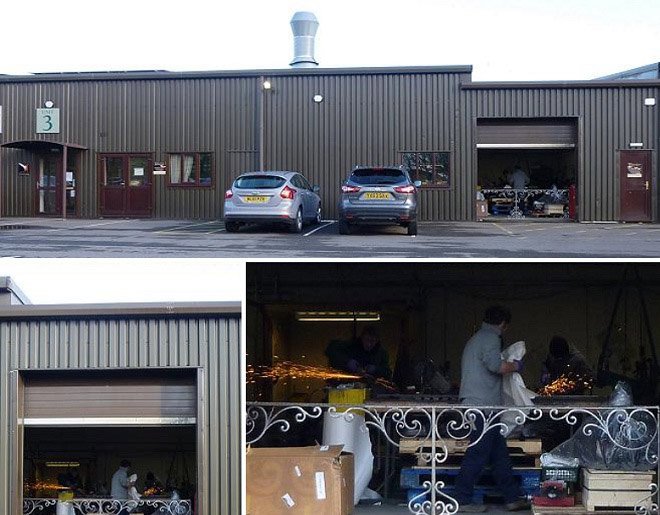 When I found Nigel Tyas Ironwork in one of these units, I discovered that some things do change after all. Nigel was working at an anvil with much the same tools as John Taylor had used and was clearly as skilled a craftsman, but here the similarities ended. The large workshop was a well organised, modern and efficient area for Nigel and his two blacksmiths to work in, with every tool in its appointed place.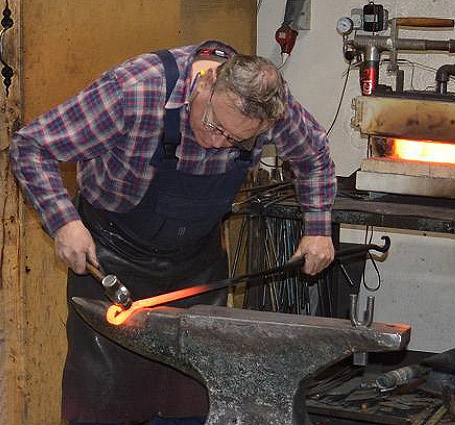 Nigel was the tidiest, most exact and precise man I had ever met and I watched fascinated as he finished making his trademark piece – a ram's head fire poker.

Nigel started his apprenticeship in 1970 and for the next thirty years worked as a blacksmith and as an engineer, but had always wanted to try his hand at the more artistic side of the craft. So when he was made redundant in 2000, he started designing and making curtain poles and light-fittings in his garage, and has never looked back since.
A former colleague once said to him, "Tha'll niver meck owt wi them 'Objets bloody d'Art – thee stick to engineering an tha'll be reight." Nigel is glad he ignored the advice and loves designing and making his 'Objets bloody d'Art '.
While the traditional skills of the craftsman blacksmith have hardly changed at all, blacksmiths themselves have become increasingly specialised.
Nigel does still occasionally repair pieces of farm machinery for his farming neighbours though – so perhaps things haven't changed a great deal after all?
The two blacksmiths in this story shared much in common. John Taylor was passionate about singing and sang with the Bolsterstone Male Voice Choir. Nigel is also a keen musician, singer of traditional Yorkshire ballads and has danced with the Wath upon Dearne Morris Men for forty years. Both of them were born entertainers.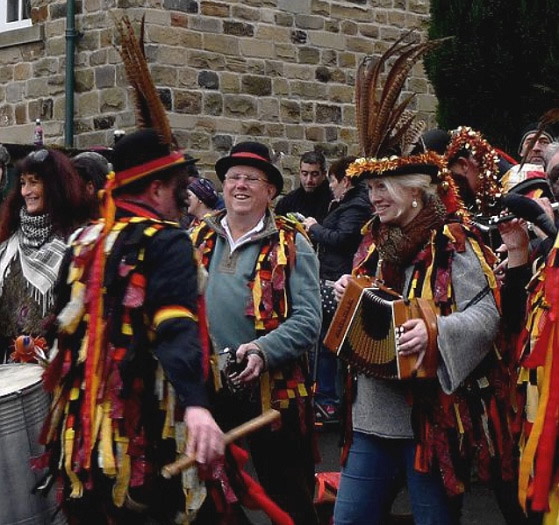 Musicians, Nigel & Elizabeth, with the Wath upon Dearne Morris Men last Boxing day
What unites them most though is their shared dry Yorkshire sense of humour. Over the years, I have been much entertained talking to both of them. They never met, which is a great pity, as they may have enjoyed each other's company.
I ordered my fencing and couldn't resist buying a poker as well. It brings back memories of my shepherding days forty years ago in the rolling South Yorkshire countryside to the west of Bullhouse Mill.

The two photographs of John Taylor, and the picture of his Bridge End Forge, have been reproduced by kind permission of the Penistone History Archive, whose members also helped me with research into the lives of Fred and John Taylor.