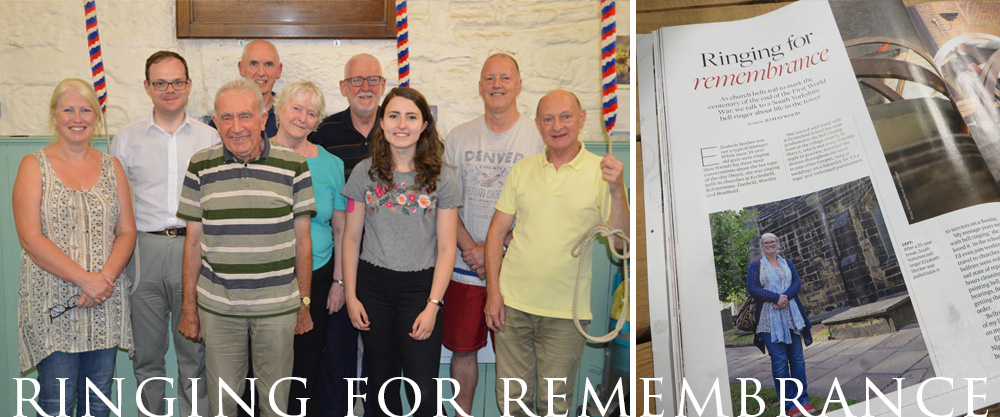 Elizabeth's mind turns to a very different kind of 'metalwork' - bell ringing
Posted by Elizabeth Stocker - 01 November 2018

Did you know that while Nigel is the one striking metal for a living at the forge, outside of work its Elizabeth who chooses to 'strike' it for the sheer pleasure of listening to its resonance. Here, she shares her bell ringing story.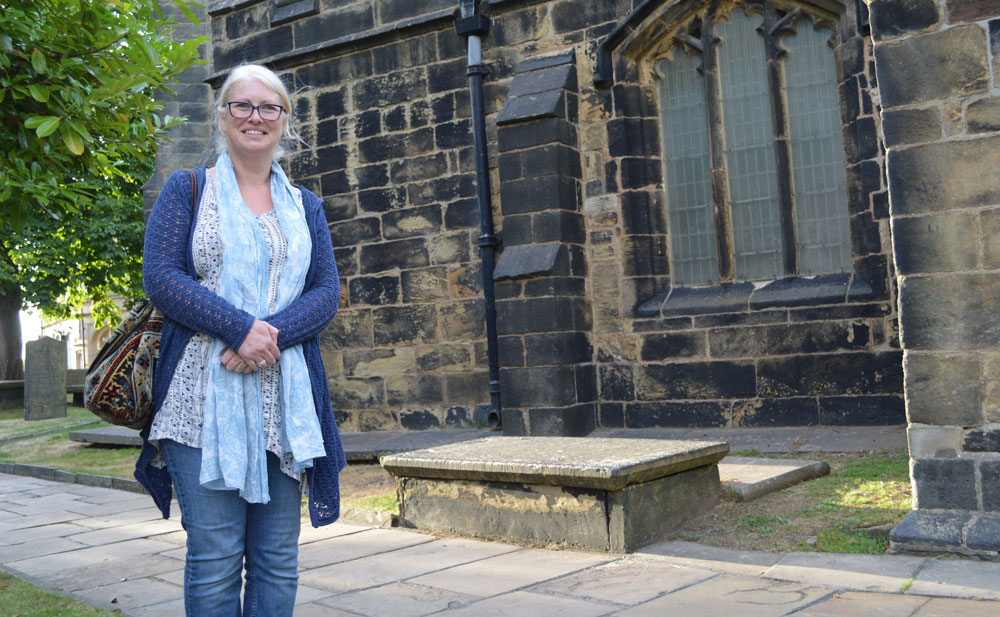 I started ringing hand bells at Ecclesfield School when I was 14 and soon graduated to joining the school's very own church bell ringing team at St. Mary's, Ecclesfield. We were a dedicated troupe and not only rang at our own Tuesday night practices – but also travelled the district to join in practices at neighbouring churches too. I was soon ringing most nights, every Sunday and at weddings on Saturdays to earn a little pocket money – at that time the going rate was '£3 a rope'. My teenage years were mad with bell ringing. I just loved it. In the school holidays we'd even get up work groups and go off to churches where the belfries had become redundant or been neglected. We'd spend hours cleaning out the pigeon mess, cleaning and painting the bell frames, oiling the bearings, fitting new ropes and getting the bells back to working order. I even learned how to splice ropes. Bell ringing was a massive part of my life.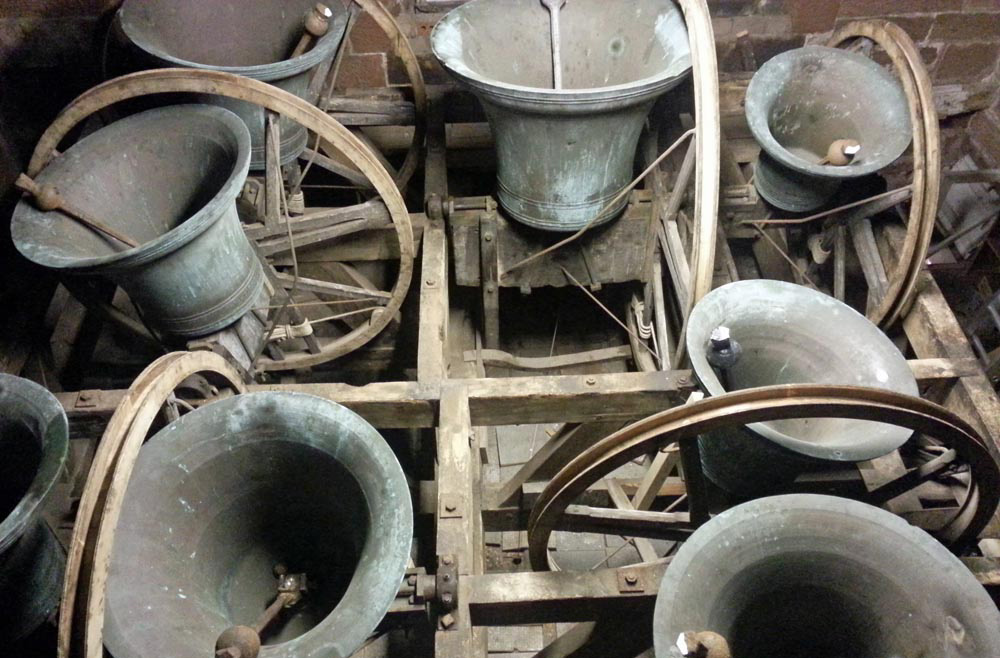 St Bees church bells - by Dougsim, via Wikimedia Commons
In the '80s I joined the All Saints church, Darfield bell ringers, alongside Barnsley rhymer Ian McMillan, and continued to tour churches ringing the changes from Tintagel church in Cornwall to Durham Cathedral. In Yorkshire I was one of the very first to ring six new bells at Filey and rang at Beverley Minster and Selby Abbey. The smallest bell at Skelbrooke village near Doncaster was the one which terrified me most. The smaller bells on long ropes can be the most difficult to handle and this was particularly flighty. I don't mind the two tonne bells even though they are 20 times my weight!
In my mid-twenties I drifted away from bell ringing when the demands of work and life moved me in different directions and it wasn't until a couple of years ago - some 25 years later - that I saw an appeal on Facebook for help to ring the Penistone bells at church on Christmas morning in 2016. The existing four ringers wanted a fifth. And I just knew how much more you could do with five bells. I couldn't bear to leave them struggling … so I went along. I was very warmly welcomed and have well and truly got back into the swing of it. I thought I'd only be able to commit to a few Sunday mornings and that was fine by everyone, but, within very little time at all, I was bell ringing at every opportunity again.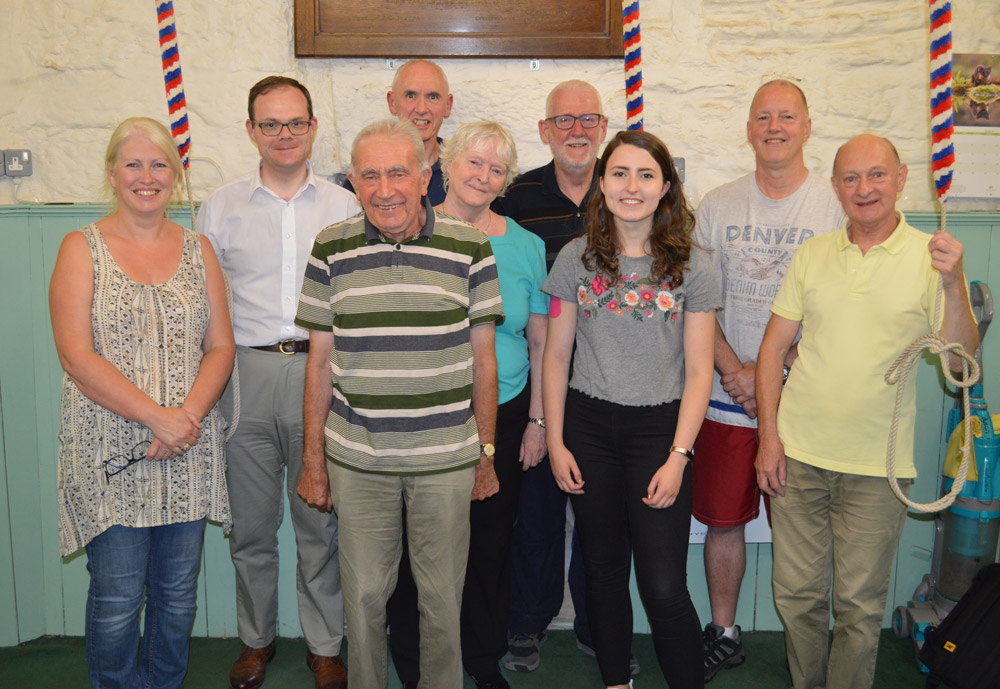 Bell ringing is very stimulating mentally. It's all about technique and concentration. I'm hoping that ringing the changes on a regular basis is going to ward off dementia for me! It certainly keeps your mind agile. The physical side is excellent too. All of my core muscles have strengthened again and some muscles I haven't used much since I was a young bell ringer have returned! You don't have to be strong to ring bells – you can take on the bells within your capability – but I like the big ones and like to build my strength.
The other thing I love about bell ringing is the camaraderie. Everyone is so friendly. You can go into almost any bell tower in the country and they'll welcome you to join them. Practice nights in Penistone are good fun with lots of laughter. They are always followed by a visit to the British Legion to carry on talking about bell ringing over a drink and a bag of crisps. A couple of highlights of my time in Penistone include ringing the bells to greet the Tour de Yorkshire peloton riding through town twice; and ringing in the New Year at midnight on New Year's Eve 2018. There is something really special and quite moving about hearing the bells pealing out in the middle of the winter night to say goodbye to the old year and to welcome in the new.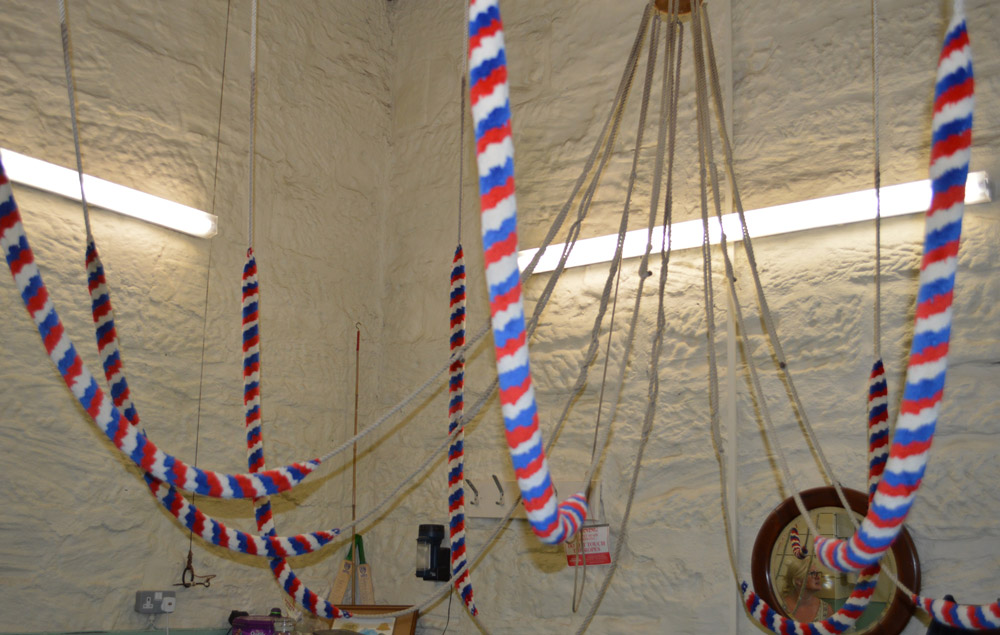 Penistone has a ring of eight bells, all re-cast and re-hung in the 1920s, thanks to public donation in memory of the fallen in World War One. They are memorial bells. Some say that the bells in Penistone are one of the finest rings in Yorkshire and even nationally – we are very lucky. They sound beautiful and are easy to handle unlike some of the more ancient bells around the country which can be quite tricky.
We also travel to other towers to ring. We've been to York Minster and Wakefield Cathedral, where I was moved to tears by the glorious sounds of the 14 bells. It is a pleasure to be able to visit different towers and have an opportunity to ring bells all over the country, many with special historic connections. In Haworth it is still possible to ring the actual bell rung by Patrick Bronte every Sunday morning.
I think church bell ringing is such an important part of our heritage. So few people seem to know that 'full circle' change ringing is practically unique to our country. Most churches in other countries, with just a few scattered exceptions, hang the bells differently and simply chime the bell against its clapper or with a hammer. Ours are hung on wheels and we raise them and rotate them 360 degrees. They are harder to handle and master but offer a much richer musical experience. It is possible to create thousands of different 'changes' rung in hundreds of different 'methods', or tunes, on a peal of English church bells. In some ways the methods that we learn are like patterns. They have lovely names like 'Plain Bob', Grandsire, Stedman, Woodbine Delight and Merchants Return. I'm currently learning 'Cambridge Surprise major' and 'Yorkshire Surprise major'. I am completely in awe of some of the ringers and their ability to remember so many different methods – I really enjoy the challenge of learning and remembering new ones.
I don't know what it is about bell ringing which elicits such enthusiasm. Yes, we ring lots of different methods and go to lots of different places – but we also come together every week and ring the same changes with the same people and never seem to tire of it. There is also something so rewarding about keeping such an old tradition going and helping new ringers on their campanology journey.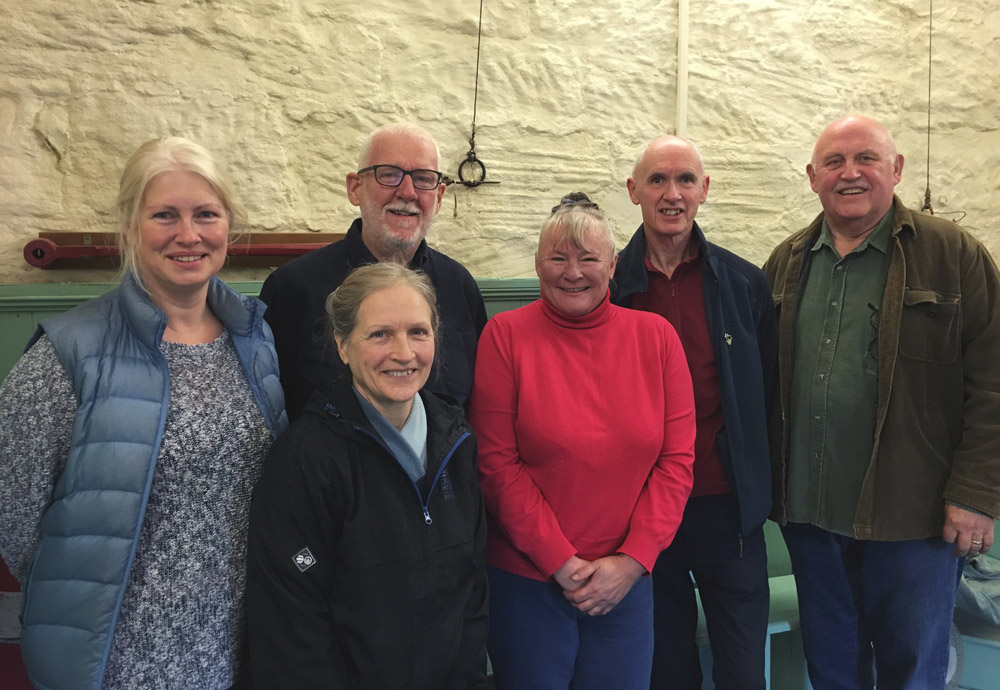 The saddest thing about returning after a break has been to find out how many towers with beautiful rings of bells don't have active teams attached to them anymore. A dedicated few people are travelling miles to keeping all these towers going. Some of the ringers I meet today, I first met when I started 38 years ago! I am eternally grateful to them for keeping bell ringing going during the time I've been away – so that I could pick it up again now.
I believe bells play a significant part in our lives and our national heritage – they rang out to mark the end of World War One and we ring them to mark all sorts of joyous family, community and national celebrations – and sombre ones too. I believe our bells are a national treasure and should be cherished and heard.
Bell ringing is a British tradition with 5,500 bell towers across the country. The British Isles are home to a distinctive style of bell ringing called 'change ringing' which produces a peal of bells, part of our national 'soundscape'. Bell ringers have regular 'striking' competitions, and often come together to ring just for the joy of it.
Although bell towers are commonly in churches, you don't have to go to church to be a bell ringer. Bell ringers are a friendly, inclusive community with people of all faiths and none. Ringing is open to all ages. The youngest ringer at Penistone is 17 and the oldest is 77.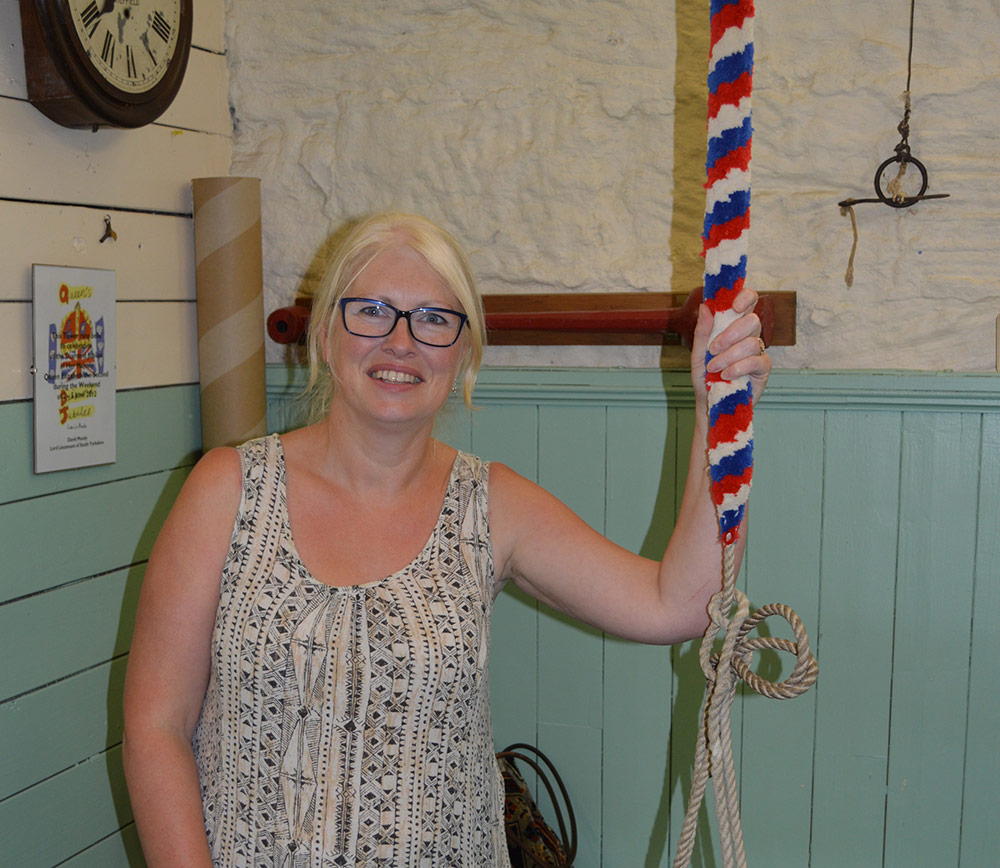 As part of the national Armistice 100 commemorations this Sunday November 11 2018, the bells all over the UK will again ring out at 12.30pm. Timed to coincide with the end of Remembrance Day services, the bellringing will help us to mark the First World War Centenary.
We know that 1400 bell ringers lost their lives in WW1 because just after the war, the Central Council of Church Bell Ringers wrote to all bell towers to compile the Roll of Honour. Three lost their lives in Penistone. As an added significance to the Armistice 100 event, the Penistone church bells were recast and restored in the 1920s through public giving in memory of the deceased in World War One. They are memorial bells.
If you would like to know more about learning to ring church bells you can find details of the national campaign to involve 1400 new ringers in Armistice 100 commemorations by following this link https://a100.cccbr.org.uk/?rf=32
If you would like to know more about joining in the Bellringing Remembers commemoration in Penistone, please contact Alan on 07821 637898.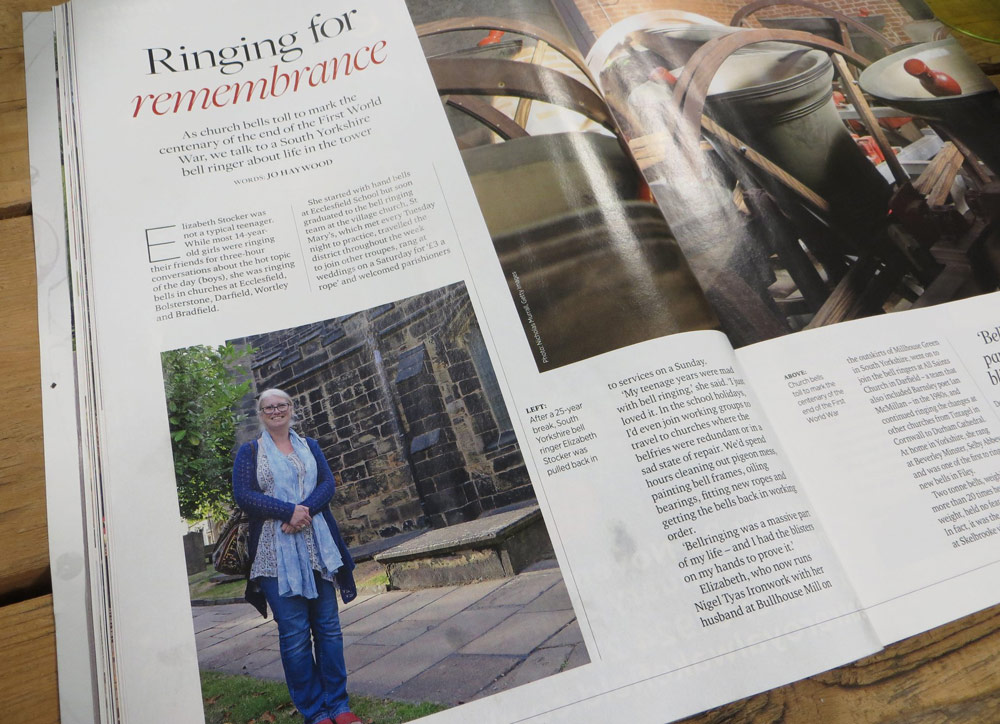 Thank you to Yorkshire Life magazine for publishing our article in this month's issue - November 2018.