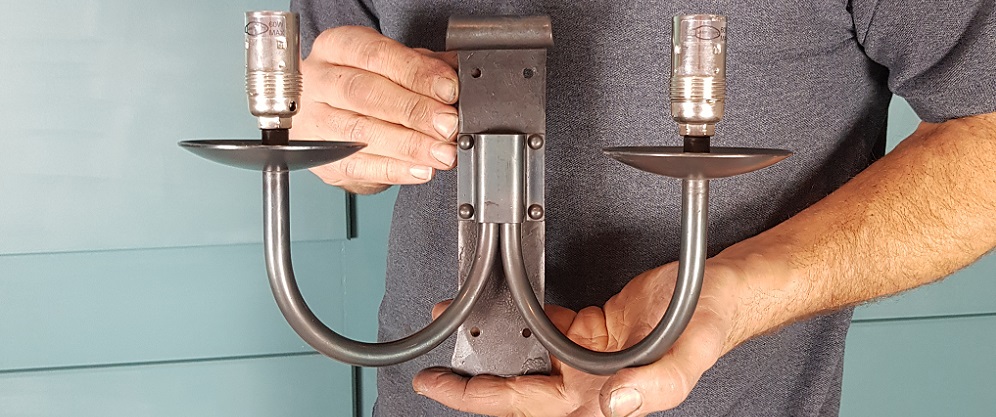 'Blacksmith Friday' - fancy an exclusive Nigel Tyas bargain?
Posted by Gareth Lowe - 18 November 2020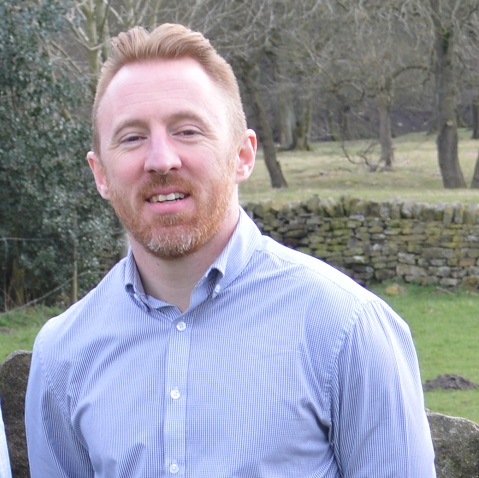 Following the refurbishment of our showroom - we've decided to organise our own twist on 'Black Friday'. Welcome to 'Blacksmith Friday'! This is your chance to buy a unique handmade product which is one of a kind or a wrought iron bargain which is ex-display or a slight second.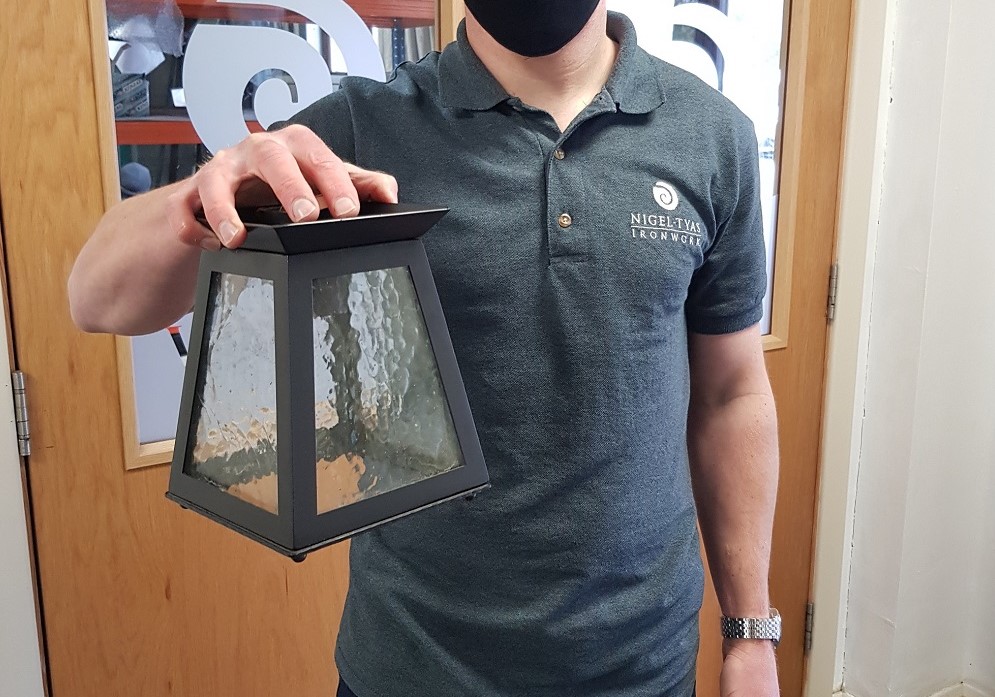 Carlecotes lantern - ex-display £125 (NT12)
Our Facebook sale event starts on Monday November 23 and runs up to 'Blacksmith Friday' on November 27th. We'll be posting selected products every day at 12pm. Our last exclusive sale item will be posted on Cyber Monday November 30. (You can slo buy the items pictured here by giving us a call on 01226 766618).
Some items will be unique prototype designs and samples created by our blacksmiths - so here's your opportunity to buy a one-off Nigel Tyas product. Others will be sold at a discount as they are ex-display or discontinued lines or slight seconds.
Please check each product's posting for details of exactly why they are part of our 'Blacksmith Friday' sale. We'll confirm the reason at point of sale too.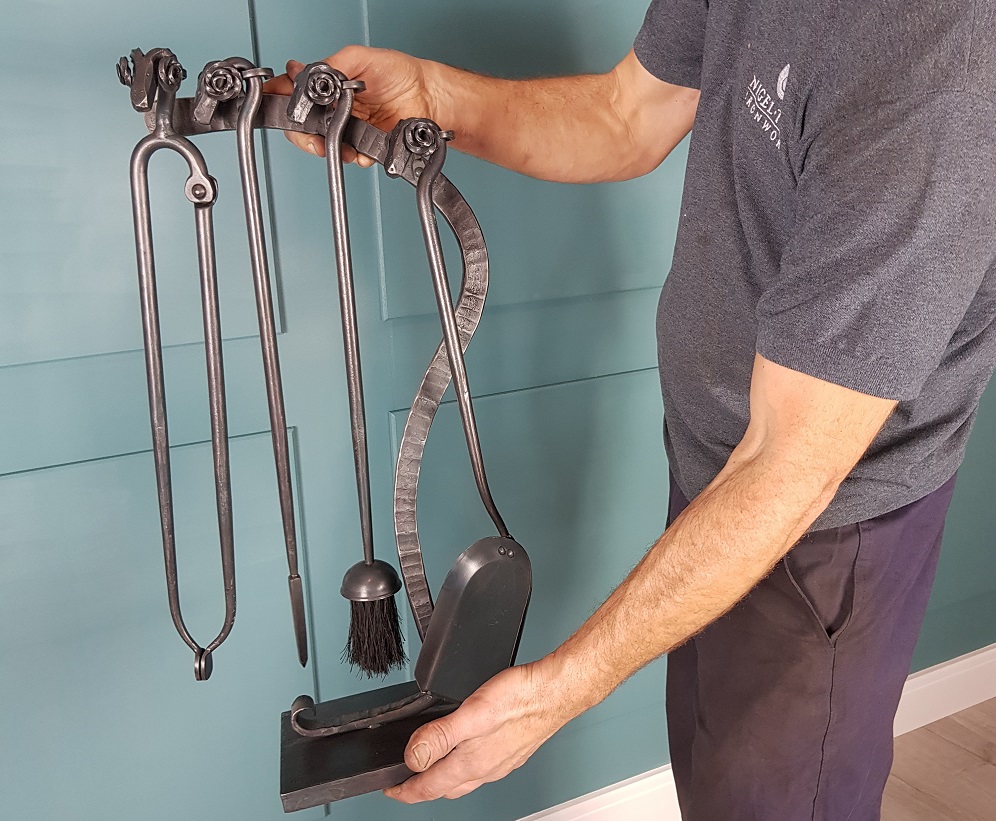 Ramshead companion set with prototype decorative stand - £450 (NT24)
How to buy
To purchase a 'Blacksmith Friday' product on Facebook comment SOLD in the comments underneath the relevant post, and send us a direct message. We'll direct message you back about the next step. Sales will be on a strictly first come first served basis, so be quick! When its gone its gone.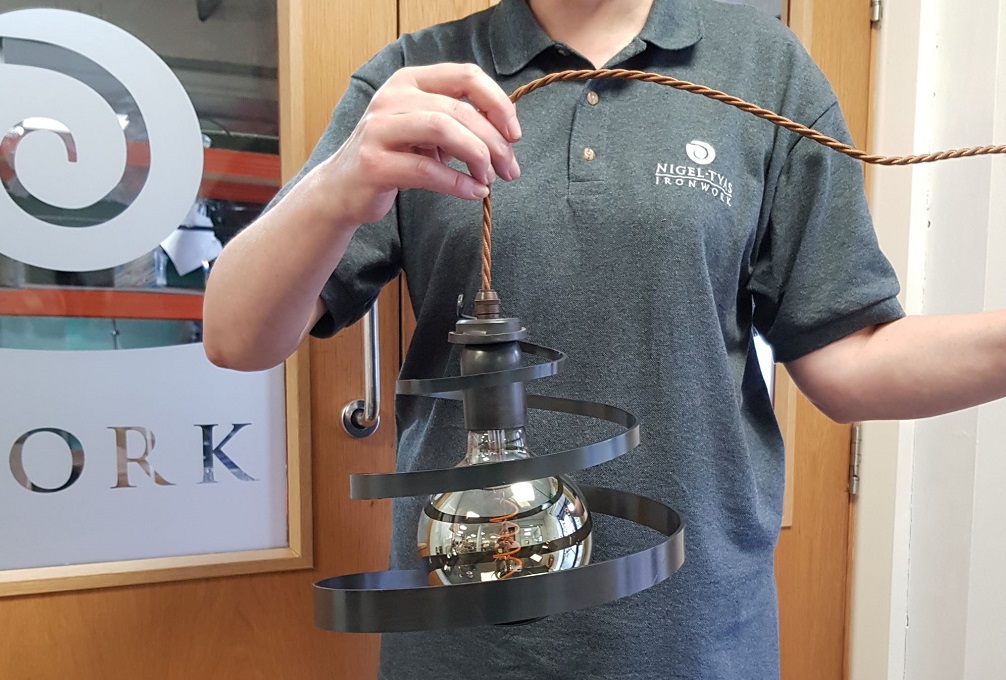 Prototype design open spiral pendant - £100 inc globe LED bulb (NT28)
In December, after lockdown, we'll display any remaining 'Blacksmith Friday' pieces in a 'clearance corner' of our showroom, which is still undergoing refurbishment. You're welcome to pop in and have a look at this corner if you live nearby, but please phone us first on 01226 766618. Please wear masks and and we'll support you to have a browse safely within Covid-19 guidelines.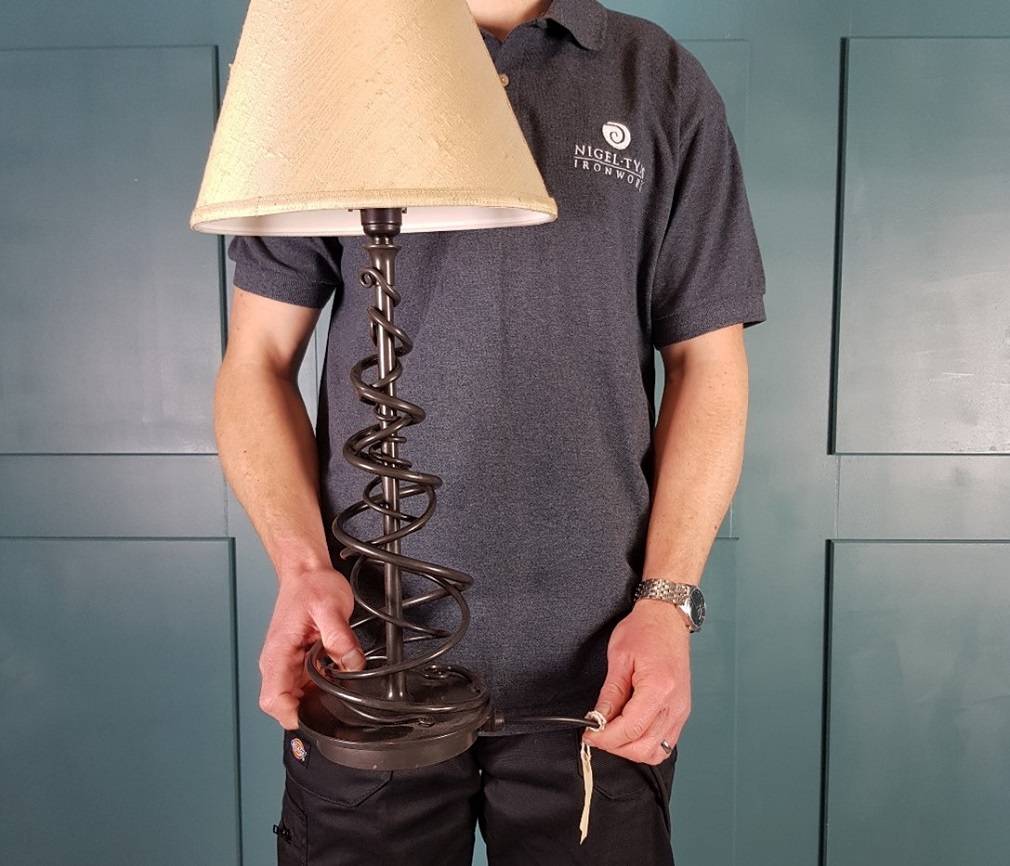 Maythorne lamp, pre-launch sample, with ex-display shade £150 (NT33)
Also, if you like what you see in this blog then email us us quick as you can on sales@nigeltyas.co.uk to ask about buying. Remember all sale items are on a first come first served basis. When they've gone, they're gone!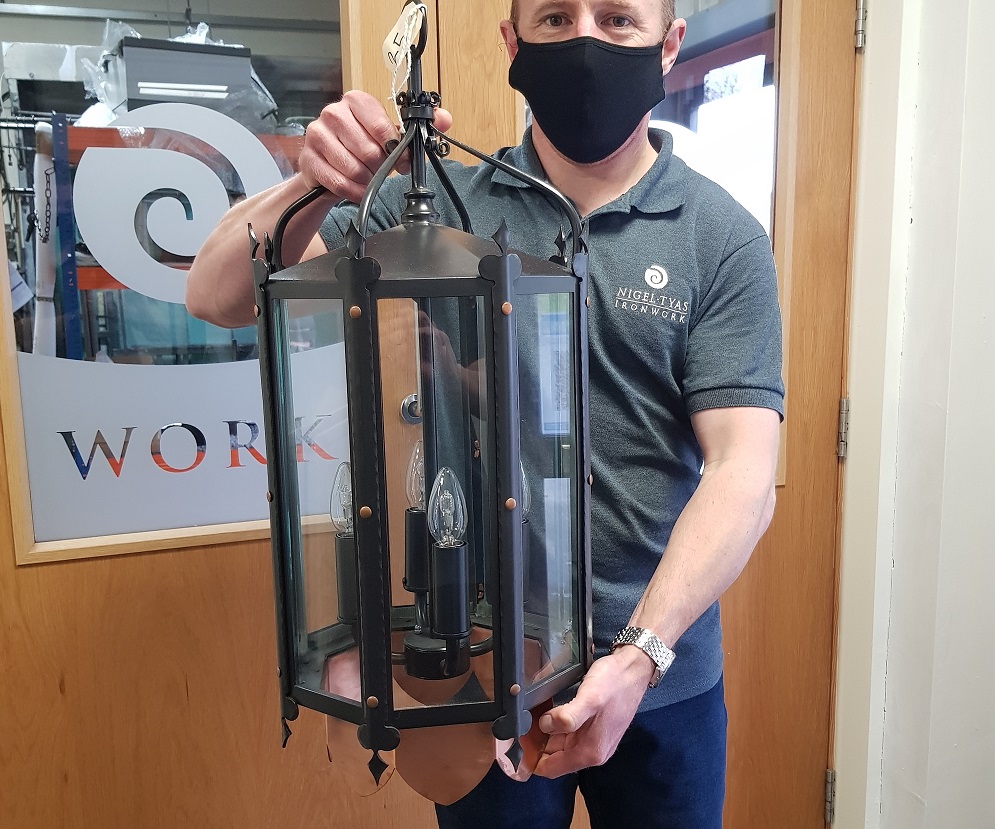 Large ornate lantern with copper skirt, legacy design - £200 (NT25)
Our first ever sale
As you know, we don't normally go in for 'Black Friday' silliness. All our products are handmade and priced fairly to reflect the craftsmanship involved and to support our small business.
But this year has been a bit different (in many ways) so we've taken the opportunity to refurbish and refit our showroom and tidy up our store room. As a result, we've picked out this small selection of clearance items - to sell on social media in the run up to what we like to call, 'Blacksmith Friday'.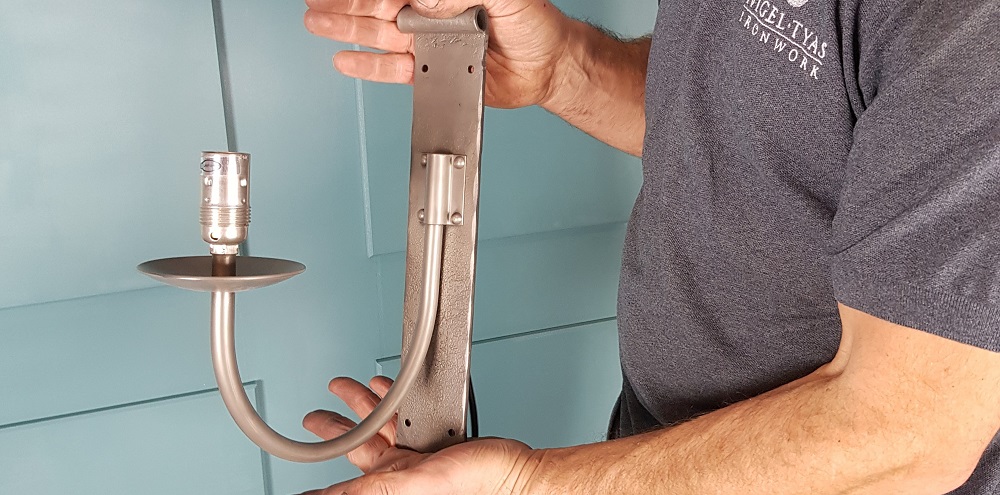 Swaine wall light in light burnished steel, ex-display and slight second on finish, half price £60 (NT18)
Sale of these ex-display items, slight seconds, design proto-types, end-of-lines and one-off samples will allow us space to refresh and re-fill our showroom and stockroom with more handmade wrought iron magnificence. If you, our customers, like this innovation, we may do it some more...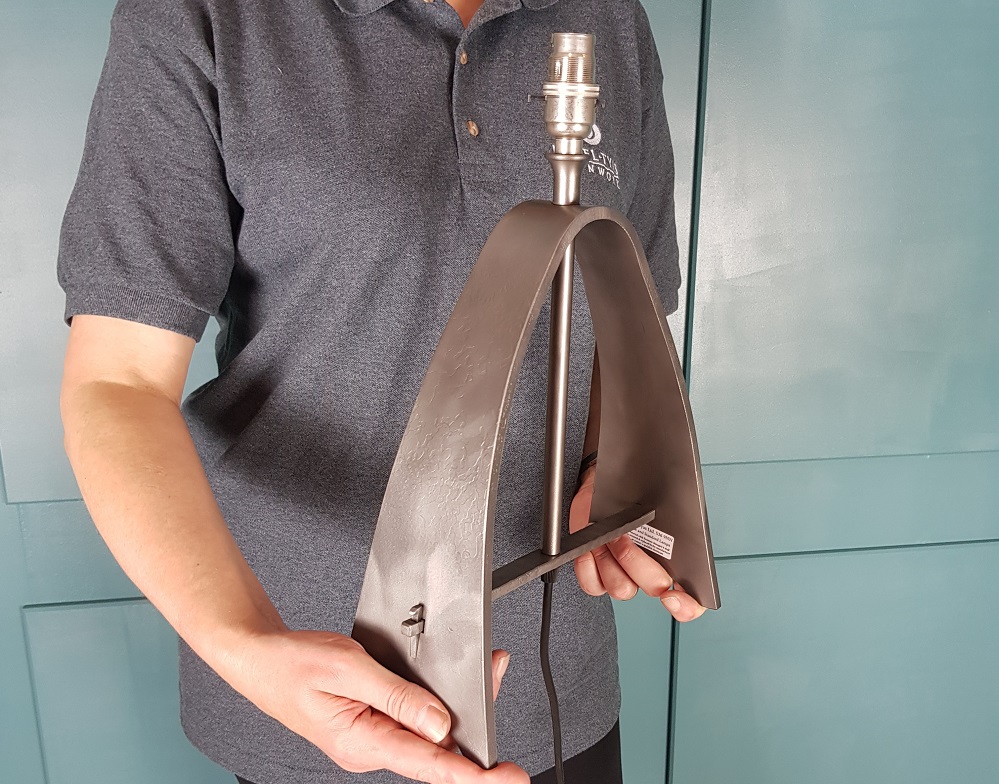 Whitby table lamp, ex-display in light burinshed steel finish, £150 (NT05)
*All our sale products carry the same guarantee of quality against defectiveness of materials or workmanship – excepting the stated reason they are a classed as a Blacksmith Friday sale item. This will be clarified at point of sale. Usual P&P applies. You may add additional full price items such as bulbs and shades to your order if you like. Visit Facebook. Get back to us with any queries on above on sales@nigeltyas.co.uk. Sales by email only, thanks.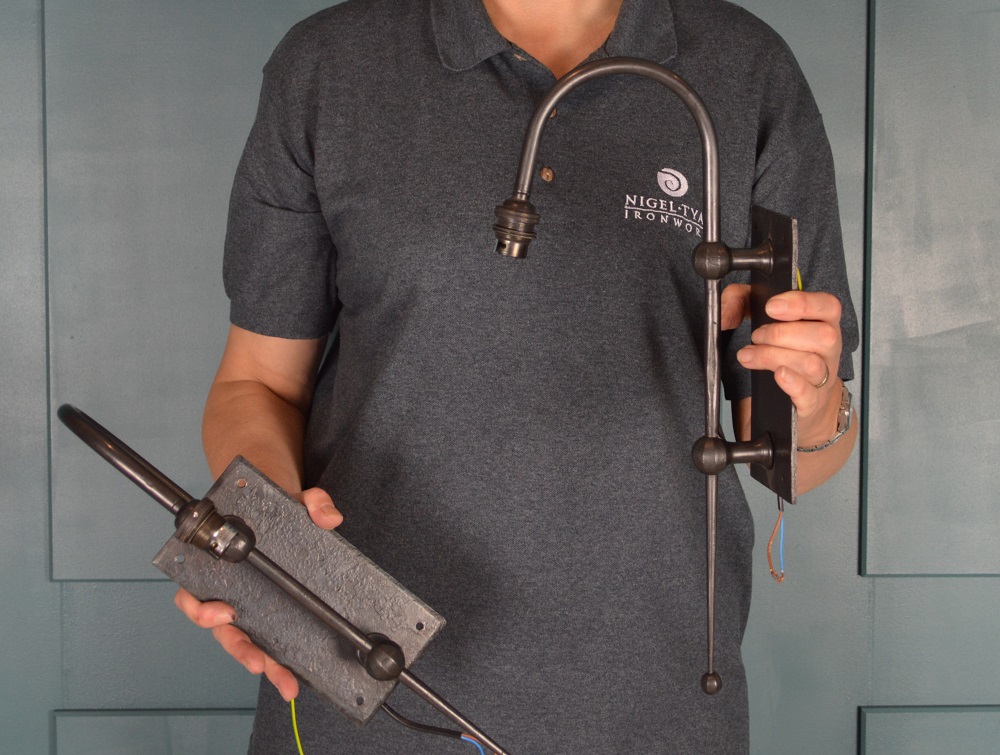 Millhouse wall lights, ex-display, slights seconds on finish - £65 each (NT04)