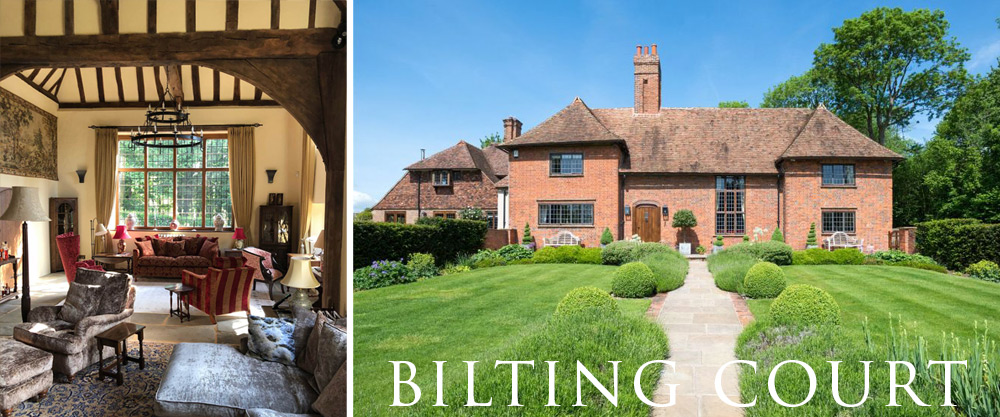 Being invited back to a beautiful English country home
Posted by Elizabeth Stocker - 01 February 2019

Bilting Court is a beautiful period property in Kent's Stour Valley dating back to the 15th century. Years ago, we supplied ironwork throughout for this stunning country home. We are now very pleased to have been invited back.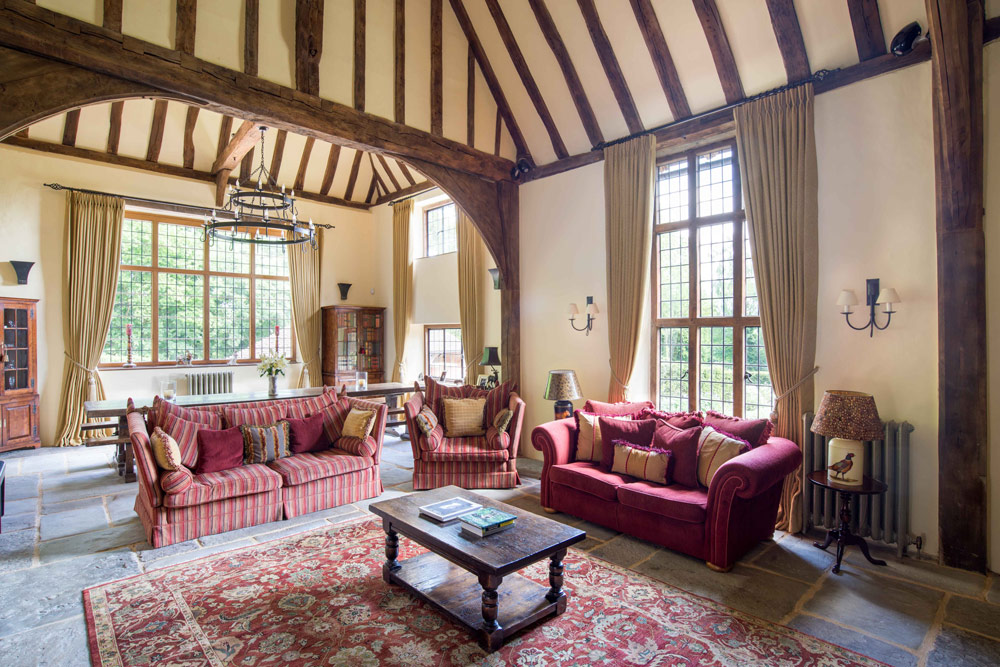 We first became involved in the refurbishment of this ancient manor house eight years ago when its previous owners, the Embersons, started their labour of love to restore the neglected property. The couple asked us to work with them to design and make much of the wrought iron lighting, curtain poles and homeware they required.
We were delighted to be approached again recently by its new owners, Nina and Wolfgang Dippold who have asked us to make additional wrought iron standard lamps and table lamps to complement the existing fittings.
Nina said: "We loved the house and its ironwork from the very first moment. The ironwork is of wonderful quality and fits perfectly in this old home. For us it was important to keep all the lovely lamps and chandeliers in the house. Kath informed us about Nigel Tyas and of course we had a look at the website then."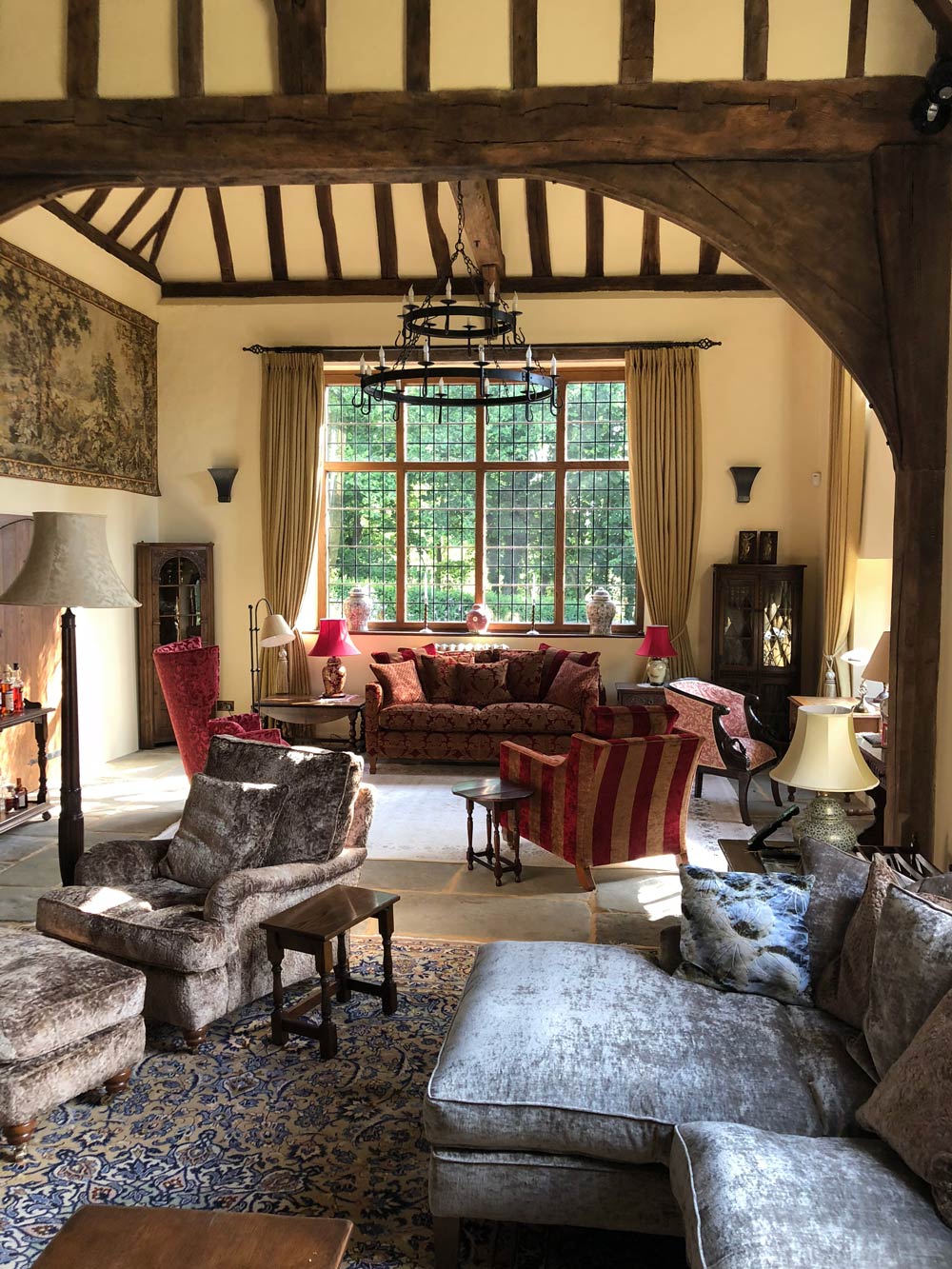 Bilting Court's central medieval hall is now a high, oak-beamed drawing room with inglenook fireplace, full-height, paned windows and Yorkstone flag flooring. In this majestic space hangs one of our 18-light, two-tier Shepherds Crook chandeliers. This was, in fact, the very first time we produced this design of chandelier – it was developed with the Embersons and we are very pleased to say that the Shepherd's Crook chandelier is now part of our catalogue and a very popular choice with customers. 
In this same room, the walls are adorned by our Bullhouse uplighters and Wharncliffe double wall lights. Made-to-measure wrought iron curtain poles with spiral finials hang the drapes.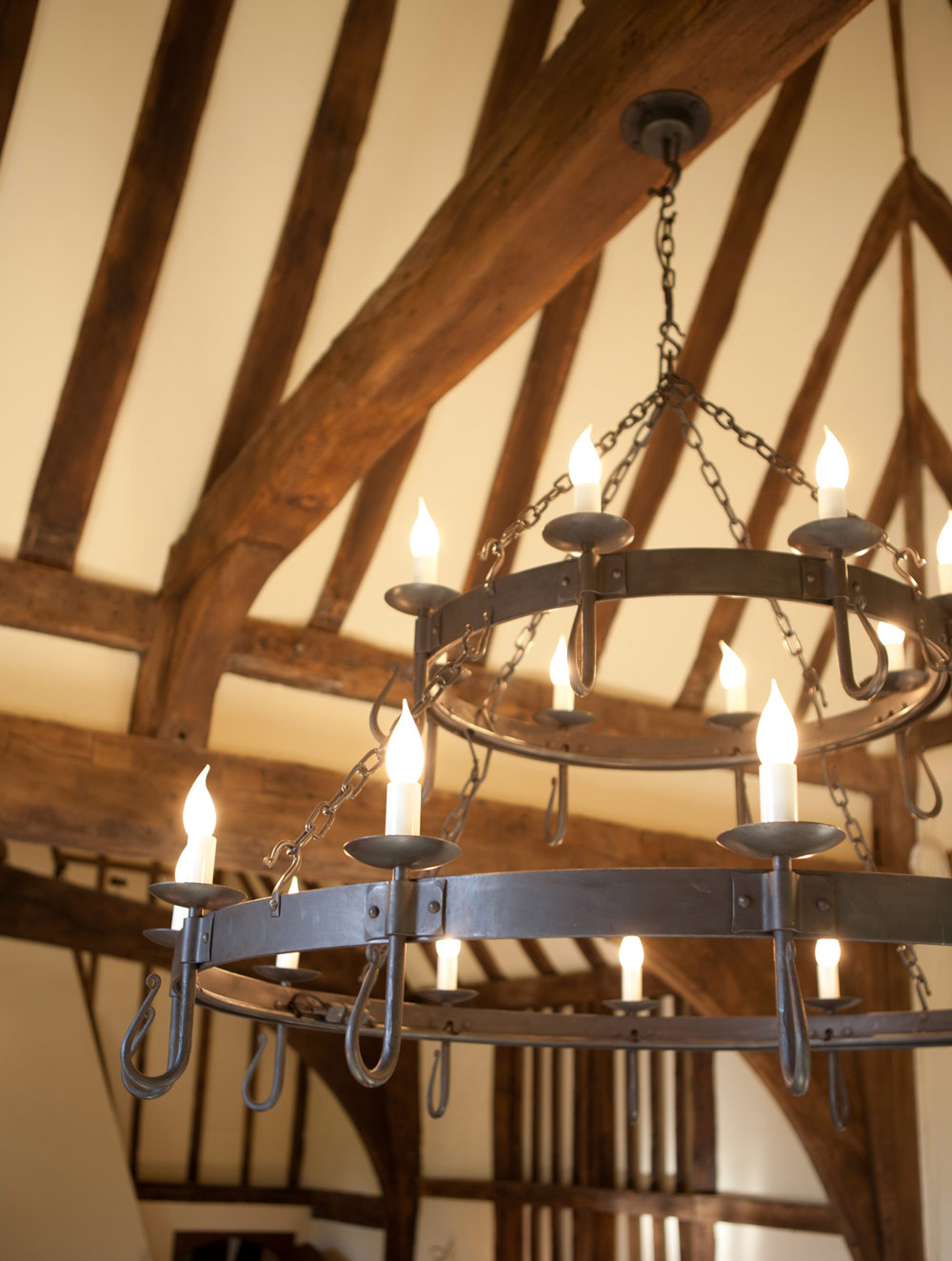 Moving on to a reception room, which is also heavily timbered and features a massive dragon beam, you'll find our Winscar wall lights and picture lights and more curtain poles, this time with plain blanking finials.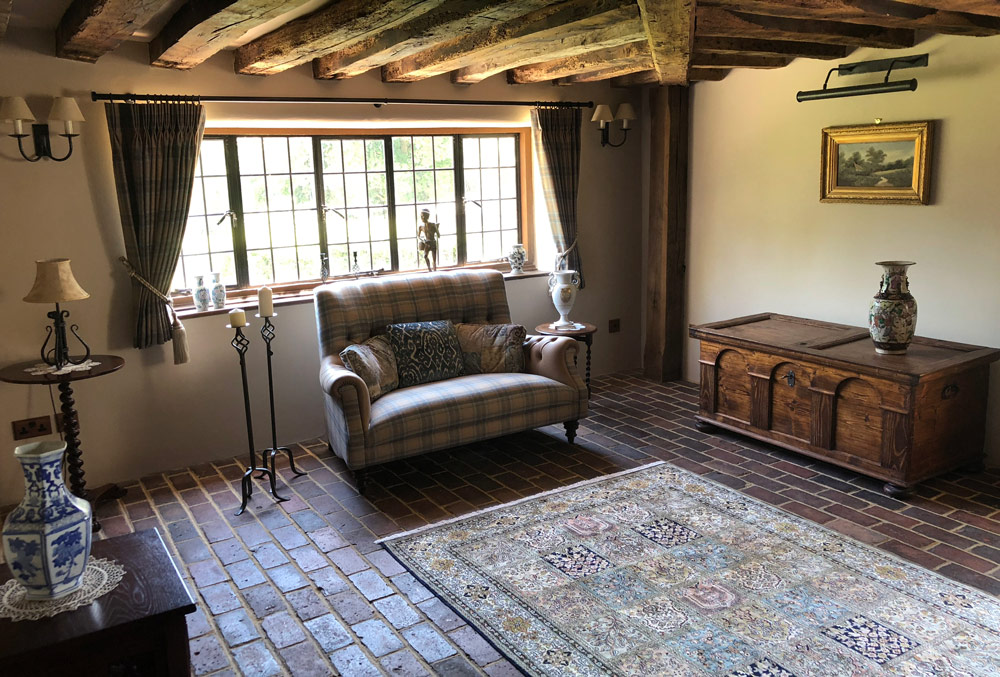 The main hallway and first floor landing, with a rather magnificent oak staircase, is home to a 12-light, two-tier Midhope chandelier. We adapted this chandelier with a motor-driven ceiling fitting to enable it to be lowered for cleaning as it is so difficult to put a ladder on these amazing stairs.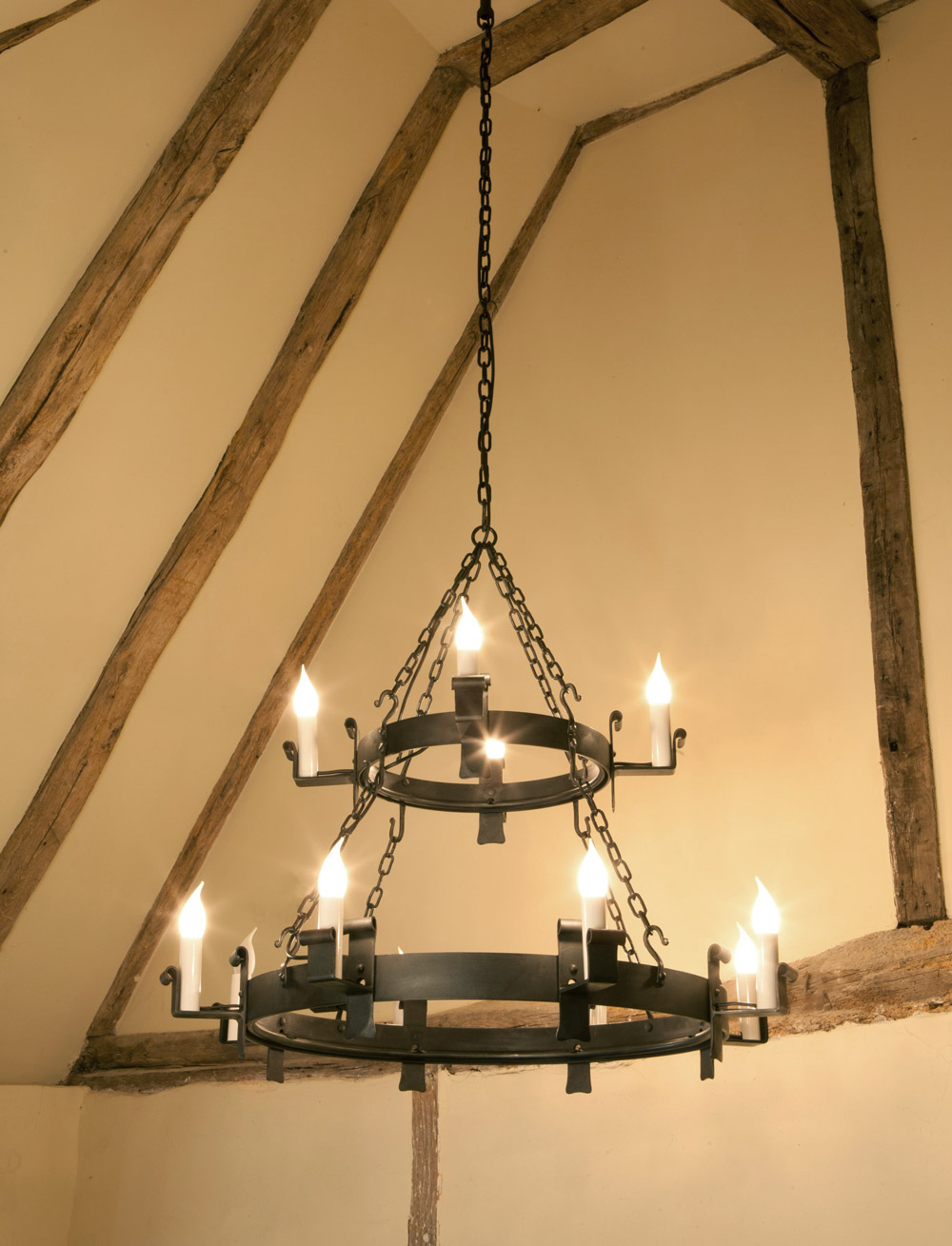 Our Hinge single and double wall lights are fitted on the walls here and we made a bespoke coat rail for this area too.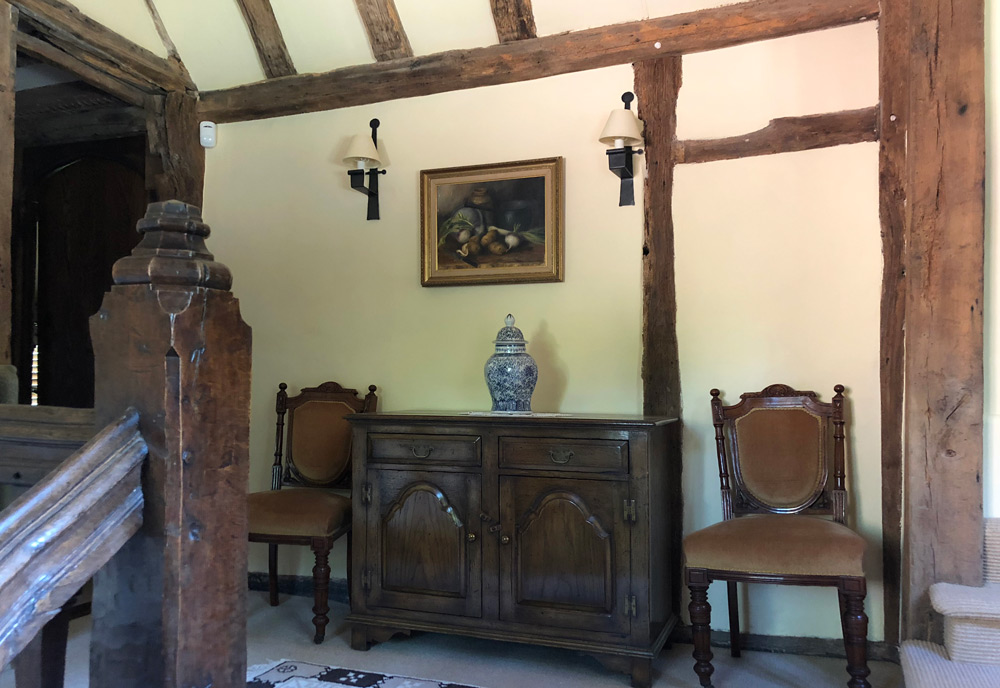 The kitchen and dining room, with lovely views across the Wye Downs, is lit by a parade of our five-light Hartcliff chandeliers.  Its custom-made kitchen cabinets are finished with door knobs, handmade by us in our forge, and a line of our pendants with parchment shades hangs over the island unit.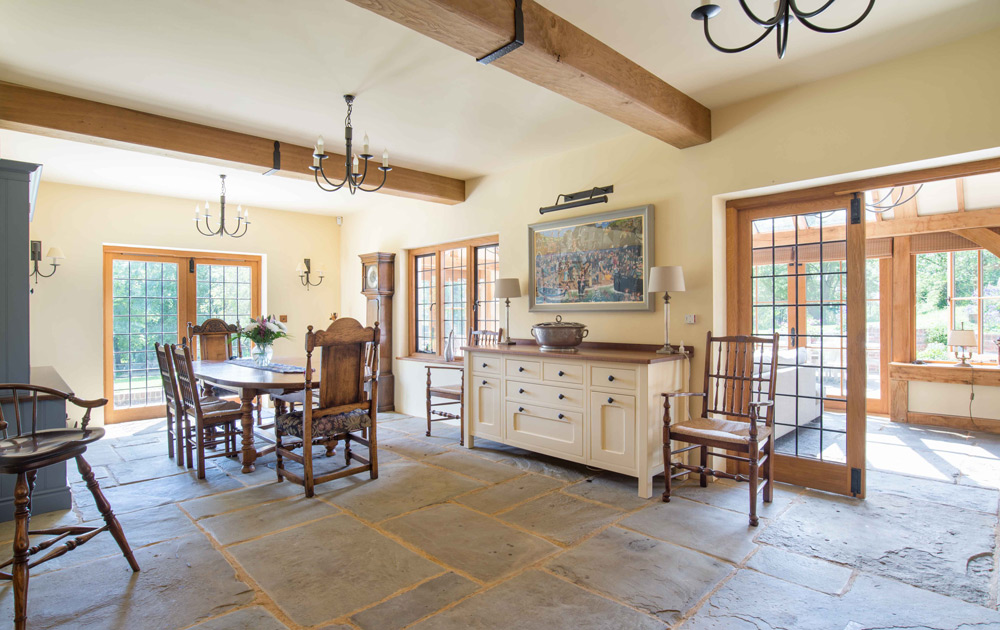 The kitchen-dining room leads through to a new oak-framed garden room added to the property during the Embersons' renovation.  Two of our 12-light Hartcliff chandeliers were chosen to hang in this room – carrying the Hartcliff design motif throughout this well-used eating, meeting and living space.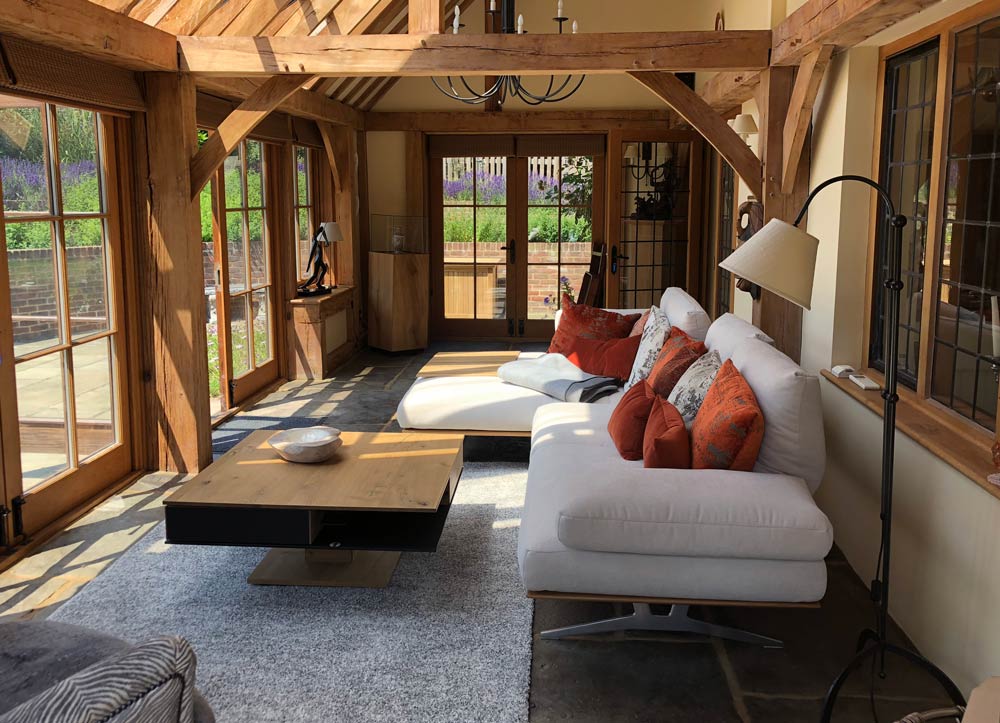 Upstairs, the master bedroom is another room with an open apex, revealing the original timber framing and a striking crown post.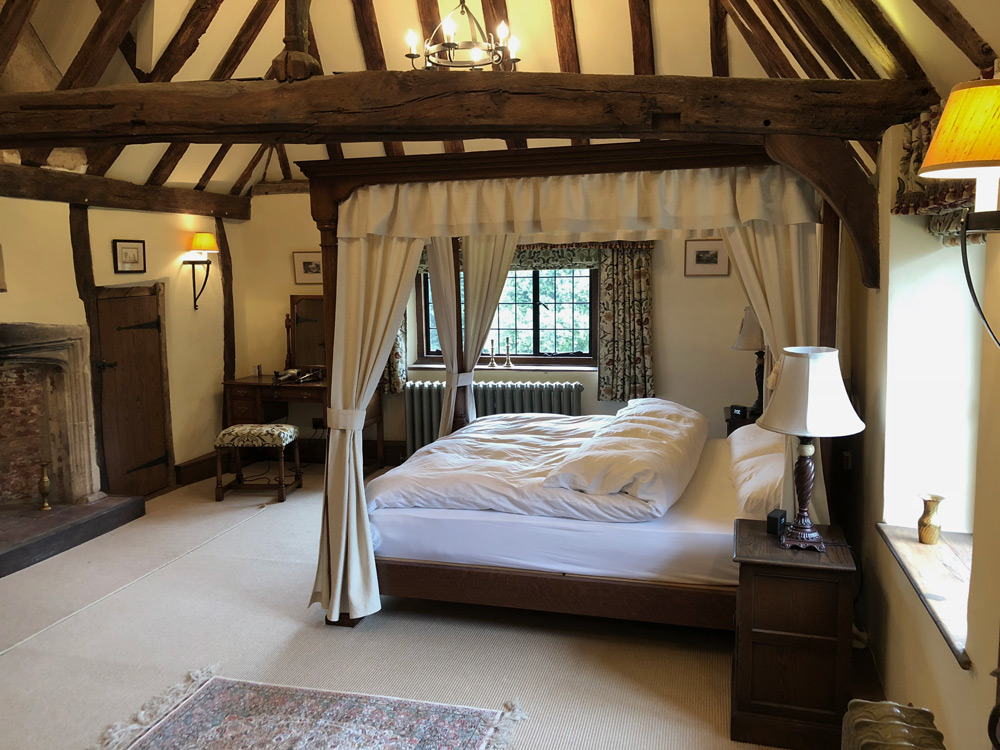 Another beautiful spot for a Nigel Tyas chandelier. This time two of our distinctive Mitre chandeliers were chosen and Mitre wall lights were added to complete the rustic and historic decor.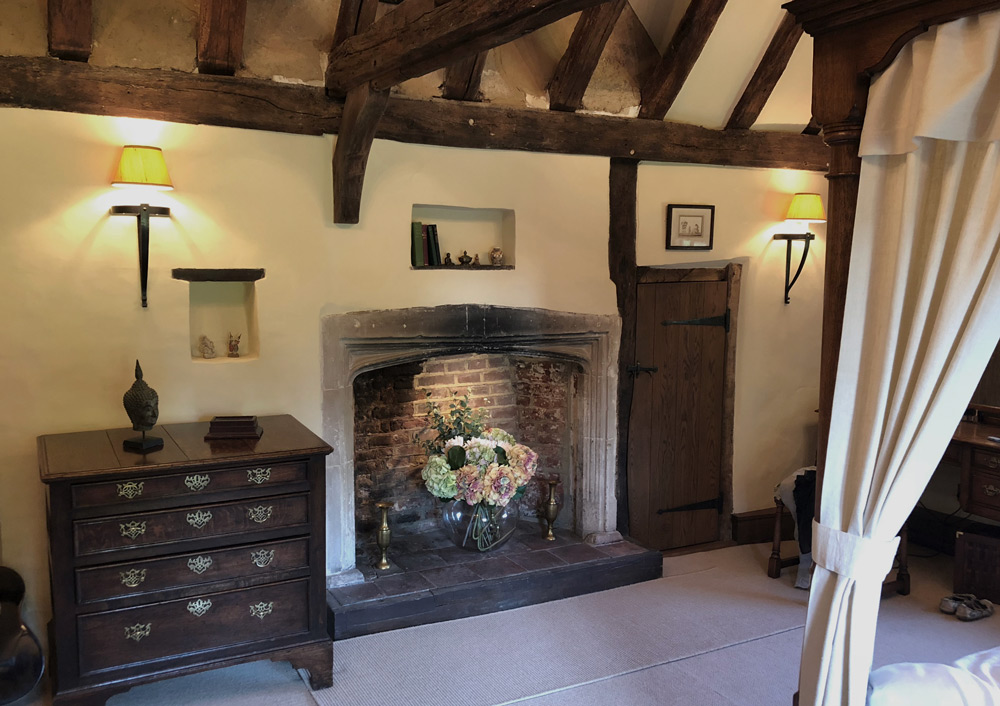 Our work with the Embersons came to a close in 2014, and our happy relationship with the manor house was re-ignited recently when Bilting Court's new owners ordered Silkstone and Shepherd's Crook standard lamps with silk and parchment shades.
Wolfgang said: "The Embersons decorated the house in a well-considered and perfect way that we deeply respect. As the new custodians of Bilting Court we want to keep this feeling and so there was no alternative to Nigel Tyas lamps when we needed more reading and standing lamps. Not only the quality of these items is wonderful, the service we got was remarkable. We have to thank the guys at Nigel Tyas very much!"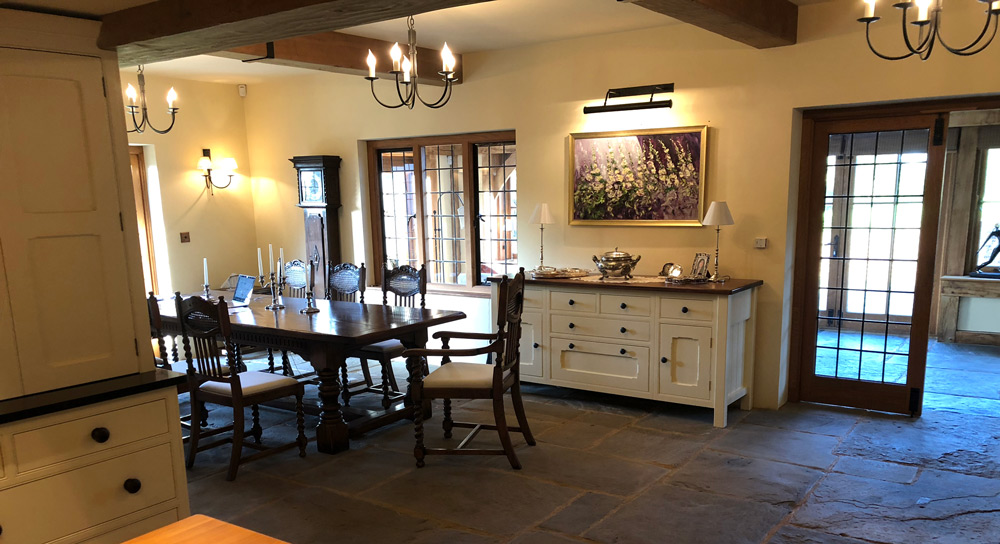 It has been an absolute delight for us to supply wrought ironwork to this historic Grade II listed property - for both its owners - and we wish Nina and Wolfgang every happiness in their new home.