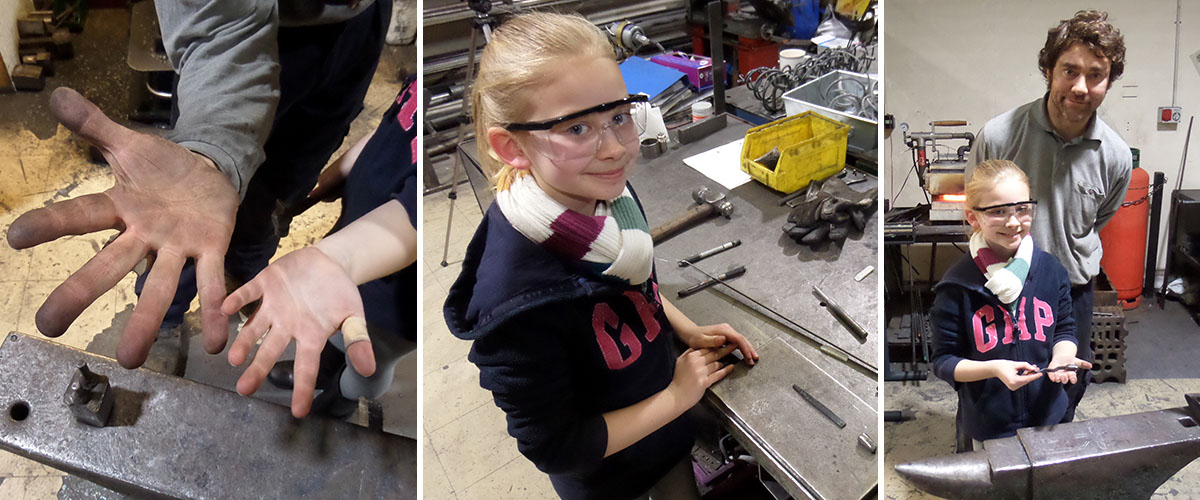 Alice's tadpole
Posted by Elizabeth Stocker - 21 February 2015

Dawn, Sheena, Katie and I all made tadpoles to use as ornamentation for the bench Nigel and the blacksmiths were making to commemorate our friend Andre's life.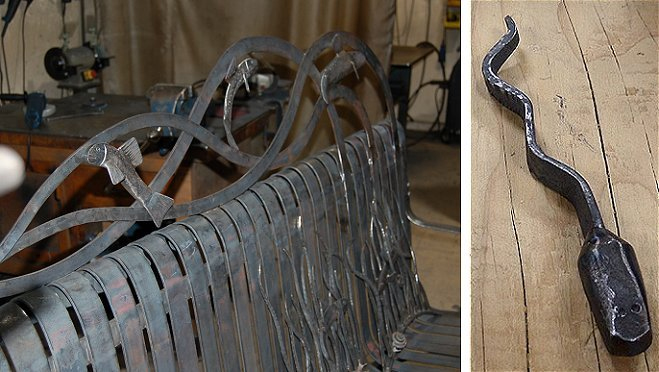 Dawn's daughter Alice asked if she could make one too. Here is how she did it:
Andrew had prepared a kit for her – a 25mm solid steel sphere welded to a rod, to make into the head, and a strip of 13mm by 3mm flat steel to make the tail from.
Andrew starts by describing how they would be shaping them: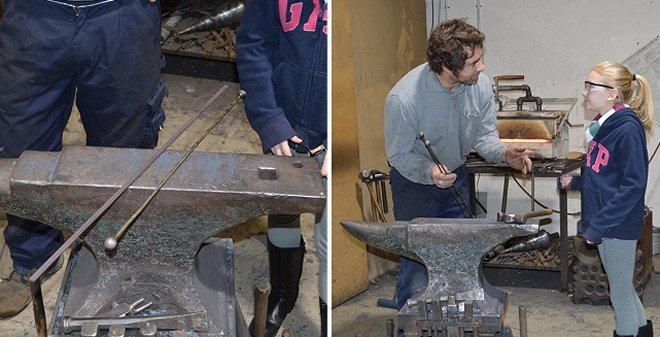 Alice gets a lesson in how to use a hammer
Alice heats a sphere in the forge to a bright orange heat – about 800 degrees. At every stage, Andrew demonstrates what he wants Alice to do using another sphere.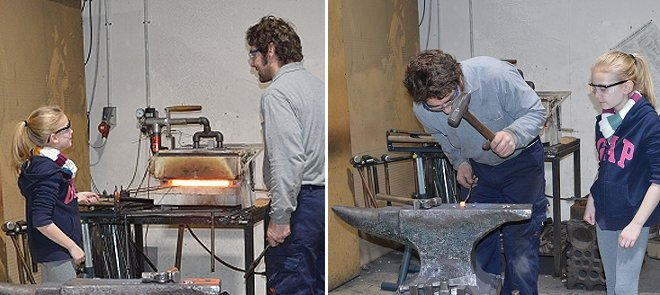 Andrew wants Alice to forge her red hot sphere into an elongated cubical shape.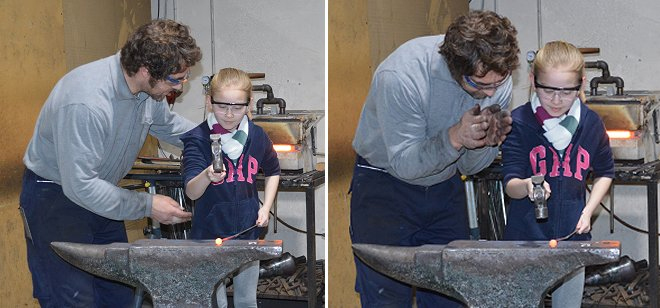 The steel is soft enough to work for about half a minute after coming out of the forge, and then needs heating up again. After about ten sessions in the forge, Alice gets the shape right.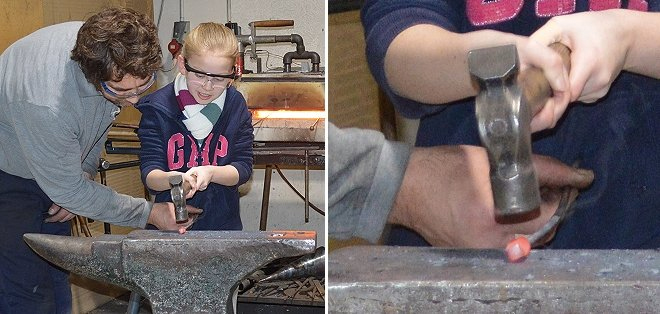 Alice's hand develops a blister, so I administer first aid – a plaster. Poor Alice – there is a big difference between the size, strength and hardness of a girl's hand to Andrew's hand.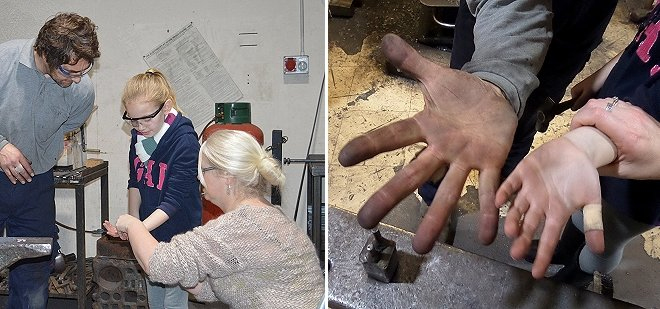 The head is left to cool and Alice starts to work on shaping the tail into a narrowing tapering shape. After reheating the steel many times, this is achieved to both of their satisfaction.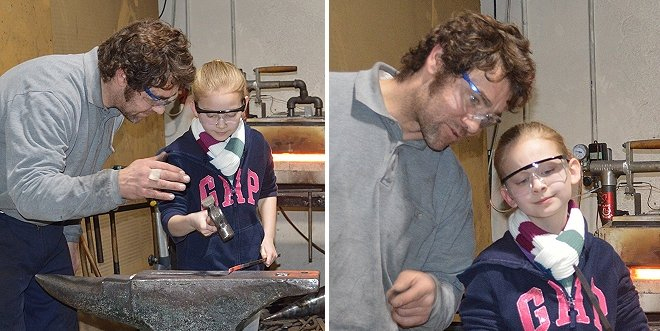 Andrew introduces Alice to a different kind of hammer – a cross pein – this one has a long sharp face to make indentations in the steel, rather than to flatten it. He draws a diagram onto the anvil of the pattern of ridges which should be on the sides of the tail – to make it seem more lithe and fish-like.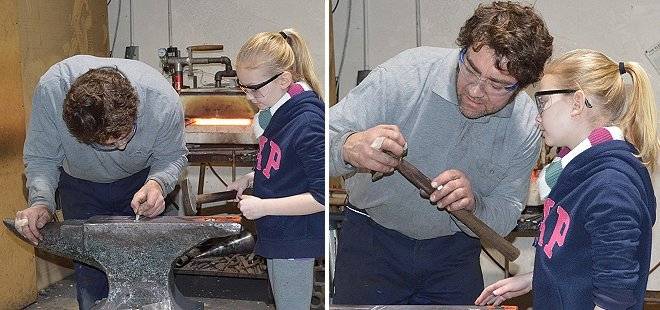 Alice manages this, cools the tail in the water-bath and cuts off the rest of the flat steel with the guillotine.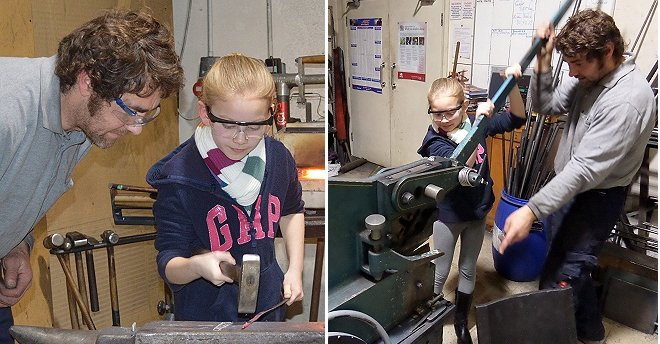 They had found time for a few laughs along the way.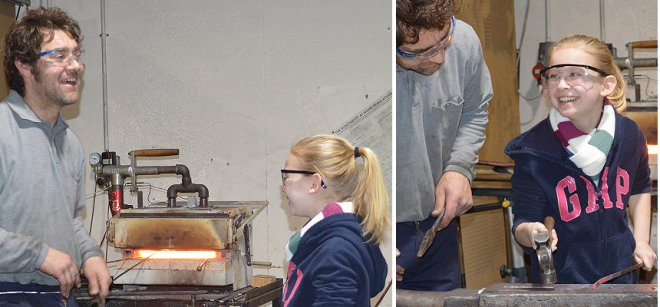 The head is now cool, and Alice marks the eyes with a felt tip pen, and makes them indented with a punch.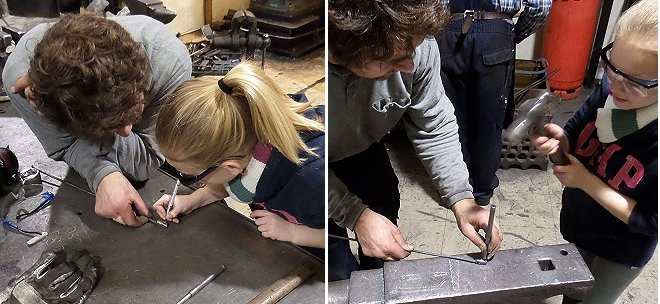 Andrew buffs up the head a little with an angle grinder, and then Alice cuts the head off the rod with a hacksaw.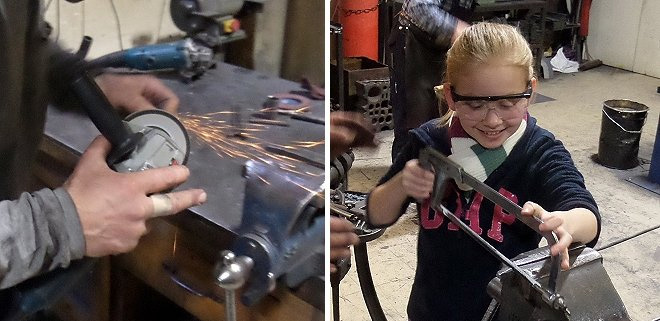 The head and the tail are ready.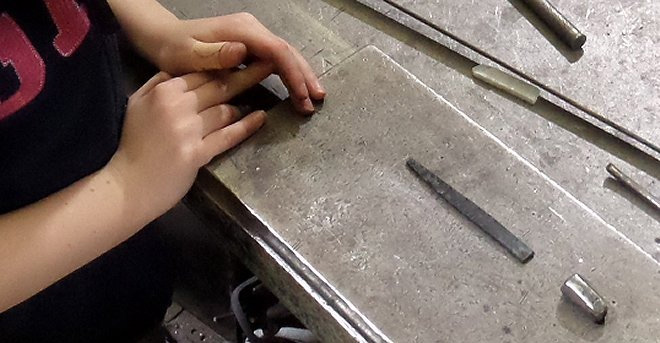 Andrew welds them together in the welding booth and then cleans up the weld with an angle grinder.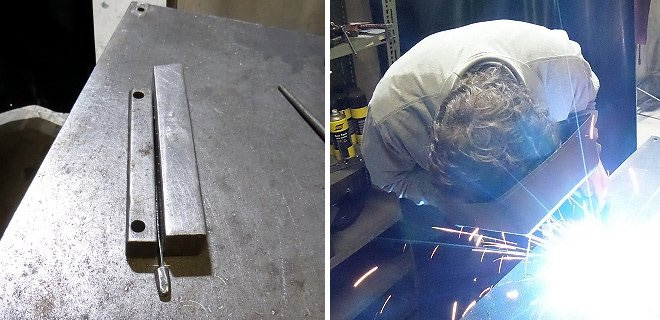 He then heats small sections of the tail with a gas torch for Alice to make the bends in it with a small hammer – to make it look wriggly. The tail has to be reheated to make each bend.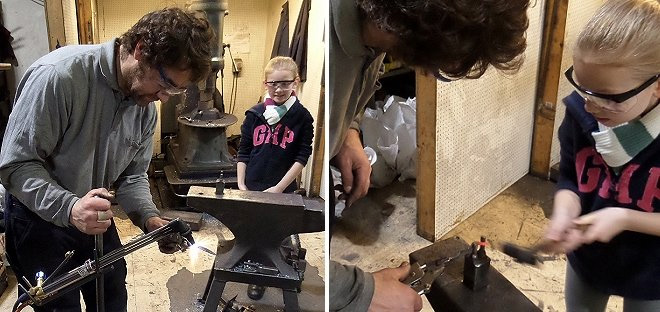 Alice cools the tadpole in the water-bath and buffs it up with a wire brush.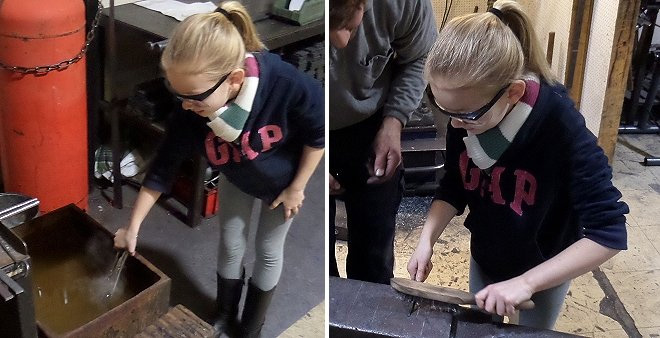 Job done! Well done Alice and well done Andrew!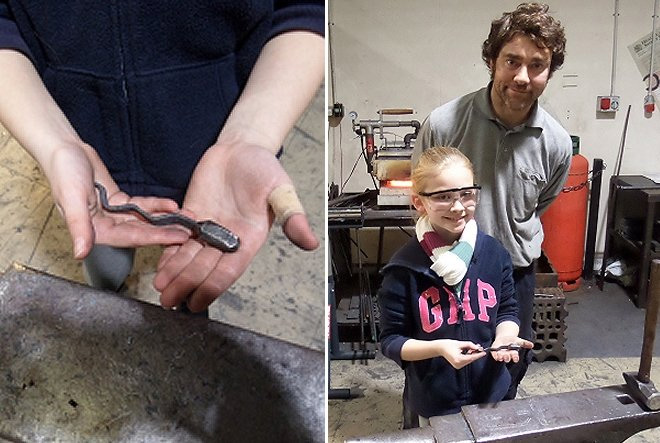 Alice with Andre's bench – her tadpole is in there somewhere and was galvanised with the rest of it.