Our History
We are a small independent company committed to keeping traditional metalworking skills alive in the UK. Based in beautiful countryside a few miles north of Sheffield, our rural business was created in 2000 by husband and wife team Nigel Tyas and Elizabeth Stocker. In 2020, Nigel and Elizabeth retired and Nigel Tyas Ironwork was sold to brothers Daniel and Gareth Lowe with the aim of continuing to develop the business into the 21st century whilst maintaining the blacksmith made quality that exists within all our products.
Nigel began his training at the age of sixteen as an apprentice blacksmith with the National Coal Board in Elsecar near Barnsley. In the early 1970's the Coal Board still used steam trains and pit ponies! After a varied career in large-scale industrial blacksmithing and engineering, Nigel set up the business to concentrate on the artistic aspects of his craft creating beautiful and functional ironwork for your home.
Elizabeth has a corporate IT background and, for the last 20 years, she has been reponsible for our e-commerce website, marketing and business development. She has also been the driving force behind our friendly customer service team, based in the showroom next-door to our workshop. Elizabeth has recruited in her likeness to ensure the focus has always been on excellent customer service and delivery.
Dan first met Nigel when he as a young apprentice blacksmith and used to come into the forge to help out on Saturdays. He has, since then, been running a successful international farriery business and has also been a regular extra pair of hands in our workshop.
Gareth comes to us with a long career in business management and product development behind him. We're very much looking forward to the next chapter in the story of Nigel Tyas Ironwork.
How we work . .. the forge today
All of our wrought ironwork is designed here and hand-forged by Dan and his two skilled blacksmiths, Andrew and Simon. Each blacksmith sees his own work through from start to finish. David then applies his secret metalwork finish to their work. The lighting is then passed to Roger in our wiring workshop, who wires the fittings and tests them to European and British Standards. Finally, Lynne packs the work to send to you.
Next door, it is Sheena and Sam who take your orders, handle your queries and arrange for delivery of your finished products. Sam and Sheena work closely with the blacksmiths as we are always popping backwards and forwards between workshop and showroom. That's the beauty of a small business!
As a small Yorkshire business we work with local suppliers wherever possible to source the specialist services we need and our component parts such as handmade lampshades, bulbs and so on. Local ceramicist Sarah Jones-Morris collaborates with us to create the porcelain shades which feature in some of our unique designs. Silvertree Crystal in Somerset make the hand-blown 24 per cent lead crystal shades for our Springvale range.
Meet the Team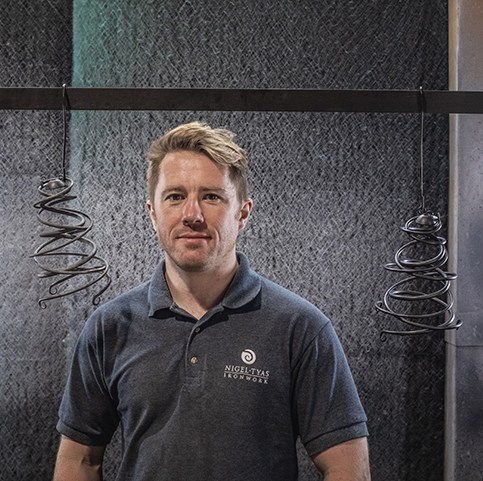 Dan . . .
Job: Director and blacksmith
A forge fact: He's also a farrier. He's shod horses for the Brunei royal family
Another forge fact: Dan worked Saturdays in the forge with Nigel way back when he was a young farrier apprentice
Favourite Nigel Tyas product: It's between the Stocksmoor pendant and the Whitby lamp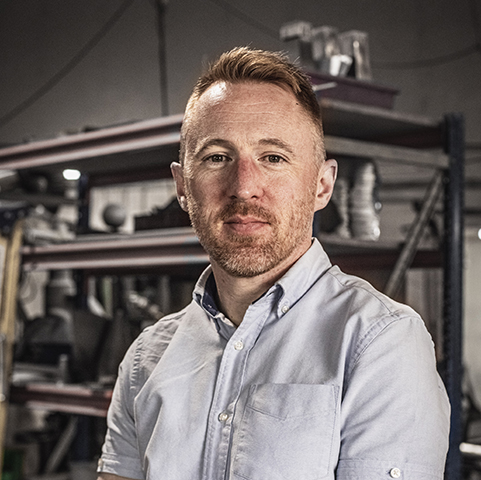 Gareth . . .
Job: Managing Director and Product Developer
A forge fact: Brother of Dan, they're the new dynamic double act at the head of our Yorkshire business
Another forge fact: Outside work, Gareth is a volunteer with the Woodhead Mountain Rescue team
Favourite Product: The Ringlet finial and Tiny Mitre lamp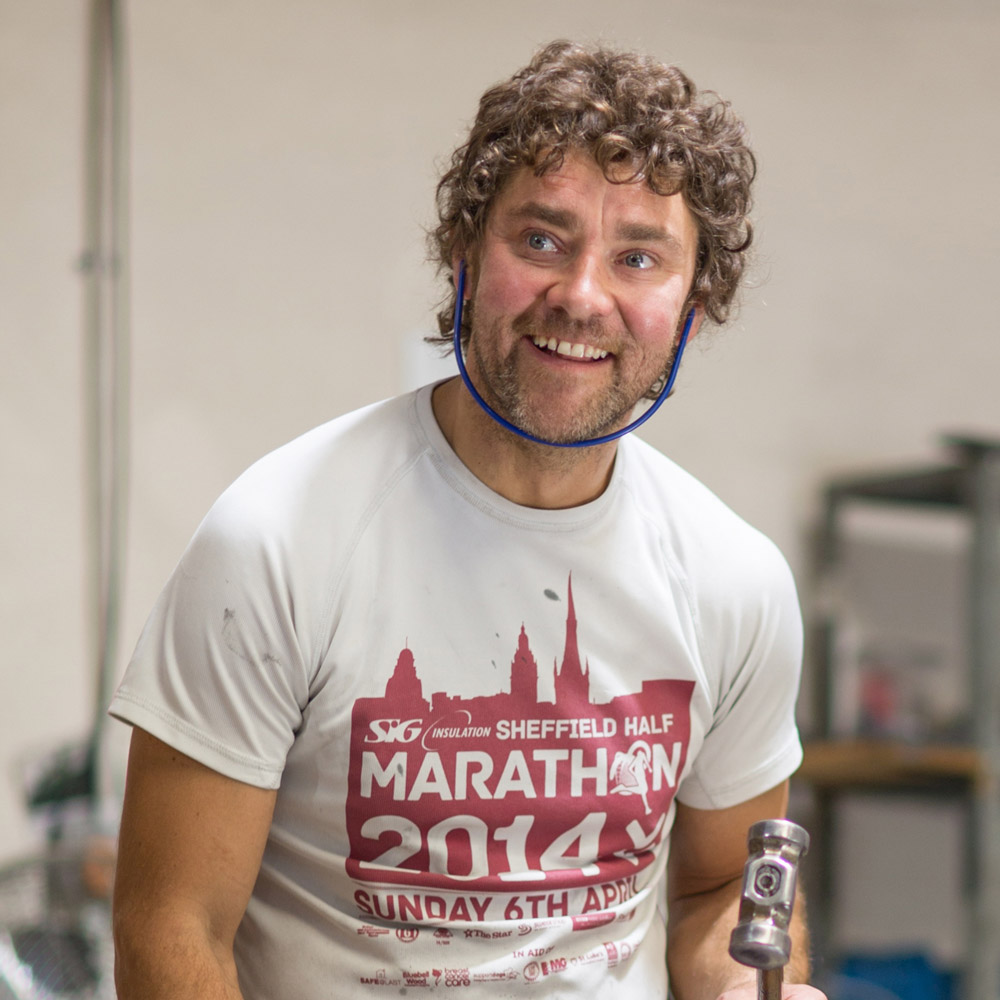 Andrew . . .
Job: Workshop manager and blacksmith
A forge fact: Andrew can often be heard playing Spanish guitar in his lunch break
Favourite Nigel Tyas Product: Mitre lamp
Nigel says: "Andrew was my first employee, recruited in 2003, and he's an ace bloke."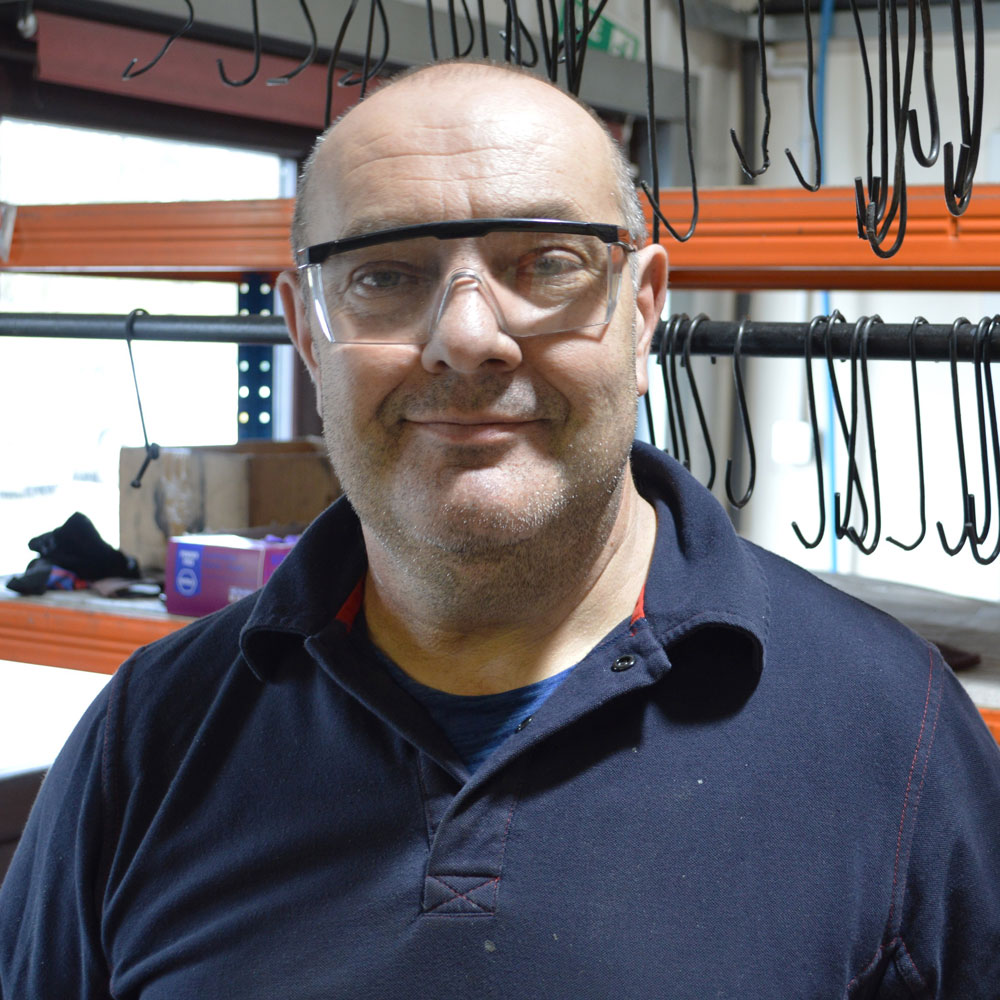 David . . .
Job: Finisher
A forge fact: He's Nigel Tyas Ironwork's champion whistler – no tune is beyond him!
David's top tip: "Keep your ironwork in top condition with an occasional rub over with a good wax polish."
Favourite Nigel Tyas Product: Shepherd's Crook chandelier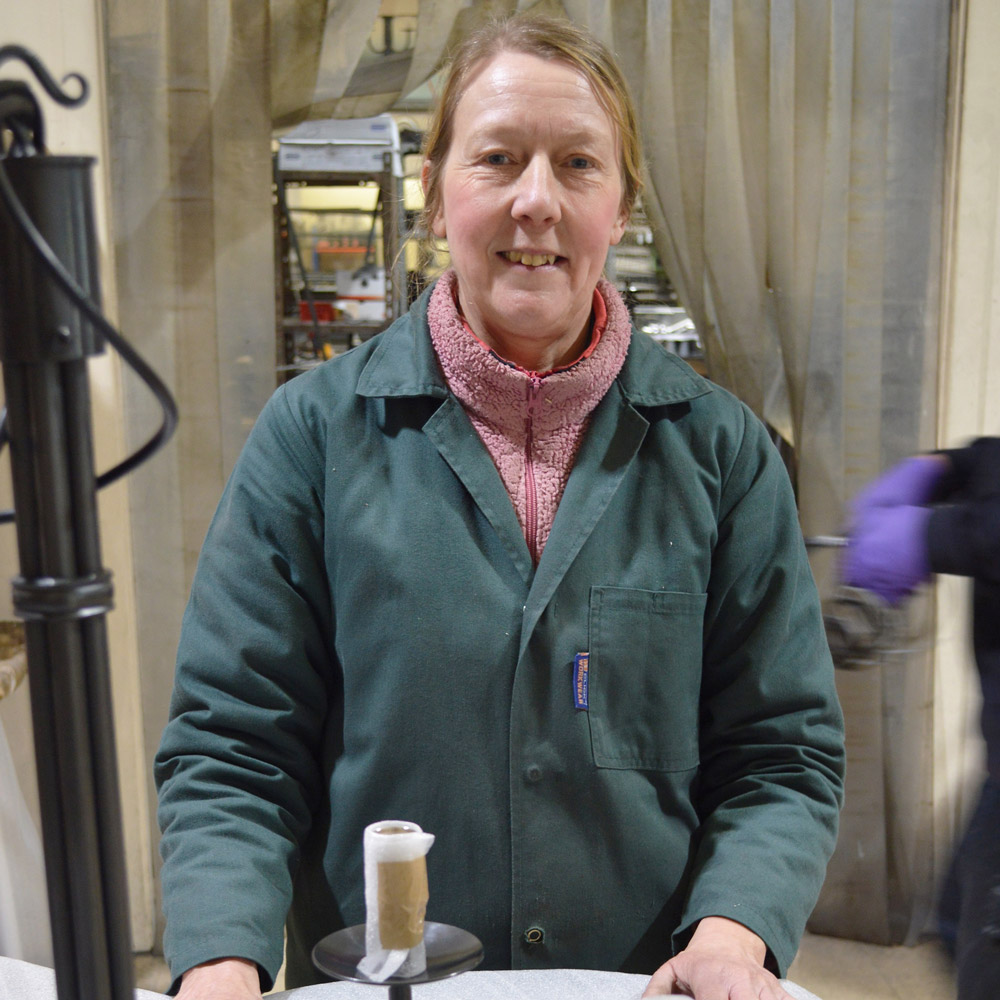 Lynne . . .
Job: Packaging
A forge fact: Lynne is super fit and cycles to work every day
Lynne's top tip: "If you can possibly recycle or re-use our card and bubble-wrap packaging, that would be great."
Favourite Nigel Tyas Product: Ramshead companion set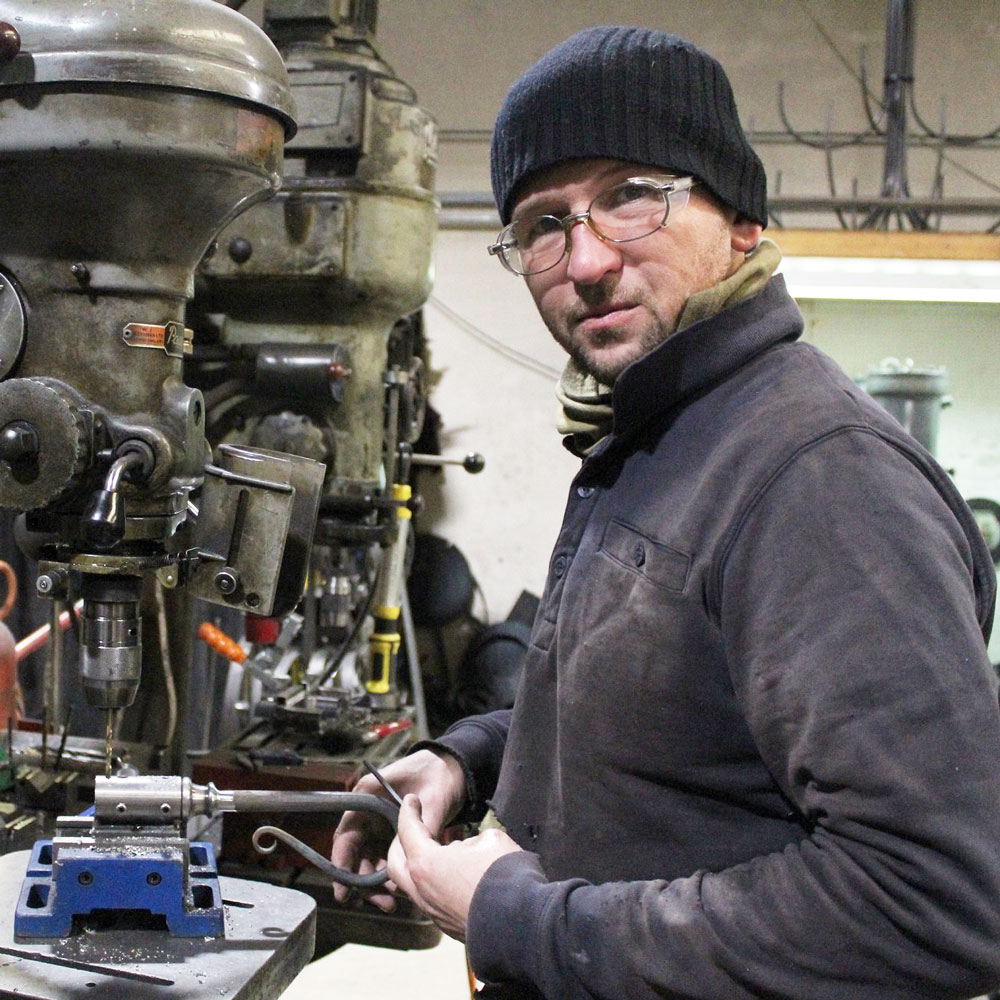 Simon . . .
Job: Blacksmith
A forge fact: Stalwart of the Friday fish and chip run
Favourite Nigel Tyas product: The Bretton pendant
Elizabeth says: "Simon is really creative; always experimenting and thinking of new ideas for products."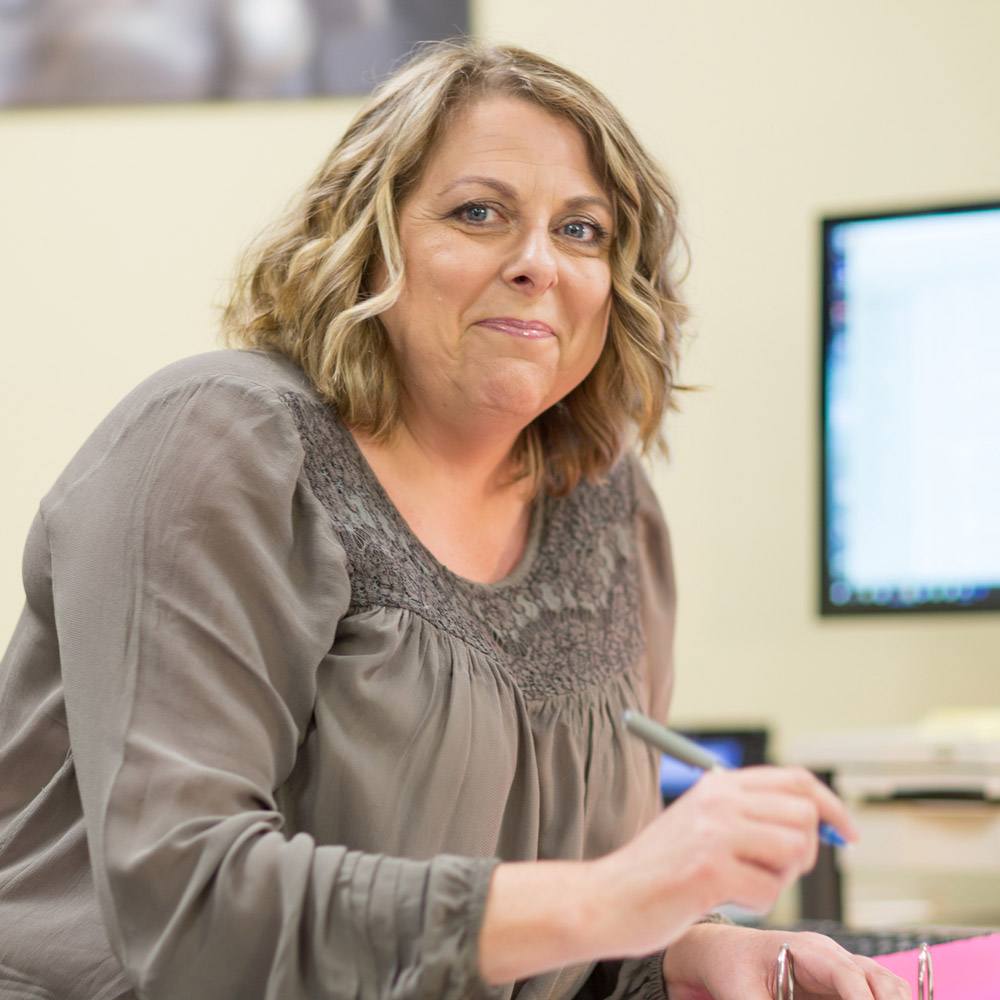 Sheena . . .
Job: Office and customer service manager
A forge fact: Ridiculously committed to customer service
Sheena's top tip: "Don't forget your lampshades and bulbs; or your curtain rings and brackets."
Favourite Nigel Tyas product: Hartcliff chandelier
Nigel says: "A one-woman dynamo."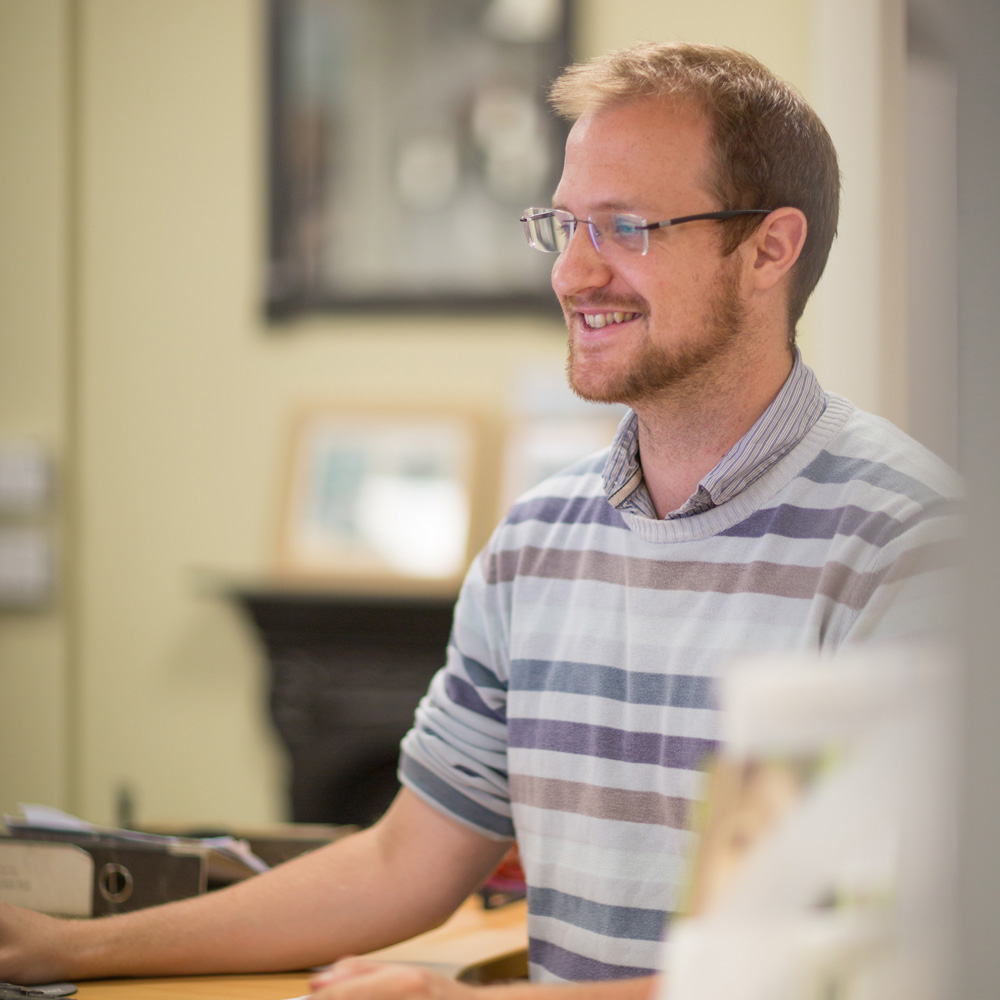 Sam . . .
Job: Customer service
A forge fact: Powered by black tea and biscuits
Another forge fact: Sam loves ironwork puns such as 'we'll forge ahead with that' and 'hammer out the details'
Favourite Nigel Tyas product: Hand-forged mirror
Sheena says: "Ask Sam a question and he'll design you a spreadsheet to answer it. He's our resident data analyst."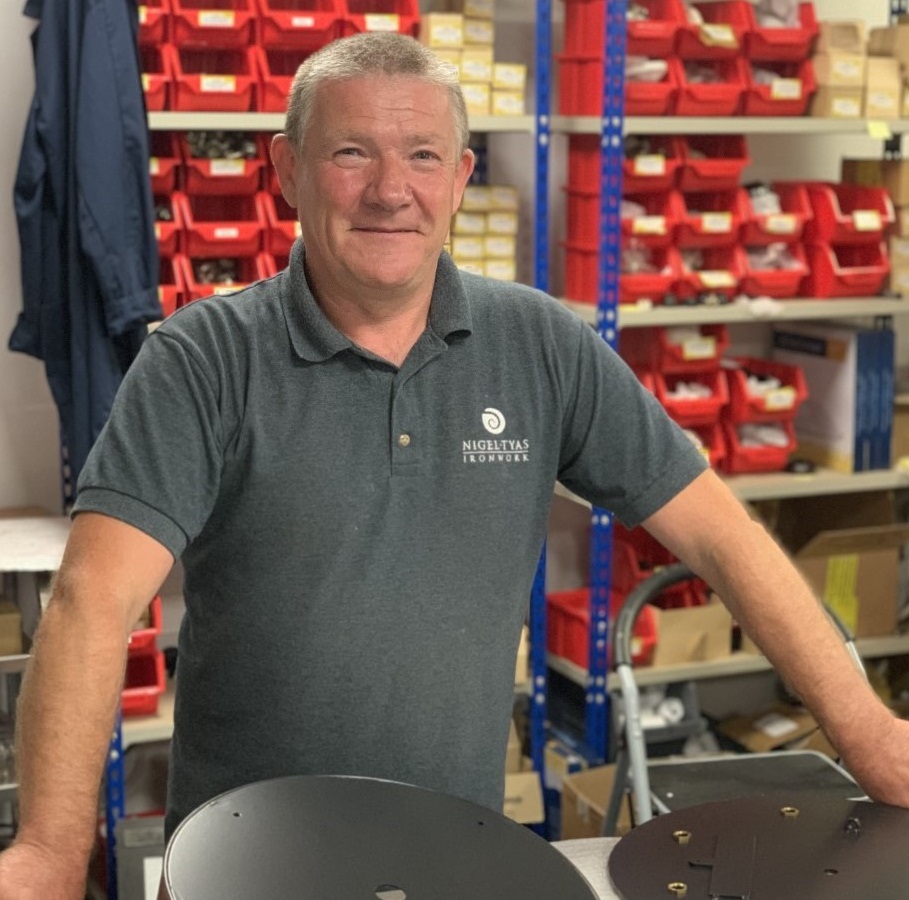 Roger . . .
Job: Wiring
A forge fact: Roger has a garage full of classic motorbikes
Another forge fact: He also leads guided local history walks in the Peak District as a volunteer park ranger
Roger's top tip: "Invest in quality LED bulbs to complement our handmade lighting."
Favourite Nigel Tyas product: Broadstones light - 'I enjoy wiring this one up'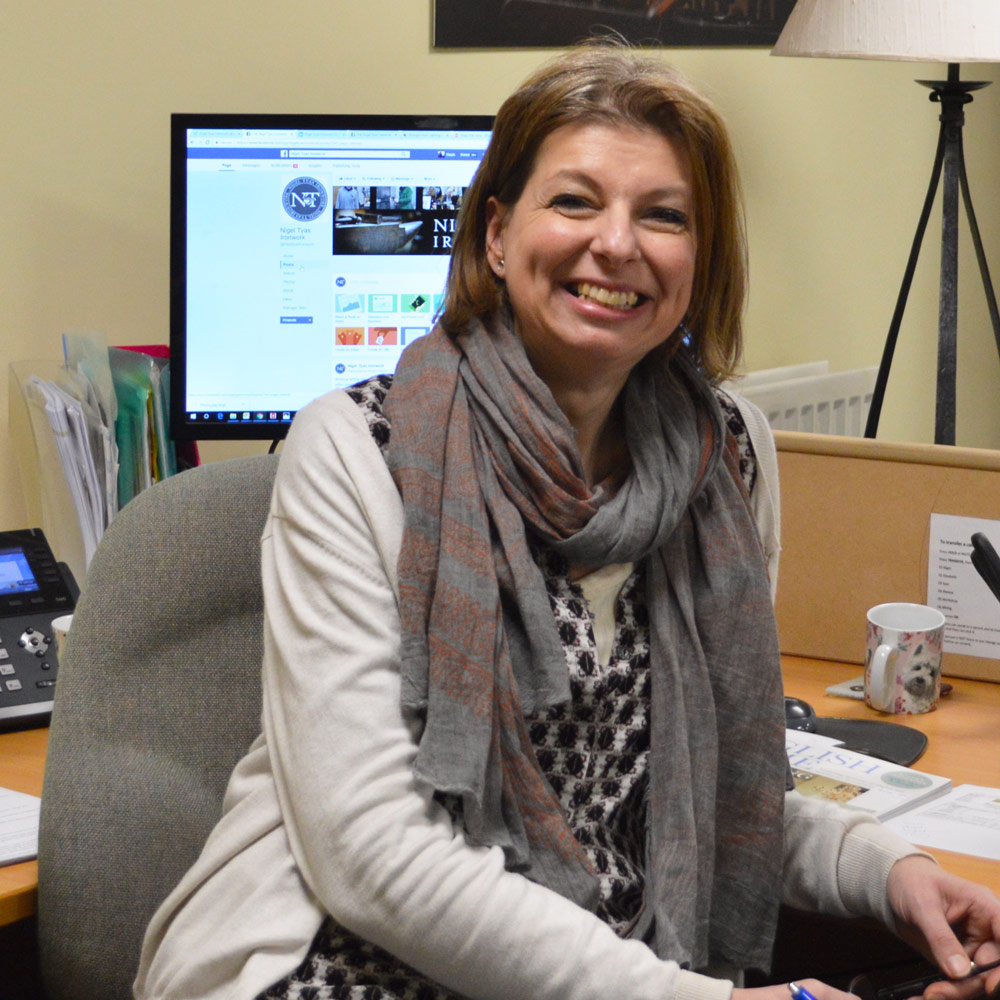 Steph . . .
Job: Marketing and PR
A forge fact: Steph loves writing about beautiful, blacksmith-made products - and has also now learned how to hold a hammer correctly
Steph's top tip: "Buy once. Buy quality."
Favourite Nigel Tyas product: Wellhouse pendant light. And, all our curtain poles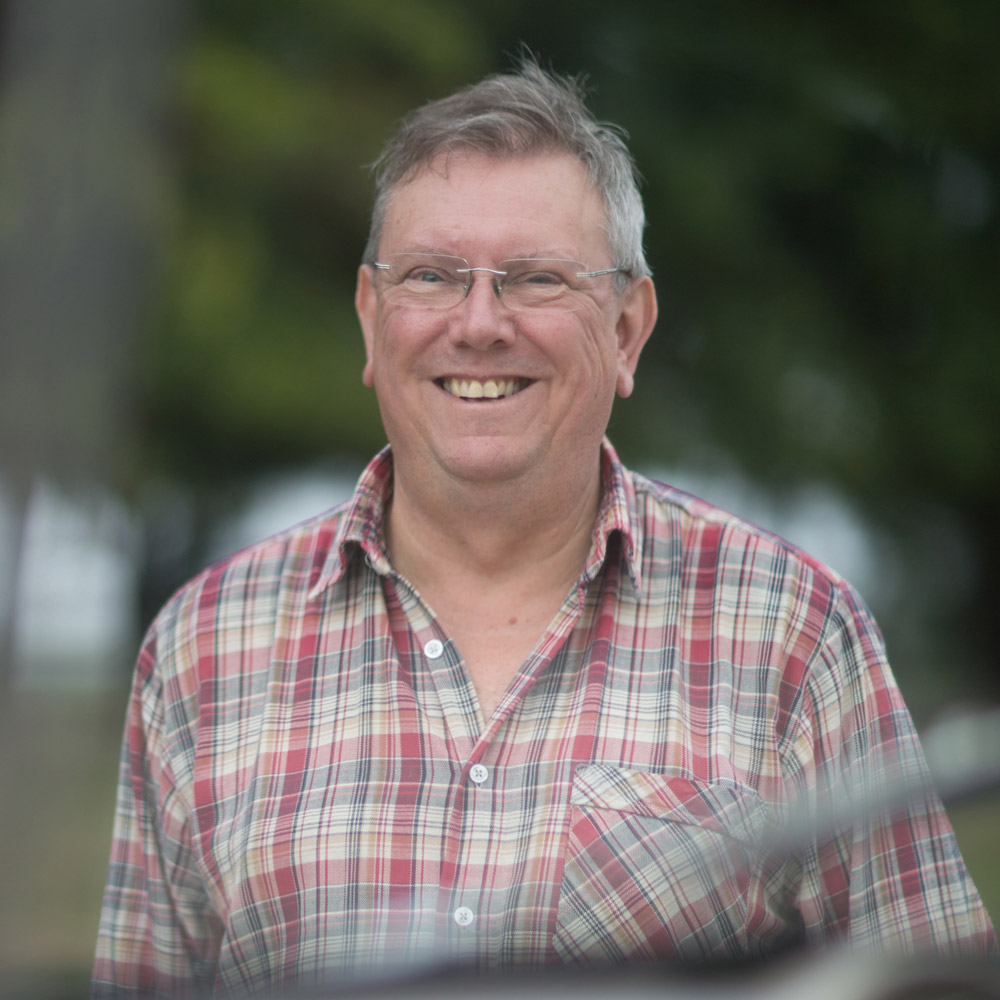 Nigel . . .
Job: Founder and Happy Blacksmith
Status: Retired, but always in our thoughts and occasionally in our workshop
A forge fact: He is liable to burst into song at any time
Favourite Nigel Tyas Product: Illions standard lamp
Elizabeth says: "He just loves talking about new ideas for designs of wrought iron products and can also talk at length about LED light bulbs!"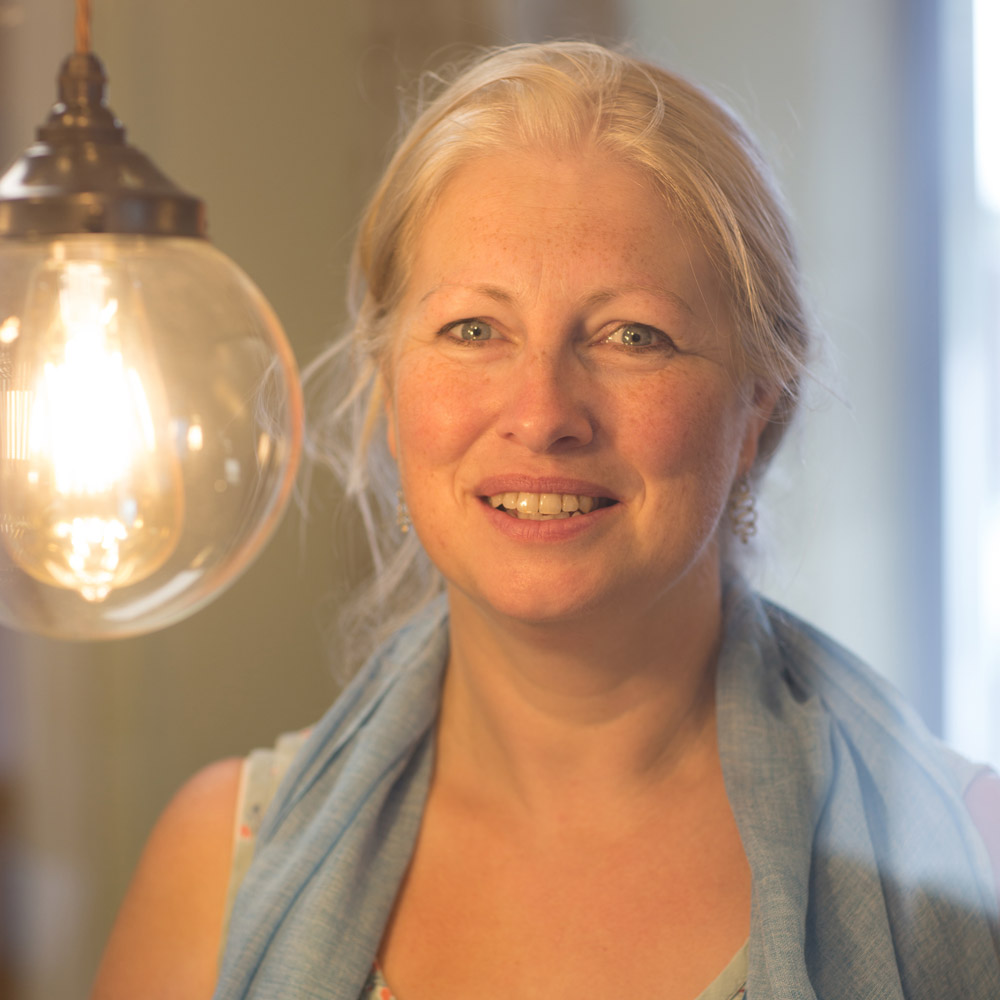 Elizabeth . . .
Job: Founder and IT whizz
Status: Gone home, but her website means she is always with us in spirit
A forge fact: Elizabeth keeps a small flock of sheep at home including Lucy, whom she bottle-fed as a lamb
Elizabeth's top tip: "Do keep looking at our website, we are always updating it with new designs."
Favourite Nigel Tyas product: The Hepworth has always been a favourite. And I love the Oxspring desk lamp too
Our Ethics and Principles
As a business we believe that our work should be produced as ethically and sustainably as possible and we work hard to ensure that all of our ironwork is produced and priced fairly and honestly.
We use the best quality materials and components in our work and source most of our supplies locally. It is important to us to support local manufacturing businesses, especially in view of Sheffield's metalworking heritage. We are proud to have been awarded the 'Made in Sheffield' mark.
It is also very important to us as a business to keep traditional skills alive in the UK and we make all of our ironwork in our own workshop in Yorkshire using skilled craftspeople. Read more about our commitment to British made craftsmanship.
We are sometimes asked about discounting our work. When we created the business it was always an important consideration that we should treat all of our customers fairly and also pay fair wages to our employees. We prefer to cost our work with integrity and for this reason we do not discount our work. We choose to manufacture in the UK and therefore don't have comparable margins on our work as companies who outsource their manufacturing overseas. The response that we get from our customers confirms that our handmade ironwork represents good value for money ... read more on our testimonials page.