Handmade ceiling lights put wrought iron craftsmanship at the centre of your home
A ceiling light is often the centre point of a room. Its prominent position makes it an important feature in any design scheme. It adds character and style through its form; lighting and ambience through its function.
Whilst a busy household moves on below, and other fittings may change or be modified on occasion, ceiling lighting is often one of the more permanent fixtures in an interior. It's worth taking the time to choose one you love, and you want to live with a long time.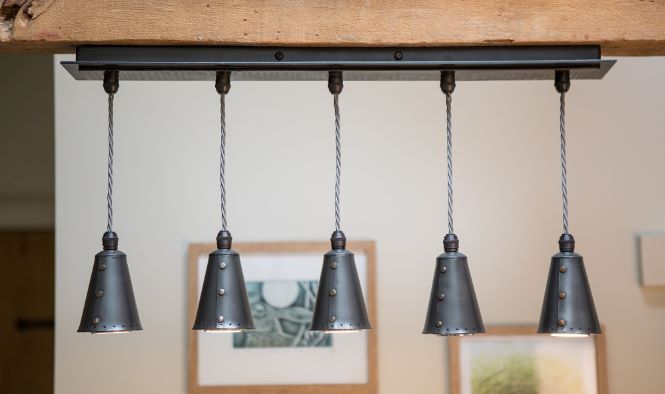 At Nigel Tyas Ironwork we design and make authentic, handmade ceiling lighting. Our skilled blacksmiths work with wrought iron to create unique designs which combine metalworking skills with modern styles and inspiration from nature, our heritage and classic shapes.
Our Maythorne ceiling light, available large or small, twists a tendril of steel into a fluid spiral shape, finished with tiny curls. As with most of our designs, you can choose a single drop or a number of shades in a cluster or in a line, all suspended from a hand-forged ceiling rose or plate.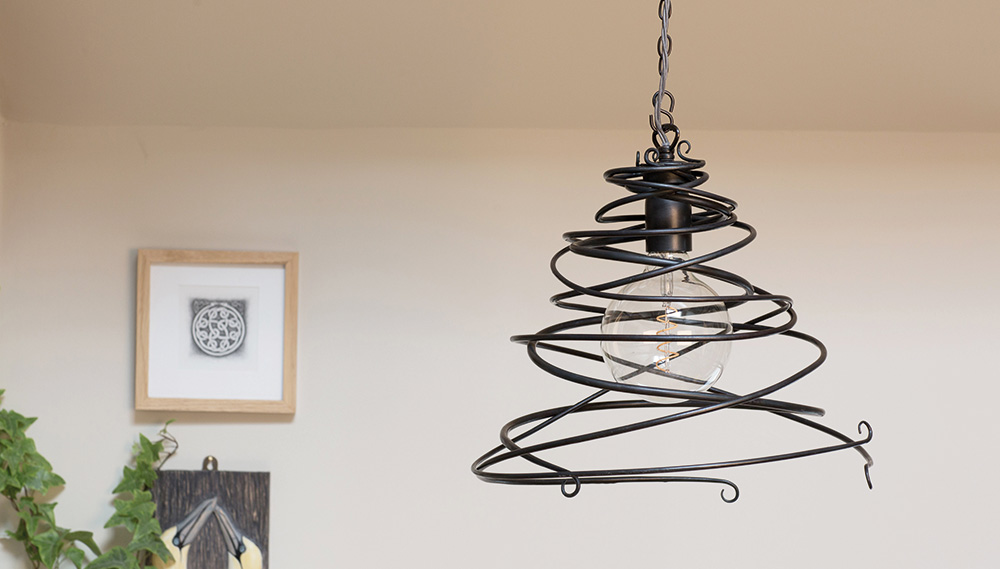 Choose British made ceiling lights for quality and style
Our Bretton ceiling light is created by our blacksmiths expertly turning a ribbon of steel around a mandrill jig at the anvil.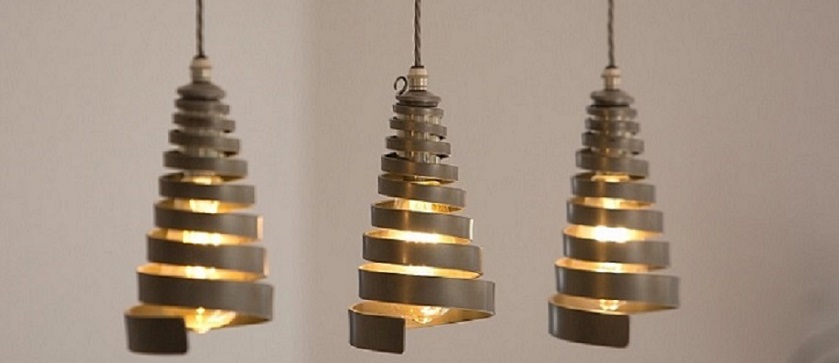 We make a range of chandeliers to hang from high ceilings - and really quite low ceilings! You can hang them with as much or as little chain as you need. You can choose one tier or two tier or even larger. Our chandelier options start at three-light versions and go up to magnificent 18-light versions.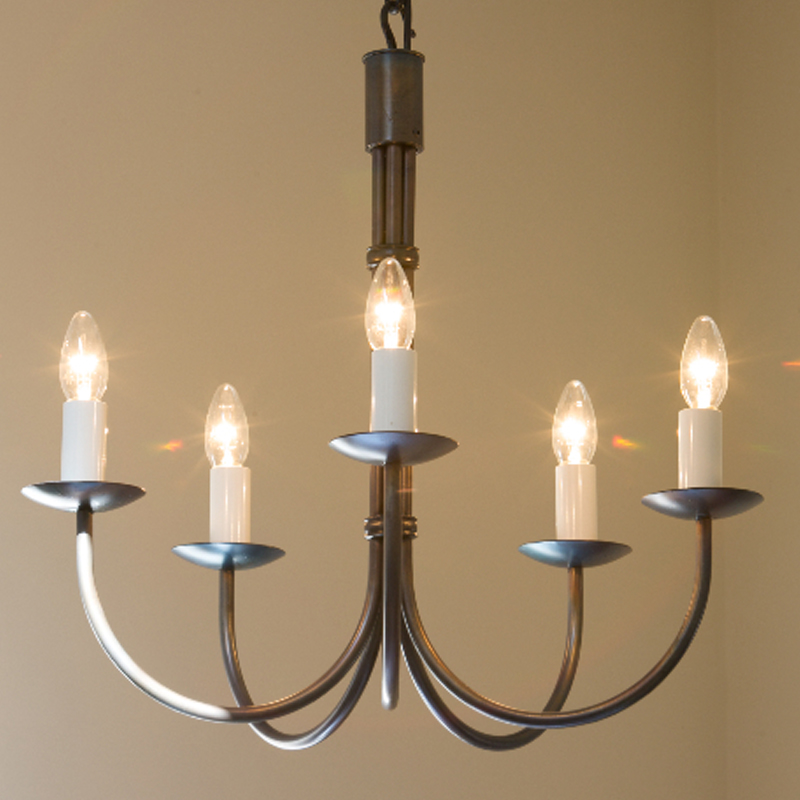 The Ecklands ceiling light evokes the classic lantern shape (we also make these, see our Langsett design), but is pared down into an open, wrought iron shape framing an attractive filament bulb.
Our most popular ceiling light designs
The Broadstones ceiling light is one of our most popular designs and perfect to add a cascade of lighting to any height required. Our glass globes in three sizes can be hung to any length in any combination in large hallways, full height barns and open-plan buildings and over staircases. It's a simple yet stunning statement light hung from a quality hand-forged ceiling plate.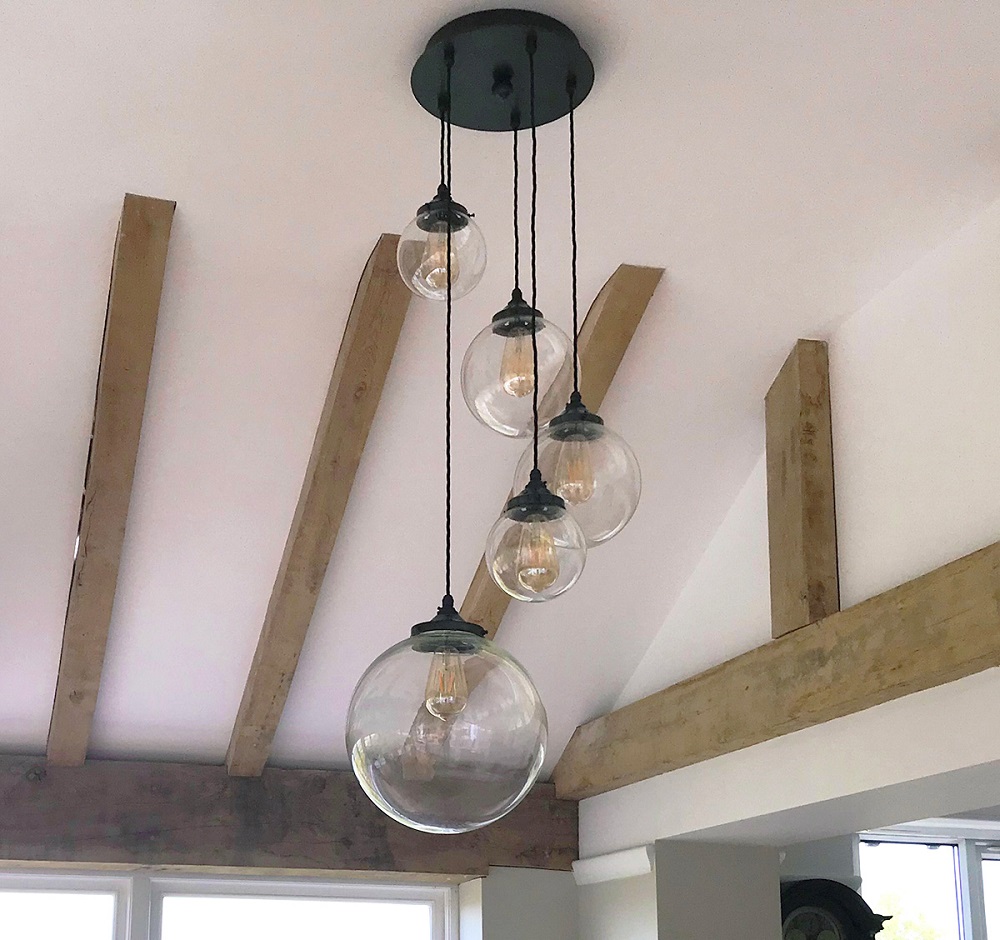 We also collaborate with Silvertree Crystal of Somerset to create a totally unique ceiling light– the Springvale range is hung with colourful 24 per cent lead crystal shades in a choice of amazing colours, handblown exclusively for us by the master glassmakers.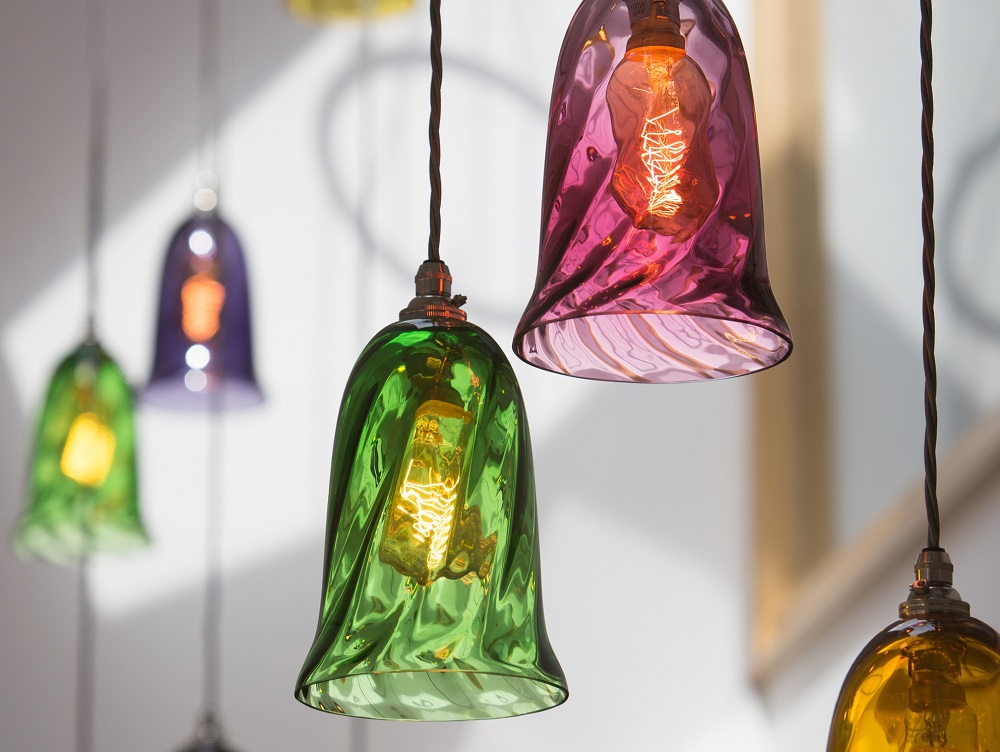 Our Wellhouse ceiling light pairs our wrought iron fittings with a pretty porcelain shade, featuring delicate lace patterning, handmade for us by ceramicist Sarah Jones-Morris. Yorkshire-based Sarah keeps her kiln in our workshop so is a close friend of Nigel Tyas Ironwork.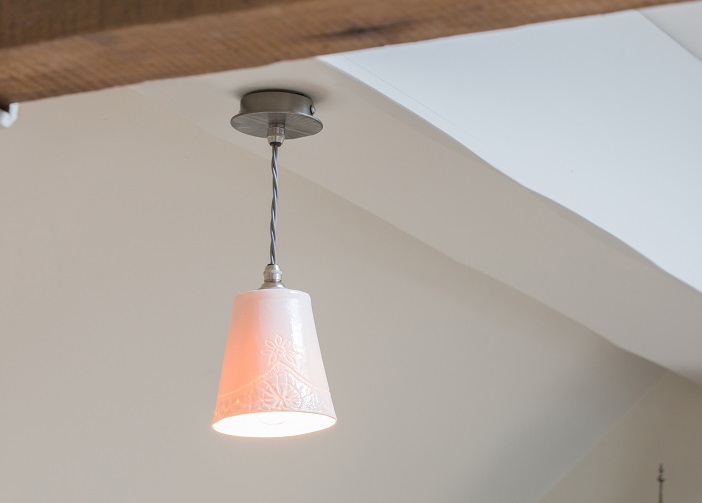 For directional ceiling lighting, see our spotlight range. Spotlights are so very often boring, plastic after-thoughts which direct task or accent lighting towards a work area or a dark corner. But our wrought iron spotlights are designed to look good as well as help you see what you are doing! We also make lights which fit flush the ceiling including our pretty Shelley.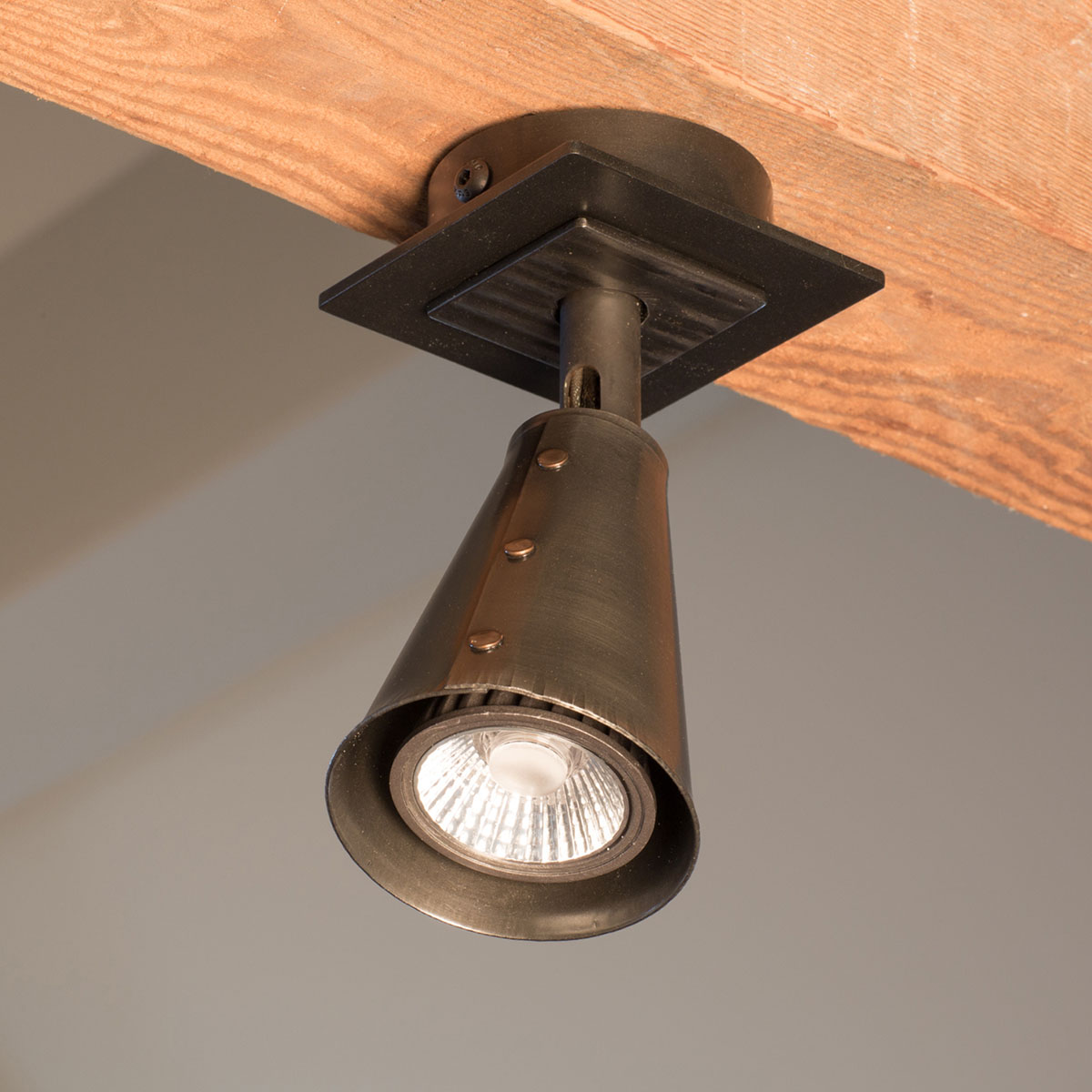 Finally, we sell a wide range of quality ceiling lights which simply feature a choice of glass shades. Our Holmfirth range of cord pendants allows you to buy the perfect ceiling light for you as you not only choose the shade, but also the finish of the fittings (nickel, antique bronze or brass) and the colour of the silk-braided cable the light is wired with.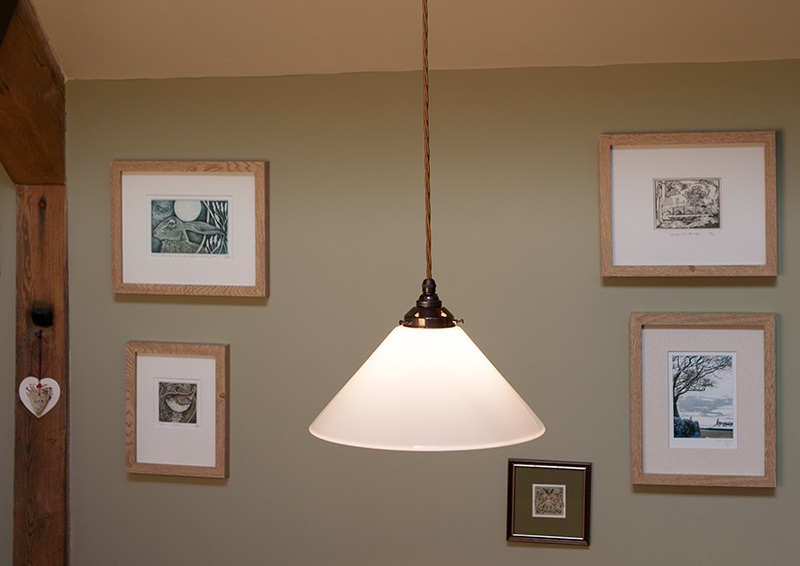 Our range of made-to-order lighting for ceilings is unique and not available anywhere else. Browse our range of wrought iron ceiling lights and chandeliers to find the perfect light for you.
Follow the links below to see our: