Made To Measure Curtain Poles
Made to measure curtain poles by skilled blacksmiths
Our wrought iron made-to-measure curtain poles are forged in our Yorkshire workshop and delivered direct to customers.
For many years, our skilled blacksmiths have been dedicated to supplying curtain poles, made-to-measure to fit windows of any size and finished with beautiful, handmade decorative finials.
Nigel Tyas Ironwork curtain poles come in a choice of three diameters and can be made to any length required. We make an accompanying range of handmade brackets to suit any fitting required too. And, we supply all the curtain rings or hooks you need, plus holdbacks or tieback hooks you'd like to complete the look.
Whether it's a long straight pole with decorative finials at each end, a pole set inside a recess or a pole fixed into a corner with one decorative finial at the other end, we can make your perfect made-to-measure curtain pole. Contact us about bespoke bay poles and portieres too.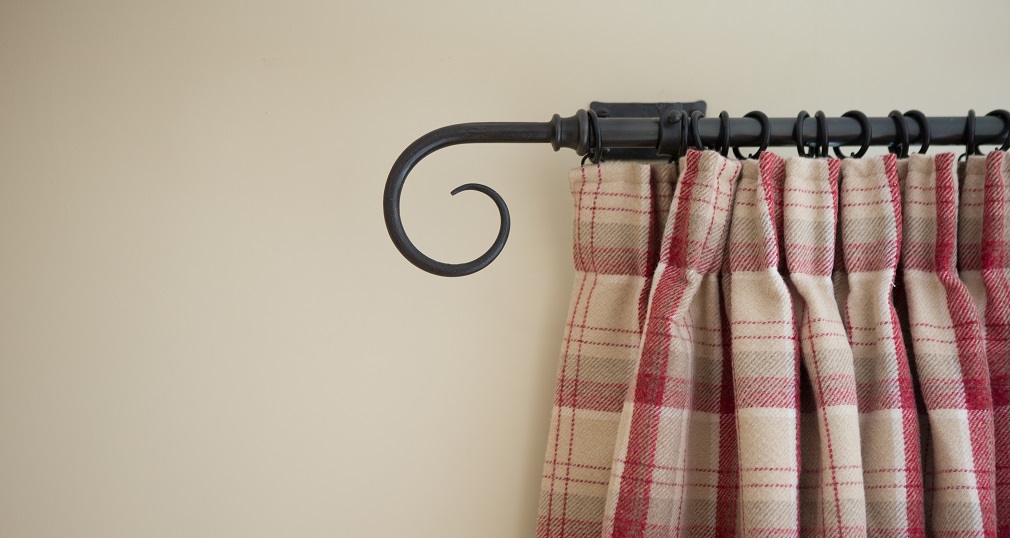 Choosing the perfect made-to-measure pole for you
We basically make two types of made-to-measure curtain poles at Nigel Tyas Ironwork.
Our popular traditional curtain poles are made from high-quality, thick-walled tubular steel, which is very strong and rigid, but relatively lightweight. They can be made to any length (poles over two metres will be made in two pieces) and their handmade finials are made separately and easily attached with a seamless join. Click here to find out more about traditional poles.
Our attractive Cottage Poles are also a firm favourite as they are hand-forged from solid steel and so give a lovely, rustic, textured and appearance. Because they are solid, and therefore quite weighty, we recommend they are best for smaller windows, but they can be made up to a maximum 2 metres with appropriate brackets. Click here to find out more about cottage poles.
Please see our Ordering Guide to find out much more about choosing, measuring for and buying your made-to-measure wrought iron curtain pole.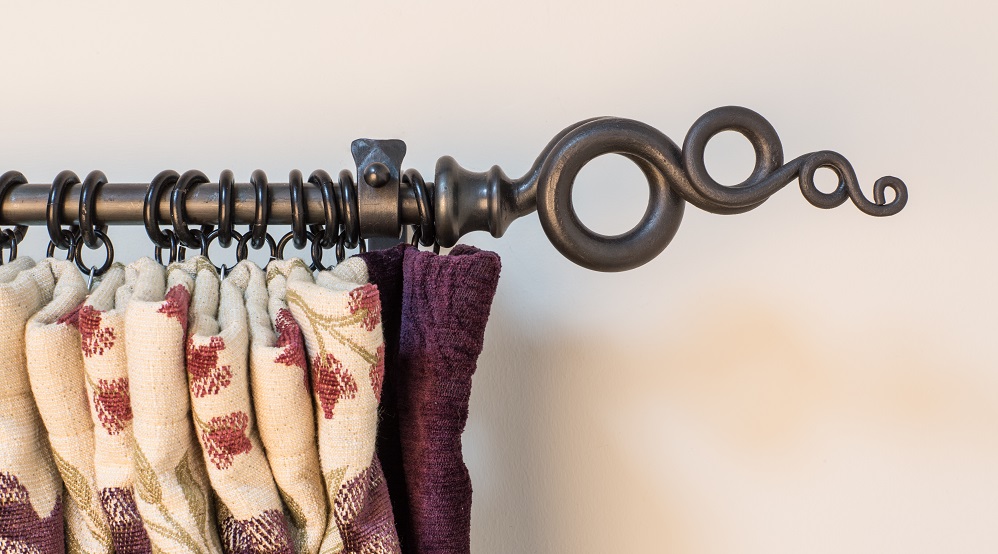 Designer finials for your made-to-measure pole
The beauty of being made by skilled blacksmiths is that you can add a little piece of artisan artistry to your made-to-measure pole. Our finial designs range from simple forged balls and buttons to elaborate serpents and tendrils. Our popular curl and shepherd's crook finials add a distinctive hand-forged flourish to your curtain pole and drapes.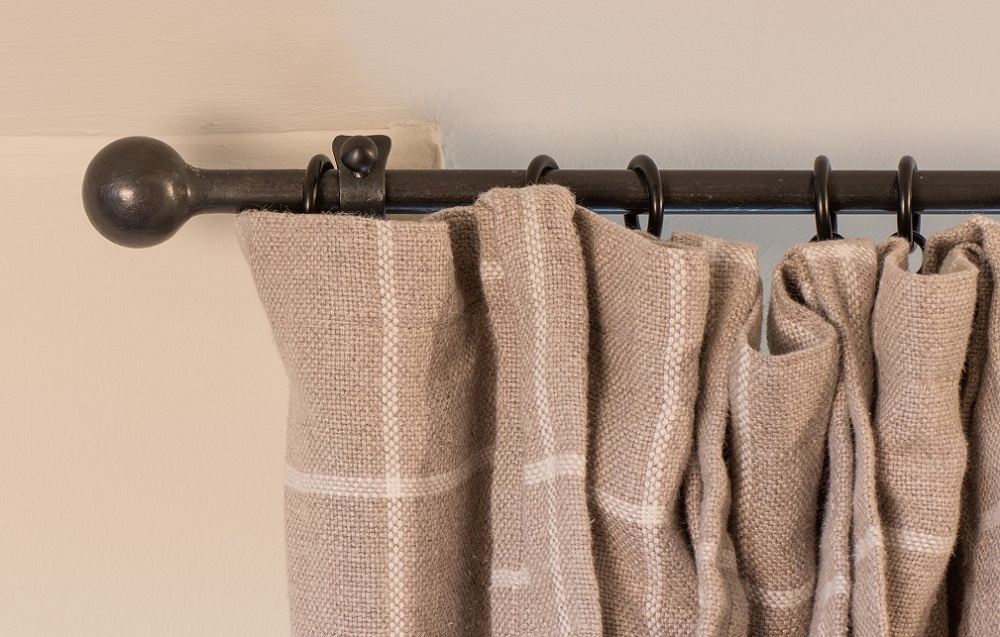 Our range also includes spiral, sceptre and spear designs for heritage style. And our blacksmiths enjoy getting creative with jigs and tongs to create ringlets and rat tails. If space is right, don't worry we can alos finish your made to measure pole with a simple blanking finial.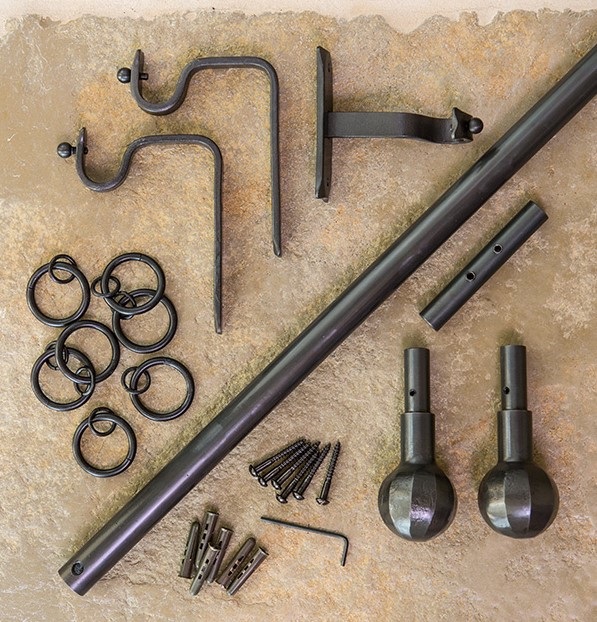 Standard length curtain poles also available
Many windows are quite a standard in size so we also produce curtain pole packs in two diameters and six standard lengths with a choice of finials. If one of these curtain pole packs fits your window, then you can simply buy everything you need to dress that window in one convenient pack. Same made-to measure quality, just one complete package to add to your basket.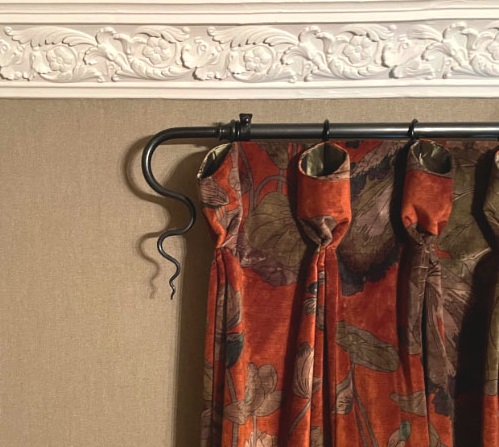 Photograph courtesy of Judith Harrop Interior Design
All our made to measure curtain poles are hand-forged in our independent craft business Yorkshire workshop. Please follow the following links to see more:

Order your made to measure curtain poles via our website - follow the steps to buy the exact length you need with your chosen finials and the perfect bracket fittings and accessories. We are always looking at ways to improve your online experience. So any feedback welcome. Plus you can call us on 01226 766618 or email sales@nigeltyas.co.uk